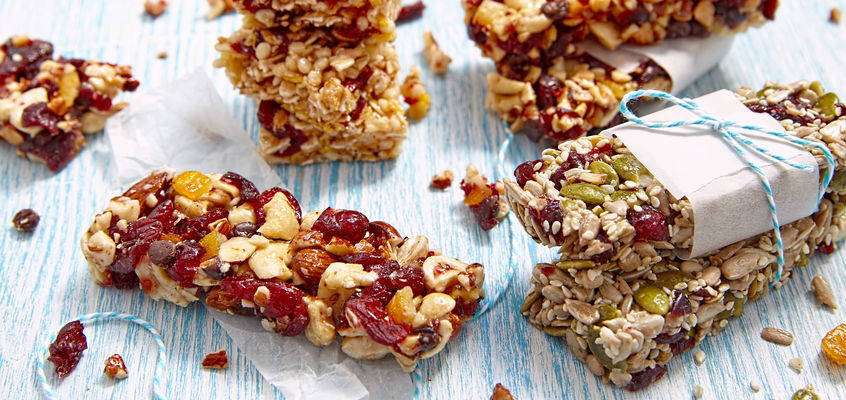 What are Cereal Bars?
Cereal bars are an "on-the-go" alternative to breakfast cereal. The category includes both granola bars, energy bars and breakfast bars which come in a wide array of tastes and textures. Some are chewy, some are crunchy, some are coated, many are sweet, while a few are salty.   Recipes include ingredients like fruit, nuts, oats, yogurts, whole grains, rice and protein powders. BAKERpedia has a simple recipe for breakfast bars which includes items like honey, apples, rice flour, yogurt, oats, almonds and pumpkin seeds.
Healthy Eating Patterns
Cereal bars are intended to be part of a healthy diet and follow many of the Dietary Guidelines for Americans. These guidelines include consuming whole grains, fruits, proteins such as nuts and soy. Healthy eating patterns also include recommendations to consume:
Less than 10% of calories from added sugars

Less than 10% of calories from saturated fats

Less than 2300 milligrams (mg) per day of sodium
Foods should be nutrient dense, contain essential vitamins and minerals as well as fiber. Bran, pumpkin seeds, berries, almonds, dates, pistachios, hazelnuts and quinoa are all sources of dietary fiber.
Not all Bars are Equal
When looking for a healthy snack or meal replacement, the consumer needs to be aware that not all cereal bars are equal. Some blur the line between a cookie or candy bar and a nutritional bar.  
There are plenty of healthy choices out there. Look for ones with 
less sugar or no added sugar

Whole grains

Calories: 150-250 for a snack or 300-400 for a meal replacement

Protein:  2-10 gram for a snack or 20-30 grams for a meal replacement

Vitamins and minerals
Regulations for Labeling foods Healthy
In the United States, the FDA has started the public process to redefine what "healthy" means on a food label. In the past, FDA has issued warning letters to cereal bar manufacturers using the "healthy" label on bars with higher levels of saturated fats.  
Since these saturated fats came from nuts, whole foods packed with protein and fiber, FDA retracted its warning when confronted by the manufacturer. 
In 2016, FDA issued Guidance for Industry: Use of the term "Healthy" in the labeling of Human Food Products. The science and background for the guidance is the dietary guidelines for Americans and the focus of the guidance is primarily fats and beneficial nutrition.
The Consensus
Cereal bars can be a healthy snack or meal replacement. They are a convenient and healthy alternative to an on-the-go morning pastry. Bars are especially healthy when they include items like whole grains, nuts, seeds, protein, low sugar, fiber and fruit.  Watch out for high levels of sugar, saturated fat and sodium.
For more info, check our Youtube!
References
BAKERpedia. "Breakfast Bars", bakerpedia.com, https://bakerpedia.com/formulations/breakfast-bar/
Center for Food Safety and Applied Nutrition. "Guidance for Industry: Use of the Term "Healthy" in the Labeling of Human Food Products" US Food and Drug Administration, FDA, September 2013, https://www.fda.gov/regulatory-information/search-fda-guidance-documents/guidance-industry-use-term-healthy-labeling-human-food-products
Grieger, Lynn. "How to Choose Energy and Granola Bars" summitmedicalgroup.com, Summit Medical Group, 7 July 2017, https://www.summitmedicalgroup.com/news/nutrition/how-choose-energy-and-granola-bars/