Are you looking to become a master homebaker? Perhaps you are just curious and want to better understand the mechanics of baking? Great news, Aunty Dough is here to help! She is a craft baker with a passion for baking challenging recipes. But most of all, Aunty Dough loves helping people solve their baking issues. Are you stuggling with dough that is stiff or won't rise in the oven? Maybe your bread is lopsided, with a collapsed top or sides? No need to worry, all you need is just to learn the basics of dough. So that's why Aunty Dough wrote this eBook. In this eBook, Dough Mixing, you'll discover what you need to know about how to mix and develop dough properly. This eBook covers:
The Importance of Dough Mixing
Learn the Stages of Dough Mixing
Know Your Dough
What is Optimal Development?
Under-mixing Dough
Tips for Mixing Dough Properly
It is possible to bake high-quality bread from the comfort of your home but understanding the science behind dough development is crucial. Aunty Dough is here to make that as easy as possible! So, what are you waiting for? Improve your breadmaking skills today and download the Dough Mixing eBook now.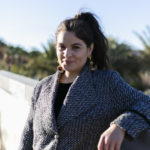 Ashuni Pérez is a writer in the culinary, as well as health and wellness industries. With a background in teaching and digital media, she loves to learn and help others discover more about their food, where it comes from, and how best to prepare it. A foodie through and through, she is always searching for new recipes and the freshest ingredients.