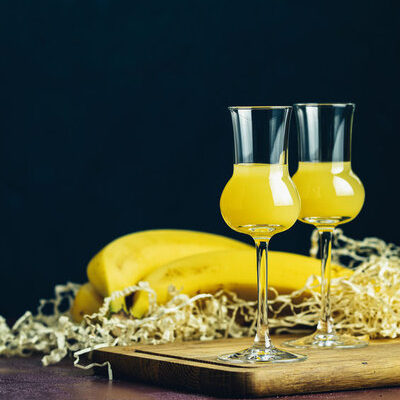 Banana Liqueur
also known as Crème de banane, Banana schnapps
---
What is Banana Liqueur?
Banana liqueur, also known as crème de banane, is a sweet banana-flavored liqueur that is used for making tropical cocktails.
However, it is different from banana wine and banana beer, which are also prepared from bananas.

.The liqueur is made with a neutral distilled spirit, such as sugar beet alcohol, bananas, and

sugar

, although spices may also be added.
This liqueur's taste may range from sweet and dessert-like to dry, depending on the manufacturer. Some brands have a ripe banana flavor, while others may go for a roasted banana flavor.
The main banana schnapps brands on the market are:
Bols Creme de Banana

99 Bananas Liqueur

Tempus Fugit Crème de Banana

Giffard Banane du Brasil
Origin of banana liqueur
This  liqueur most likely originated from a traditional Indonesian alcoholic drink. The Dutch colonizers of the country discovered the drink and began selling it under the brand name of 'Pisang Ambon', which literally translates to Banana Island. After all, Ambon Island, which forms part of the Maluku Islands of Indonesia, was renowned for its crop of bananas. Eventually, banana schnapps gained popularity and began to be replicated by other manufacturers. 
Nutrition
A serving of contains around: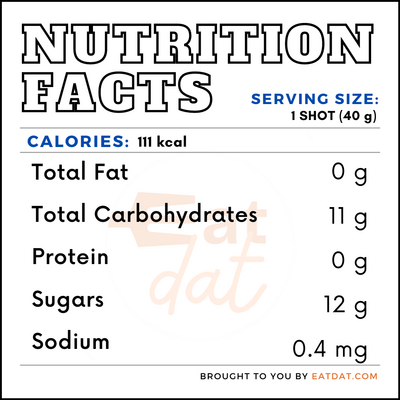 The alcohol doesn't offer much nutritional value and has 17 to 25 percent ABV. Overconsumption can lead to several health problems, including affecting the brain's functioning patterns and general lowering of immunity. Regular consumption of alcohol can increase the risk of heart disease, liver cirrhosis, pancreatitis, high blood pressure, stroke, diabetes, cancer, as well as obesity, depression, and aging. This fruit liqueur is best consumed responsibly and in moderation.
Commercial production
Banana liqueur producers use a neutral spirit base and blend banana in. The mixture is left to infuse for a few days, and then filtered to remove all particles. After that, sugar and other flavorings are added. It is best to use overripe bananas for the liqueur because of their sweetness. Green bananas are never used for liqueur production. Some cultivars of banana are more suitable for the production of banana schnapps than others. 
Banana liqueur recipes
Banana schnapps makes a fantastic base for cocktails. It is even used in cooking in some cuisines. Here are a few popular recipes:
FDA regulations
All alcohol related products are regulated by the Alcohol and Tobacco Tax and Trade Bureau (TTB) in the US. The TTB defines liqueur as flavored spirits made by mixing or redistilling any class or type of spirits with or over fruits, flowers, plants or pure juices. There are no specifications for banana liqueur. 
References
Filho, Milton & Carmo, Laísa & Lucia, Suzana & Saraiva, Sergio & Costa, Adilson & Osório, Vanessa & Teixeira, Luciano. (2018). Banana liqueur: Optimization of the alcohol and sugar contents, sensory profile and analysis of volatile compounds. LWT. 97. 10.1016/j.lwt.2018.06.044.
https://www.researchgate.net/publication/325899988_Banana_liqueur_Optimization_of_the_alcohol_and_sugar_contents_sensory_profile_and_analysis_of_volatile_compounds 
Simon Difford, Dan Malpass, Banana Liqueurs (Crème de banane), Difford's Guide https://www.diffordsguide.com/beer-wine-spirits/category/185/banana-liqueurs
Pacifique Nshimiyimana, Dr. Ing. Jean Baptiste Nsanzimana, Production of banana liqueur from AAA-EAH beer banana [Intuntu] and its physicochemical properties, University of Rwanda-Huye, https://www.academia.edu/12744801/Production_of_banana_liqueur_from_AAA_EAH_beer_banana_Intuntu_and_its_physicochemical_properties