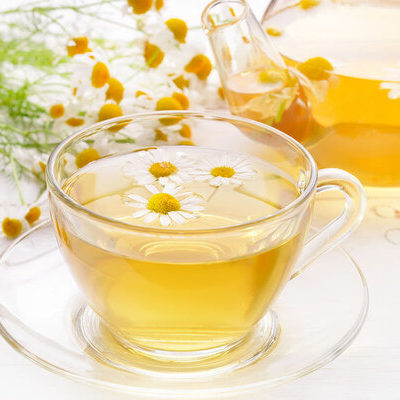 Chamomile Tea
---
What is Chamomile Tea?
Chamomile tea is a type of herbal tea made from the flowering herb chamomile (or camomile). The herb looks like a tiny daisy, with a yellow central disc surrounded by delicate white petals.
Chamomile belongs to the

Asteraceae

family, a close relative of

Echinacea

, sunflowers, marigolds, and other flowers with the daisy look.

This herb does not naturally have any caffeine unlike normal

tea

, but is known for its therapeutic abilities.
The top ten brands of chamomile on the market are:
Traditional Medicinals Organic Chamomile 

Bigelow Cozy Chamomile Herbal Tea

Celestial Seasonings Chamomile

Tiesta Tea Lavender and Chamomile 

Celestial Seasonings Chamomile Caffeine-free Herbal Tea

Celestial Seasonings Honey, Vanilla, and Chamomile 

Eat Well Premium Foods Chamomile Flowers Loose Leaf Tea

Steep by Bigelow Organic Chamomile and Citrus 

Hey Girl Chamomile, Valerian Root & Lemon Balm Tea

Harney & Sons Egyptian Chamomile 
Origin
There is no specific date that pinpoints the beginning of the use of this tea. Nonetheless, it is known that chamomile tea has been used since ancient times. The ancient Egyptians and Romans used the chamomile herb in teas, salves, creams, incense, and other beverages. In ancient Egypt, the Egyptians preserved it as a remedy for the cold. In more recent times, chamomile has been used for inducing sleep.
Etymologically, the word chamomile comes from the Greek word chamaimēlon, which means "ground apple." Chamomile tea has been used as medicine and as a topical remedy for thousands of years. It should be noted that there are two varieties of the chamomile plant today, namely, the Roman and German varieties. Though both have been used for almost the same purposes throughout history, there are noticeable differences in appearance, taste, and life cycles of both varieties.
Function
This herbal tea is often used as a natural remedy for soothing the symptoms of the common cold. Also, it can promote relaxation, as well as induce sleep. This tea can be served as an iced tea, with or without the addition of either lemonade, sparkling water, or clear soda. 
Nutrition
A serving of 1 fluid ounce of brewed chamomile contains: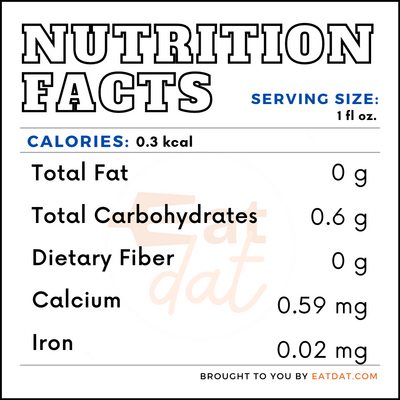 The health benefits associated with chamomile include boosting the immune system, reducing inflammation and stress, reducing menstrual pain and blood sugar, and improving sleep quality. However, certain side effects like severe allergies (anaphylaxis), skin reactions, hypersensitivity, and vomiting, eye irritation if exposed to the eye area, may also occur when consumed excessively.
Commercial production
The cultivation and harvest of chamomile must be carried out in an environment that's sunny or has a bit of shade. Larger containers are recommended for its cultivation because of the plant's size, which can become large and too heavy. When the plant is fully established, it has a very high survival rate. Chamomile should be planted indoors, and proper lighting should be allowed in. It should be adequately watered using a water bottle or a small sprinkler. After that, germination will be noticed within two weeks. Once the seedlings grow up to four inches, the strongest ones should be selected and transplanted in a garden. 
For optimal transplanting, the seedlings should be planted 8-10 inches apart and watered until they are fully established in the garden. In a few weeks, the plant should bloom. When the plant is fully grown, and the petals begin to fall then, the flowers should be gathered on a sunny day after the dew has dried. The harvest is more effective if the flowers are snipped when they are fully open. Finally, the chamomile should be air-dried by layering them on a plate and allowed to dry naturally for 1-2 weeks. When the chamomile is dried, the flower buds should be stored in a glass jar away from sunlight. 
German chamomile maintains good standing both in the local and international markets. It is the fifth top-selling herb globally, serving as a significant food cosmetic and pharmaceutical preservative. It is sold either as a flower head or as blue oil. "Blue oil" is the commercial trade name of chamomile oil in the international market.
Application
Making this tea at home is as simple as making any other herbal tea and takes just a few minutes. First, fill a tea kettle with 8 ounces of water, and then place it on the stove. Next, add 3-4 tablespoons of chamomile with an optional sprig of mint for extra flavor, into a teapot and leave it for about 5 minutes. Then, serve in teacups and enjoy. For best results, store chamomile in a sealed, air-tight container. Most dried herbs can last for about a year if stored in a cool, dark area and away from heat and humidity.
Chamomile tea recipes
This herbal tea is popular in both hot and cold beverages. Some recipes include:
FDA regulations
The FDA classifies chamomile as a substance generally recognized as safe. They also regulate the principal display panel of package food forms like tea. Furthermore, the agency monitors current good manufacturing practices, hazard analysis, and risk-based preventive measures for tea. 
References
Goodwin, Lindsey. "What Are the Health Benefits of Chamomile?" The Spruce Eats, www.thespruceeats.com/types-of-chamomile-766430. https://www.thespruceeats.com/types-of-chamomile-766430
"Top 15 Best Chamomile Tea Reviews 2021: TalbottTeas." Talbott Teas, 31 Jan. 2021, talbottteas.com/best-chamomile-tea/. https://talbottteas.com/best-chamomile-tea/
"10 Best Chamomile Recipes." Yummly, www.yummly.com/recipes/chamomile. https://www.yummly.com/recipes/chamomile
Singh, Ompal, Zakia Khanam, Neelam Misra, and Manoj Kumar Srivastava. "Chamomile (Matricaria Chamomilla L.): An Overview." Pharmacognosy Reviews. Medknow Publications Pvt Ltd, Jan. 2011. Web. 26 Feb. 2021. https://www.ncbi.nlm.nih.gov/pmc/articles/PMC3210003/
"Chamomile: Side Effects, Dosages, Treatment, Interactions, Warnings." RxList, RxList, 2 May 2017, www.rxlist.com/consumer_chamomile/drugs-condition.htm. https://www.rxlist.com/consumer_chamomile/drugs-condition.htm