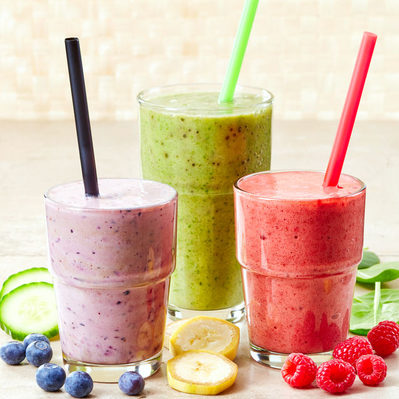 Smoothie
---
What is a Smoothie?
A smoothie is a cold drink usually made from fruit and/or vegetables with a liquid of choice, including milk, juice, or water. Other ingredients include honey, yogurt, maple syrup, seeds, protein powder, spices, and even ice cream.
These ingredients are combined in a blender and mixed until smooth, as the name suggests.

Smoothies are similar to milkshakes, but shakes are generally thicker and use different ingredients.
In the United States, this drink is very popular with the smoothie market earning $2 billion every year.
The top 10 smoothie companies in the US, according to Technavio are:
Bolthouse Farms

Jamba Juice Company

MTY Food Group

Smoothie King

Tropical Smoothie Café

Dr. Smoothie Brands

Daily Harvest

Happy Planet

Innocent Drinks

Naked Juice
Origin of Smoothies
Many cultures around the world have been blending fruits with juice and other liquids for a long time. However, in the United States, the origin of smoothies can be traced back to the Orange Julius in the 1920s. This beverage was created by a man named Julius Freedman who had trouble drinking orange juice alone. Later in the 1930s, Steve Poplawski invented the blender which allowed the culinary arts to evolve by leaps and bounds. The term "smoothie" became used to refer to simple blended drinks made with fruit, fruit juice, and ice.
Later on, in the 1960s and 1970s, the health food craze led to more health food shops and bars opening and serving this drink. In 1973, the smoothie tycoon Steve Kuhnau opened the first juice bar that would later evolve into Smoothie King. By the 1990s, this drink could be found in shops across America, thereby creating a multi-billion dollar industry. During the early 2000s, the rise of diets and special exercise routines made smoothies an even more popular drink. Many people to this day consume this drink at least once a day to get a daily dose of vitamins and minerals.
Nutrition
The nutritional value for 102 g of smoothie: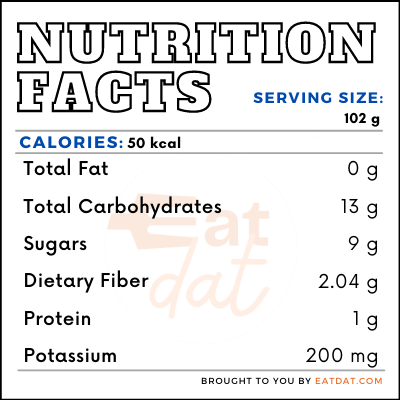 Smoothies are often packed full of nutritious fruits and veggies, as well as tangy juices or creamy milks. The ingredients in this drink are what decide its nutritional value and calories. Nutritionists recommend packing these drinks full of greens, protein, and a bit of fruit. Plant-based fats such as nuts also make a great addition alongside grains, spices, and plenty of liquid. When crafting your blend, it's vital to pay attention to serving sizes to avoid going overboard.
Commercial production
This beverage is available in supermarkets whether that's in the refrigerated section or the breakfast aisle. For fresh smoothies, commercial production begins with adding fruit juice, water, or milk to fresh or frozen fruit. Some companies use prepared fruit pureées to save on time and money. Then these ingredients are blended using mixing systems to achieve the desired consistency. After that, the blend is inspected, bottled, labeled, and refrigerated until it's ready to be shipped.
Uses
Both health junkies and foodies can appreciate smoothies for their versatility and ability to be customized. Keeping this drink fresh, however, is the best way to ensure that it stays tasty. Smoothies should be stored in an airtight container filled to the top to minimize oxygen and oxidizing. Place this container in the refrigerator to keep it cool. Adding foods with Vitamin C (such as lemon or lime juice) can also boost the shelf life of this drink.
Smoothie Recipes
Smoothies can be adjusted to suit the tastes of everyone. Here are some popular recipes.
FDA Regulation
While the FDA does not have any regulations which mention smoothies, they do regulate fruit juice which is often an ingredient. The Food & Drug Administration has several regulations concerning fruit juice that detail rules for harvesting, handling, processing, and labeling products. The FDA also provides a standard of identity for what is considered juice in their eyes.
References
Medders, Camilla. "The History of Smoothies." Leaf.tv, Leaf Group Ltd., 23 Nov. 2019, www.leaf.tv/articles/the-history-of-smoothies/.
Popova, Alex. "A Short History of the Smoothie." Behealthytoday.us, Be Healthy Today, 2 Feb. 2017, behealthytoday.us/blogs/health/history-of-smoothie.
"The Evolution of the Smoothie Industry." Smoothiekingfranchise.com, Smoothie King, 28 June 2017, www.smoothiekingfranchise.com/articles/resources/downloadable-resources/the-evolution-of-the-smoothie-industry/.
"CFR – Code of Federal Regulations Title 21." Accessdata.fda.gov, U.S. Food & Drug Administration, 1 Apr. 2019,