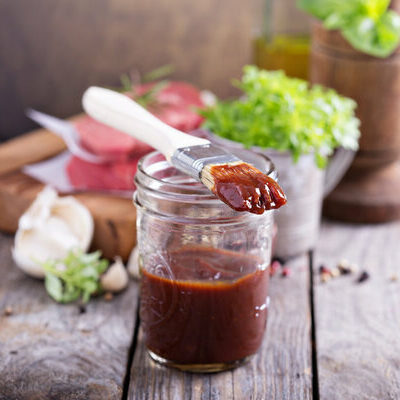 Barbecue Sauce
---
What is Barbecue Sauce?
Barbecue sauce is an American sauce made of different ingredients, including vinegar, tomato paste, mayonnaise, onion powder, mustard, black pepper, chili powder, paprika, and sugar. It has a tangy flavor with a rich sweet taste, and a smooth and thick consistency.
Barbecue sauce is often used to marinade or baste meats, and is also a condiment to go with different meat dishes.

It is a must-have when preparing barbecue dishes, especially in southern states in the US.
The top 10 most popular barbecue sauce brands are:
Kraft

Bull's-Eye

Stubb's

Williamson Bros.

Sticky Fingers Somehouse

Kinder's

Bachan's

Sweet Baby Ray's

Jones Bar-B-Q

Bone Suckin' Sauce
Origin of barbecue sauce
The history of this sauce is linked to Hernando de Soto, a Spanish conquistador who landed in the US, bringing hogs and vinegar with him, in 1530. Additionally, he brought wine, malt, cider vinegar, salt, and herbs, as well as the technique of smoking meats. The mixture of sauces that the colonizers and the locals made would eventually became barbecue sauce. The first varieties of barbecue sauce were butter-based, and contained cayenne pepper and sage, a recipe probably influenced by enslaved people from Africa and the French. One of the first references to the sauce came from a 1867 cookbook, Mrs. Hill's New Cook Book.
Nutrition
Nutritional profile for barbecue sauce (1 tbsp, 17g):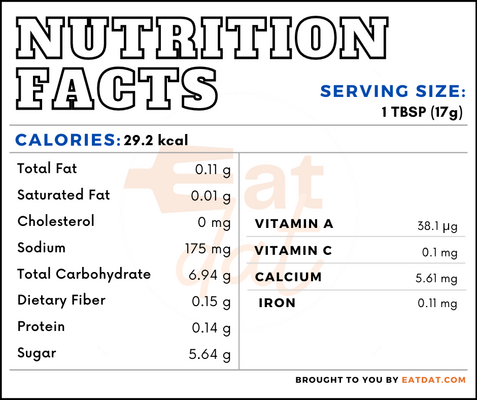 Barbecue sauce is rich in potassium, sodium, carotene, vitamin A, and lycopene. Also, it contains calcium, magnesium, phosphorous, choline, and lutein + zeaxanthin. Barbecue sauce is rich in antioxidants, which may help keep a host of conditions under control. However, the high volumes of sodium, sugar, and high fructose corn syrup used in these sauces can be detrimental to health.
Commercial production
To prepare barbecue sauce, the ingredients required are purified water, cooking syrup, tomato paste, crude red pepper seed oil, Mexican sauce, sweet pepper, garlic, cayenne pepper. Then, these ingredients are heated by means of steam or direct heating, and cooled. Finally, the sauce is aged for up to 48 hours before being packaged.
Barbecue sauce recipes
This sauce is mainly used for flavoring meats. It can be used for marinating or basting meats, as well as using it as a condiment. Here are a few recipes:
FDA regulations
Barbecue sauce falls under the sauces, dips, gravies, and condiments category. It may contain high fructose corn syrup, water, tomato concentrate, vinegar, distilled vinegar, molasses, fruit purees, spices, salt, modified food starch, natural flavors, and caramel color. Additionally, this sauce shall have a smooth consistency, and a spicy, smoky, sweet/sour tomato flavor. Also, it must have a deep reddish brown to dark brown color.
References
Barbecue Sauce History, Meathead's Amazing Ribs, https://amazingribs.com/barbecue-history-and-culture/barbecue-sauce-history/ 
A Guide to American Bbq Sauce Styles, Dyer's Bar-B-Que, https://www.dyersbbq.com/a-guide-to-american-bbq-sauce-styles/