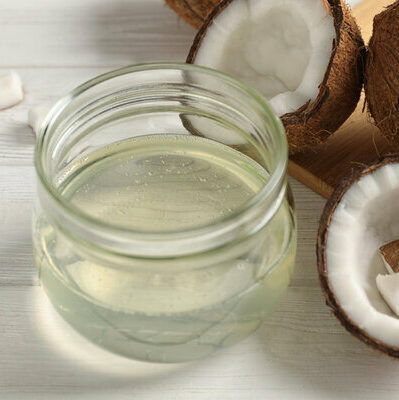 Coconut Oil
---
What is Coconut Oil?
Coconut oil is the oil produced from pressing fresh or dry coconut meat. The former method produces virgin oil, and the latter is used to produce refined oil. This oil is extremely high in saturated healthy fats and solidifies in cold temperatures. It has an intense nutty coconut flavor as well as the aroma of coconut.
Coconut oil is used extensively in South and Southeast Asian, Caribbean, and South American cuisines.

This oil may also be used to impart a specific flavor to certain dishes and has become more commonly used in North American kitchens due to the

ketogenic diet

.
The top 15 most popular brands include:
Sainsbury's

The Groovy Food Company

Sevenhills Wholefoods

My Protein

Organic Kitchen

Duchy Organic

Naturya

Cocofina

Kiki Health

Coconut Merchant

Lucy Bee

Biona

Tesco

Aldi

Vita
Origin of coconut oil
The exact origin of the coconut is unknown. However, there are two possible origins from two different geographical regions, since they show distinct genetic disparity. One group was cultivated in Southeast Asia and the other group in south India, Sri Lanka, and the Maldives. There is archeological evidence in the form of fossils from New Zealand that date back 15 million years. 
One the other hand, coconut oil has a history that goes back 4,000 years. The earliest documented mention of this oil is in Indian texts from 1500 BC, in which it is mentioned as a medicinal oil. Early European explorers wrote about this oil, as well. The popularity of this oil has increased in recent decades in cultures across the globe due to its potential health benefits.
Nutrition
Nutritional profile for coconut oil (1 tbsp):
This oil contains calcium, tocopherol, vitamin K, and fatty acids. In addition, it may help in reducing the risk of cardiovascular diseases, obesity, diabetes, and cancers. Also, it has antiviral properties, which may help protect from Maedi-visna, CMV, mononucleosis, influenza, leukemia, pneumonia, and hepatitis C. The lauric acid in it promotes brain development, boosts the immune system, and maintains the blood vessels.
Commercial production
The Philippines is the largest producer of coconut oil, followed by Indonesia, India, Vietnam, Bangladesh, Sri Lanka, Thailand, Mexico, Papua New Guinea, and the Ivory Coast.
Thisoil may be virgin or refined. Virgin or extra virgin oil is made from fresh coconut meat. First, the meat is heated, and then pressed with a machine to produce oil. Another method is to extract the milk from the meat and then ferment it to separate the milk and the oil. Cold pressed virgin oil is produced without using heat, and hence retains most of its nutrients. Refined coconut oil is produced by pressing the copra to produce the oil, which is then bleached to remove impurities.
It may last for up to three years, if stored properly in a cool and dark place, away from direct sunlight.
Coconut oil recipes
This oil is extensively used in South East Asian, African, Caribbean, and Indian cuisines. Also, it may be used to flavor curries, soups, baked goods, and salads. Here are a few recipes:
FDA regulations
The FDA classifies coconut oil under substances generally recognized as safe. Additionally, it permits this oil's use as a defoaming agent.
References
Coconut Oil, The Nutrition Source, Harvard T.H. Chan School of Public Health, https://www.hsph.harvard.edu/nutritionsource/food-features/coconut-oil/
Diana Lutz, Deep history of coconuts decoded, The Source, Washington University in St. Louis, https://source.wustl.edu/2011/06/deep-history-of-coconuts-decoded/ 
Boateng, Laurene et al. "Coconut oil and palm oil's role in nutrition, health and national development: A review." Ghana medical journal vol. 50,3 (2016): 189-196., https://www.ncbi.nlm.nih.gov/pmc/articles/PMC5044790/