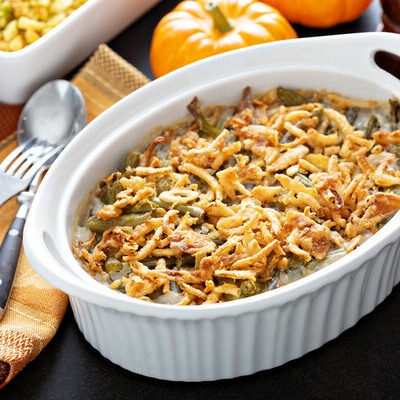 Green Bean Casserole
---
What is Green Bean Casserole?
Green bean casserole is a North American dish that consists of green beans, mushroom soup, and fried onions baked into a single dish. It is considered an iconic Thanksgiving dish and is frequently consumed during this holiday. Also, it is often served in the US as a side dish at parties and dinners.
Green bean casserole was originally invented by Campbell Soup Company, which donated the original recipe card to the National Inventors Hall of Fame in Akron, Ohio, in 2002.

Some variations of this dish include different types of soup or even replace green beans with

broccoli

or other vegetables.
The most popular Thanksgiving dishes include:
Mashed Potatoes

Stuffing

Macaroni and Cheese

Rolls

Cranberry Sauce

Green Bean Casserole

Sweet Potato Casserole

Brussel Sprouts

Creamed Spinach

Candied Yams

Glazed Carrots

Corn
Origin of green bean casserole
The invention of the green bean casserole is credited to Dorcas Reilly, test kitchen manager at Campbell Soup Company. She was asked to experiment with the company products and come up with an everyday side dish. Reilly came up with the recipe in 1955 and called it Green Bean Bake. It became popular very quickly once the company put the recipe on the back of the Cream of Mushroom Soup can. Within two decades, it had also become a Thanksgiving staple.
Nutrition
Nutritional profile for green bean casserole (1 cup):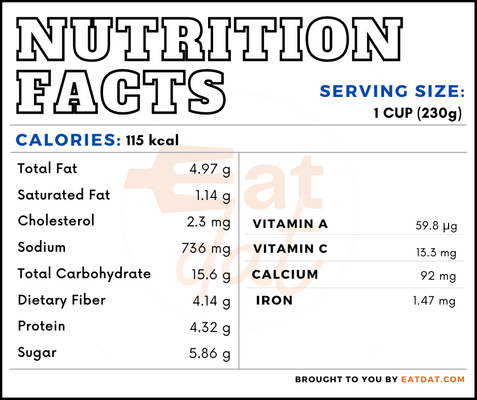 Green bean casserole is rich in potassium, calcium, magnesium, phosphorous, sodium, vitamin C, folate, choline, vitamin A, retinol, carotene, lutein + zeaxanthin, and vitamin K. Not to mention, French beans contain phenolic compounds that are beneficial to health, through gut microbes. They are known to have benefits for pregnant women by aiding the growth of the fetus. Also, this vegetable may help in preventing cancer due to the chlorophyll contained in it. Additionally, regular consumption may help in improving heart health, strengthen bones, reduce depression, and reduce anemia. 
Morever, regular consumption of mushrooms may help in reducing the risk of diseases such as Parkinson's, Alzheimer's, hypertension, stroke, and certain types of cancers. The fungi has antibacterial properties and helps boost the immune system. Furthermore, regular consumption of onions may help in reducing the risk of cancer, cataract, DNA damage, and cardiovascular diseases. Both raw and cooked onions retain the flavanols and anthocyanin. The outer layers of the vegetable contain the most antioxidants. However, green bean casserole is high in sodium due to the ingredients usually being canned, therefore it is best to consume it in moderation.
Commercial production
Green bean casserole is usually a home-cooked dish and is not often commercially prepared. The original recipe was developed by the Campbell Soup Company. The ingredients required are cream of mushroom soup, milk, soy sauce, green beans, and fried onion strings. First, the soup, milk, soy sauce, beans, and 2/3 onions are mixed together in a casserole pan. Then, salt and pepper are added, and the casserole goes into the oven to bake. Finally, the remaining onions are sprinkled on top as a topping.
Green bean casserole recipes
This is a traditional Thanksgiving dish in the US. It has several variations. Here are a few recipes to try:
FDA regulations
The FDA describes all fresh vegetables, including French beans, as a raw agricultural commodity and strictly regulates all aspects of their growing, harvesting, packing, and storage. Green beans fall under the 20 most frequently consumed raw vegetables. Canned French beans are defined as foods prepared from succulent pods of fresh green bean or wax bean plants.
Both onions and mushrooms are raw agricultural commodity (RAC) and fall under the most frequently consumed raw vegetables. However, the specifications for canned mushroom soup are stipulated by the USDA.
References