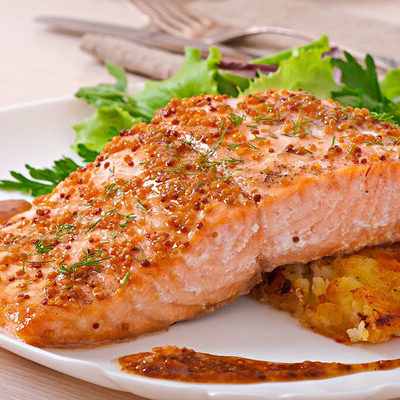 Salmon
---
What is Salmon?
Salmon is a type of fish commonly found in the Pacific and Atlantic oceans but is also extensively farmed. These fish swim through lagoons into freshwater to reproduce.
This fact distinguishes them from other commercially harvested fish.

People grill, roast, broil and smoke this food but sometimes it is even consumed raw.
In 2016, the total American import of salmon reached 128,815 metric tons.
The top six types of salmon are:
Chinook 

Coho

Humpies

Red

Salmo salar

Chum 
Origin of salmon
People in North America started hunting Pacific salmon about 9,000 years ago when they used dip nets to catch this fish. Salmon was not famous among North Americans at first. Although as time progressed, people became reliant on this fish, because it was a good source of protein. This fish was instrumental in the economic development of the western region of the United States. The typical method of preparing it was drying and smoking.
This fish has also been an integral component of the European diet over the centuries. The population of Atlantic salmon covers a significant percentage of the European coast. In 1215 AD, the depletion of this species became noticeable. This was because nets across rivers prevented this fish from getting back to their natural spawning grounds. In recent years, the reduction of this fish population has significantly increased due to overconsumption, industrialization, and advanced fishing techniques.
Traditional American tribes historically consumed a lot of this fish in their cuisine. The East and West coasts of America also have a substantial population of this fish. In 1840, New England started canning it and transporting it to places all over the US, such as California. Today, this fish still remains popular. 
Nutrition
In 3 ounces (approximately 85g), there are: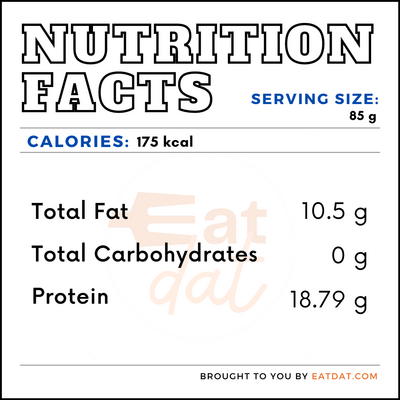 Salmon has several health benefits. Here are some of them:
It has a high potassium content, which is good for blood pressure.

It might be able to reduce the risk of developing heart disease.

This fish may be beneficial for helping with weight control.
However, this food has some health concerns associated with it. One of those concerns is that it may contain pollutants from various sources. Nonetheless, research has shown that the benefits of eating this food may outweigh the side effects.
Application
When you want to buy fresh salmon, pay close attention to its appearance. If it is farmed, the color will be light pink. If it is wild-caught, it will be bright pink. Also, be sure not to choose any that have blemishes. Appearance and smell play a significant role in purchasing this fish. 
The fish should not have a bad smell, as that would indicate that it is rotten. The ideal smell you should expect is a mild, sea breeze scent. When you are buying the frozen types, look out for ice crystals. When looking for smoked varieties of this fish, pay attention to their expiration date.  This fresh fish can last for two days in the refrigerator and six months in the freezer.
Commercial production
The first stage in the commercial production of this food is selecting the broodstock from sea site production stocks. Two months before stripping, they are transferred to freshwaters cages. The fish eggs or alveins are stripped dry and fertilized with milt before moving them into the tray system, where they will hatch. An alvein is a newly hatched salmon still carrying the yolk. When the alveins swim in the water columns, they indicate that they are ready for the first feed.
After feeding them for a while, the next step is to move them to the nursery. In the nursery, the fish are kept under controlled light and temperature to maximize productivity. Then, the fish are moved to sea sites when they can survive in seawater. The fish remain in cages for continuous growth and may remain in these sea sites for up to two years. The harvesting of the fish takes place when they weigh about 4.41 pounds. 
Salmon recipes
This fish can be used in a variety of dishes. Here are some popular recipes:
FDA regulation
According to the Food & Drug Administration, salmon is one of the 20 most frequently consumed raw fish in the United States. The organization has a standard of identity for canned Pacific types of this fish. The FDA has guidelines that detail how this canned food should be made, processed, and labeled. This regulation also encompasses food prepared from any of the specified species of this fish that the FDA recognizes. The food must be processed with heat and sealed in hermetically packaged containers.
References
Spritzler, Franziska. "11 Impressive Health Benefits of Salmon." healthline.com, Healthline Media, 20 Dec. 2016, www.healthline.com/nutrition/11-benefits-of-salmon.
Knudsen, Molly. "5 Reasons You Should Stop Eating Salmon." mindbodygreen.com, mindbodygreen blog, 17 June 2020, www.mindbodygreen.com/0-14180/5-reasons-you-should-stop-eating-salmon.html.
"CFR – Code of Federal Regulations Title 21.", accessdata.fda.gov, U.S. Food & Drug Administration, 1 Apr. 2019, www.accessdata.fda.gov/scripts/cdrh/cfdocs/cfcfr/CFRSearch.cfm?fr=101.44.