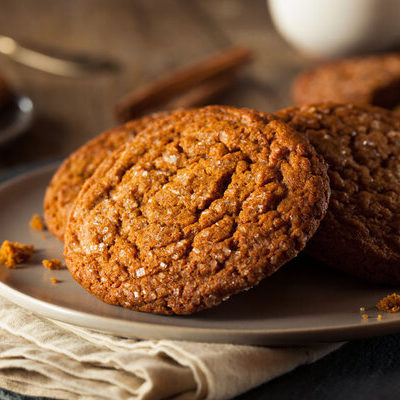 Sugar Cookies
---
What are Sugar Cookies?
Sugar cookies are baked goods made from sugar, flour, baking powder, eggs, and other ingredients. This sweet dough is baked until it has firm edges to provide a nice texture. People commonly consume sugar cookies as a dessert or use it as an ingredient for other sweet treats.
Not to mention that bakers often experiment with different flavors, ingredients, and decorations when making this food.

Sugar cookies are particularly popular around the holidays when they are stamped into festive shapes and topped with colorful sugar crystals.
The top 10 most popular cookie brands in the world include:
Oreo

Chips Ahoy

Pepperidge Farm

Keebler

Nestle

Famous Amos

Nilla

Pillsbury

Little Debbie

Nabisco
Origin of sugar cookies
These cookies are believed to have their roots in Nazareth, Pennsylvania in the 17th century. At the time, German protestant settlers baked a circular and buttery cookie which was commonly referred to as the Nazareth cookie. These settlers shaped the cookie into the physical form of a keystone, the state's icon. The popularity of these cookies later began to spread throughout Europe. Today, many people still consume these sweet treats and some even see making sugar cookies as an innovative art.
Nutrition
In a serving size of 1 oz (28.35g) of commercially produced, regular sugar cookies (including vanilla) there are: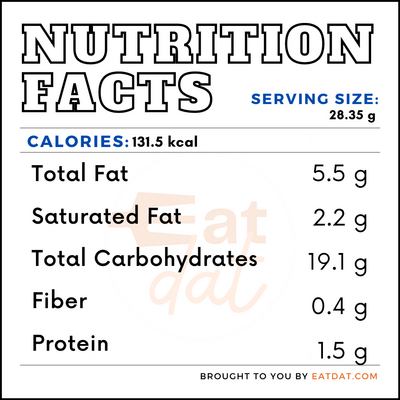 Sugar cookies contain eggs. Some possible health benefits of this food include:
They can raise high-density lipoprotein (HDL) cholesterol levels in the body.

This food may contain choline, which is essential in building cell membranes.

The eggs in this food contain antioxidants that can minimize the risk of eye disorders.
However, this food also contains added sugars. Therefore, it might not be advisable to consume it in excess amounts. When consumed in excess, added sugars can increase the risk of type 2 diabetes and heart disease. Furthermore, it can result in excess weight gain.
Commercial production
The production of this food involves mixing all the raw ingredients in batches to form dough. Machines cut the dough into its final shape before moving it to a large baking oven via a conveyor belt. Quality inspection ensures that the raw materials (for example, flour) are good quality and that the ingredients are mixed in the right proportion. Once baked, the cookies are left to cool before they are packaged and stored until ready to be sold.
The worldwide confectionery market was valued at $210.3 billion in 2019. This value is expected to hit $270.5 billion by 2027, with a growth rate of 3.6%. The world's largest producer of sugar is Brazil. Russia was the largest producer of wheat, flour, and wheat products from 2019-2020.
Application
Sugar cookies are easy to make. Here are tips you should know when making this food.
First of all, try to make your sugar cookie dough ahead of time. It is hard to roll out fresh dough because it is often soft and sticky.

Then, refrigerate your dough for about 15-60 minutes to make it stiff and easy to roll.

Next, roll out your dough in little batches. It is easier to work on a small quantity than a large lump.

For your dry ingredients, measure them if you can. Excess flour in your dough can make your cookies very dry.

Finally, when you are mixing your ingredients, do it slowly. This will keep your cookies from ballooning in the oven.
One way to store these cookies is to place them in an airtight container in the pantry. When you store sugar cookies at room temperature, keep them in small portions away from direct sunlight. This way, they can last for about two weeks. If you want to keep them for longer, store them in the freezer. These cookies can stay fresh in the freezer for around six months.
Sugar cookie recipes
This sugary snack can be enjoyed in various forms. Some top-rated recipes include:
FDA regulation
The Food and Drug Administration does not regulate the holding, growing, harvesting, or packing of sugar, as it is classified as a rarely consumed raw product. The organization also regards sugar as an ingredient that is safe for its intended use. The FDA has standards of identity for cereal flours and related products. The organization defines plain flour as the food prepared by grinding and bolting cleaned wheat, except durum wheat and red durum wheat. Sugar and flour are two significant components in the production of sugar cookies.
References
Jampel, Sarah. A Guide to Every Type of Holiday Sugar Cookie. Business Insider, Business Insider. 13 Dec. 2016, www.businessinsider.com/holiday-sugar-cookie-guide-2016-12. 
Foster, Kelli. "A Complete Visual Guide to 11 Different Kinds of Sugar." Kitchn, Apartment Therapy, LLC., 30 May 2019, www.thekitchn.com/a-complete-visual-guide-to-sugar-ingredient-intelligence-213715. 
"CFR – Code of Federal Regulations Title 21." accessdata.fda.gov, U.S Food & Drug Administration, 1 Apr. 2019, www.accessdata.fda.gov/scripts/cdrh/cfdocs/cfcfr/CFRSearch.cfm?fr=112.2.