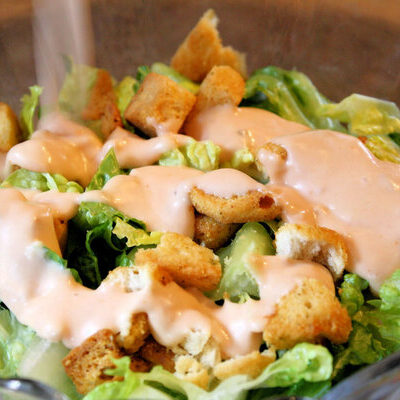 Thousand Island Dressing
---
What is a Thousand Island Dressing?
Thousand Island dressing is a salad dressing that is popular in the United States. It is made with a base of mayonnaise and a tomato-based sauce such as ketchup, and flavored with spices, aromatics, and seasonings. This salad dressing generally combines a tangy and sweet taste but may be customized to suit spicier or tangier palates.
The name comes from the Thousand Islands region between the US and Canada.

It is one of the top five most popular salad dressings used in the US.
The top 15 most popular Thousand Island dressing brands are: 
Kraft

Ken's Steak House

Wish-Bone

Walden Farms

Tuscan Garden

Kroger

Great Value

Marie's

Ken's

Newman's Own

Litehouse

Marzetti

Wild Oats Marketplace

Market Pantry

365 Everyday Value
Origin of thousand island dressing
This dressing originates from the region along the St. Lawrence River straddling the US and Canada. One story about the origin of this dressing goes back to George Boldt, owner of the Waldorf Astoria Hotel. He and his wife often holidayed in Boldt Castle, located in the region. Once, while on their yacht, their chef prepared this sauce and Boldt loved it so much, he put it on the menu of Waldorf Astoria.
Another story credits the origin to the Thousand Islands Inn located in the same area. The recipe for it was found in a safe and traced back to a Sophia Lalonde who popularized it by using it for her husband, a fishing guide, and his guests. There are multiple other origin stories as well, although none of them are backed up by evidence.
Nutrition
Nutritional profile for Thousand Island dressing (1 tbsp):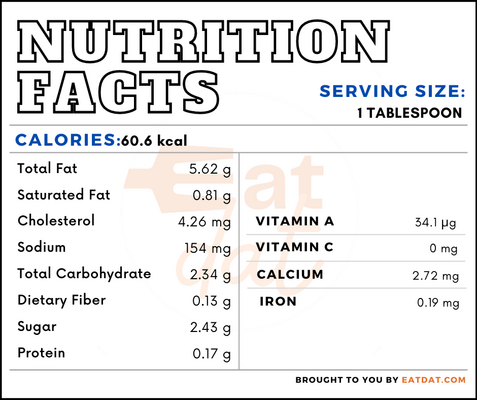 Thousand Island dressing is rich in micronutrients such as potassium, carotene, cryptoxanthin, lycopene, and vitamin K. Also, it contains magnesium, choline, retinol, lutein + zeaxanthin, vitamin E, and fatty acids. However, this sauce is high in unhealthy components like saturated fat, sodium, LDL, and sugar.
The main ingredients in Thousand Island dressing are mayonnaise and ketchup. Mayonnaise is a high-fat food that can easily lead to diseases such as obesity and cardiovascular diseases, if consumed too much. In moderate quantities, it can be beneficial to health because it is rich in polyunsaturated fatty acids. Ketchup contains high fructose corn syrup, and overconsumption of fructose can lead to obesity, diabetes, and other health issues. Nonetheless, the processing of tomatoes breaks down the cell walls of the tomatoes and makes lycopene, an antioxidant that helps in keeping the heart healthy and in preventing some types of cancer, readily available to consumers. 
Commercial production
The main ingredients for producing Thousand Island dressing are mayonnaise and a sweet tomato sauce. Other ingredients such as olive oil, lemon juice, paprika, mustard, chilies, Tabasco sauce, pickles, garlic, chives, parsley, salt, pepper, or any number of other ingredients may be added, according to taste. All the ingredients are blended together to prepare the sauce. Commercial preparations will include stabilizers, emulsifiers, and other additives before bottling the dressing for sale.
Thousand island dressing recipes
Thousand Island dressing is most commonly used as a salad dressing. In addition, it may be used as a spread for sandwiches or as a dip. Here are some recipes:
FDA regulations
According to the USDA, Thousand Island dressing must confirm to the salient requirements for raw ingredients approved by the FDA for salad dressings and may include dehydrated pickle relish mix, tomato powder, chili powder, dehydrated finely chopped ingredients such as green peppers, red bell peppers, onions, parsley, cayenne pepper and dried eggs as optional ingredients. The FDA classifies all salad dressings under food dressings and flavorings, and strictly regulates its production and packaging. 
References
Who really created Thousand Island dressing?, WRVO, https://www.wrvo.org/regional-coverage/2016-11-24/who-really-created-thousand-island-dressing 
Mirzanajafi-Zanjani, Mina et al. "Challenges and approaches for production of a healthy and functional mayonnaise sauce." Food science & nutrition vol. 7,8 2471-2484. 18 Jul. 2019, doi:10.1002/fsn3.1132, https://www.ncbi.nlm.nih.gov/pmc/articles/PMC6694423/ 
David Trilling, High-fructose corn syrup and your health: Research roundup, The Journalist's Resource, Shorenstein Center on Media, Politics, and Public Policy; Harvard Kennedy School, https://journalistsresource.org/environment/high-fructose-corn-syrup-your-health/