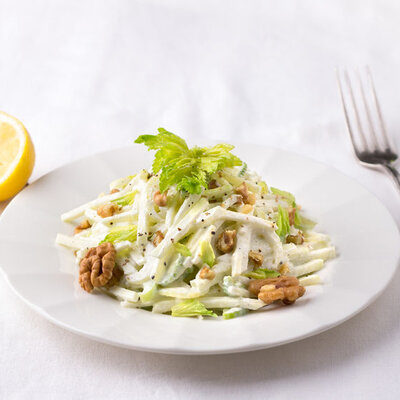 Waldorf Salad
---
What is Waldorf Salad?
A Waldorf salad is a fresh salad made with fruits and nuts, including apples, grapes, walnuts, and celery. This salad is commonly served on a bed of lettuce and dressed with mayonnaise. The Waldorf salad can be served as a starter or main dish.
This salad gets its namesake from the place where it was invented, the Waldorf-Astoria Hotel in New York City.

Now an American classic, this dish was originally served at this historic hotel during a celebration in the 19th century.
According to Taste Atlas, the top 10 most popular American salads are:
Caesar Salad

Chinese Chicken Salad

Macaroni Salad

Cobb Salad

Poke

Waldorf Salad

Chef's Salad

Conch Salad

Frog Eye Salad

Salpicón de res
Origin of Waldorf salad
This salad was created, not by a chef, but by the maître d'hôtel Oscar Tschirky of the Waldorf-Astoria hotel in 1896. Tschirky put the dish together for a society supper of 1,500 people and originally included only apples, celery, and mayonnaise. In 1928, walnuts were added to this salad by George Rector in his book, The Rector Cook Book. Since then, Waldorf Salads has been reinvented in many ways and even exported to other parts of the world. Today, the Waldorf-Astoria hotel has closed, but this salad lives on and remains one of the most popular salads in the United States.
Nutrition
As it contains mainly fruits and vegetables this salad can offer a good source of nutrients, such as vitamins A & C, iron, potassium, and calcium. However, the presence of mayonnaise increases the fat and cholesterol content in this dish. A serving (1 cup) of this salad can contain: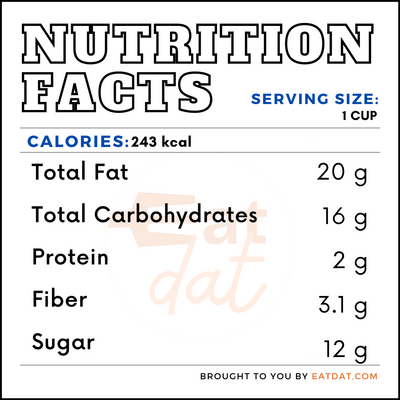 Nonetheless, it is possible to make a healthier version of  using low-fat mayonnaise and lemon juice.
Commercial Production
The growing popularity of salads played a big role in the rise of the commercial production of romaine lettuce. When fast-food restaurants began serving salads, romaine lettuce production skyrocketed from hardly any farmland to 16,000 acres. Today, that number is somewhere around 20,000 acres across the country. Although Waldorf salads are usually made fresh in restaurants or at home, they can sometimes be purchased prepackaged in supermarkets.
Use
The Waldorf salads combine textures and flavors to create a well-rounded dish. Although each of its components has different life spans, keeping them fresh is always best. Lettuce can last longer if it's packaged and undressed. Mayonnaise contains eggs, and therefore, should always be stored in a cool, dark place. Unopened mayonnaise does not need to be refrigerated unless the label indicates otherwise. If opened, you should take care to seal the mayonnaise jar properly and store it in the refrigerator. 
Waldorf salad recipes
This classic salad can be adjusted to suit any taste. Here are some popular recipes:
FDA Regulation
The Food & Drug Administration does not have any specific regulations regarding the Waldorf salad. However, the FDA regulates mayonnaise, the dressing for Waldorf salads, which it defines as "the emulsified semisolid food prepared from vegetable oils and egg yolks". This regulation goes on to stipulate that mayonnaise should not contain more than 65% by weight of vegetable oil. The FDA classifies fruits and vegetables as raw agricultural commodities, as well as regulates their growing, harvesting, and packing. Additionally, the FDA classifies walnuts as tree nuts and also regulates their growing, harvesting, and packing.
References
"The History of Waldorf Salad." Quaintcooking.com, Quaint Cooking, 14 Nov. 2019, quaintcooking.com/2019/11/14/the-history-of-waldorf-salad/.
"Section 514, Origins of Specific Salads and Salad Dressings." The Oxford Companion to American Food and Drink, by Andrew F. Smith, Oxford University Press, New York, 2009. 
Olver, Lynne. "Salads." Foodtimeline.org, The Food Timeline, 3 Jan. 2015, www.foodtimeline.org/foodsalads.html. 
Hills, Samantha Weiss. "The Salad That's Ordered 20,000 Times a Year in New York." Food52.Com, Food52, 26 Sept. 2018, food52.com/blog/13272-the-story-behind-the-most-popular-salad-in-new-york. 
"CFR – Code of Federal Regulations Title 21." Accessdata.fda.gov, U.S. Food & Drug Administration, 1 Apr. 2019, www.accessdata.fda.gov/scripts/cdrh/cfdocs/cfcfr/CFRSearch.cfm?fr=169.140.