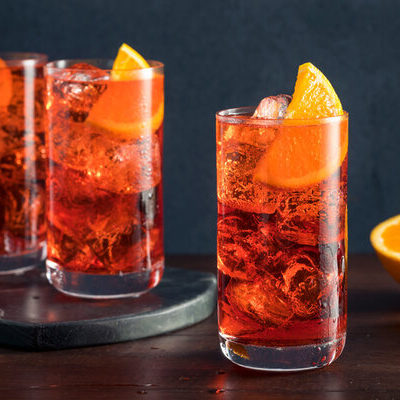 Americano Cocktail
also known as Milano Torino
---
What is an Americano?
Americano is a cocktail of Italian origin made of Campari and sweet vermouth along with soda, garnished with a lemon slice. It is an official cocktail selected by the International Bartenders Association (IBA) for the World Cocktail Competition. The Americano cocktail is legendary for being the first drink ordered by James Bond in the movies starring Ian Fleming.
It has a bittersweet taste and a rich reddish brown color.

The Americano cocktail got its name due to the fact that Americans in Italy loved it.
Some of the most popular IBA cocktails include:
Americano

Between The Sheets

Casino

Daiquiri

Dry Martini

John Collins

Manhattan

Negroni

Old Fashioned

Paradise

Rusty Nail

Screwdriver

Sidecar

Tuxedo

Whiskey Sour
Origin of americano
The Americano cocktail was invented by Gaspare Campari in the 1860s and served in his bar in Milan. At the time, it was known as Milano-Turano, in reference to the origin of the two primary ingredients: Campari, which is from Milan, and vermouth, made in the style popular in Turin. In the 1920s, Americans thronged Europe after the end of World War I and during Prohibition in the US. The cocktail turned out to be extremely popular among them and was renamed the Americano.  Another legend has it that the Americano cocktail was invented in the 1930s in honor of Italian boxer, Primo Carnera, who was popular in the US.
Nutrition
Nutritional profile for Americano Cocktail (1 serving):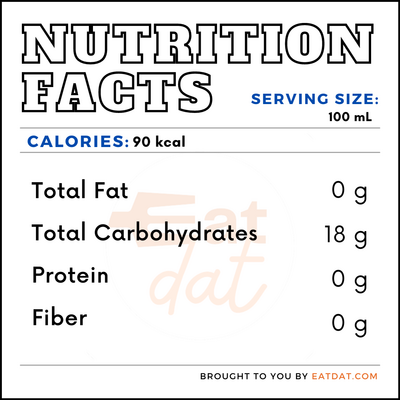 A unit of 100 ml of vermouth wine with 18.8 mg alcohol contains 220 mg polyphenol compounds. These antioxidants can protect the body against heart diseases, diabetes, and give a general health boost. On the other hand, alcoholic beverages such as vermouth have been found to contain asbestos fibers, which can cause cancer. Campari is bitter, which may aid in digestion. Also, it can produce essential enzymes and is considered good for the liver.
However, overconsumption of any alcohol, including the Americano cocktail, can lead to several health problems, including affecting the brain's functioning patterns and general lowering of immunity. Regular consumption of alcohol can increase the risk of heart disease, liver cirrhosis, pancreatitis, high blood pressure, stroke, diabetes, cancer, as well as obesity, depression, and aging. It is best to consume this drink responsibly and in moderation.
Commercial production
The Americano cocktail is popular in many bars and pubs. It is served in tall highball glasses. In many places, it is even served in pitchers. To prepare the drink, the Campari and sweet vermouth are poured into a glass filled with ice. Then, the drink is topped with club soda and garnished with a lemon or orange twist.
Americano recipes
The recipe for this cocktail calls for vermouth and Campari. However, it can be modified to make variations to the drink. Here are a few recipes to try:
FDA regulations
Alcohol is regulated by the TTB in the US. Campari has no specific standard of identity given by the TTB. However, Campari is classified as a bitter, which is defined as a distilled spirit product distinguished by its bitterness produced by blending extracts of plants, seeds, herbs, barks and/or roots with any class and/or type of distilled spirits. Vermouth is classified as an aperitif and defined as wine having an alcoholic content of not less than 15 percent by volume, compounded from grape wine containing added brandy or alcohol, flavored with herbs and other natural aromatic flavoring materials.
References
Paul Clarke, The Truth About Vermouth, SF Gate
https://www.sfgate.com/wine/article/The-Truth-About-Vermouth-3273102.php
"Unexpected Health Benefits of Campari Wine – Tell Your Brothers!" DrHealthBenefits.com, DrHealthBenefits.com, 18 July 2018, https://drhealthbenefits.com/food-bevarages/beverages/processed-beverages/health-benefits-of-campari-wine.
Is it time to rethink how much you drink?, Harvard Health Publishing, Harvard Medical School
https://www.health.harvard.edu/heart-health/is-it-time-to-rethink-how-much-you-drink