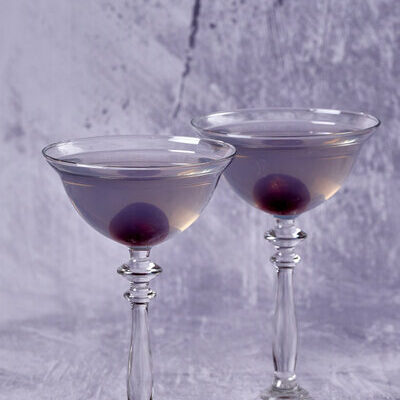 Aviation Cocktail
---
What is Aviation Cocktail?
The Aviation is a cocktail made with gin, Maraschino liqueur, crème de violette, and lemon juice. It is considered to be a fancier version of a gin sour. The cocktail has a signature violet or blue color, and has a sweetish taste with strong floral hints.
The name of the drink refers to its color and is from an era of air travel, when it was reserved for the wealthy few.

Though many bartenders do without the crème de violette due to its inaccessibility, it is a significant ingredient in the cocktail. 
Some other popular purple-colored cocktails are:
Aviation

Water Lily

Stormy Morning

Eagle's Dream

Violet Fizz

Blue Moon

Bella Luna

Blue Angel

The Drive

Lavender Mule
Origin of aviation
This cocktail is a type of gin sour that was invented in the US. Though it may have originated much earlier, it first appeared in a cocktail recipe book by a bartender, Hugo Ensslin, in 1917 called Recipes for Mixed Drinks. Ensslin was probably also the inventor of this cocktail. It was extremely popular before Prohibition started in 1920. 
Maraschino liqueur and crème de violette disappeared from the market for several decades and are still hard to obtain. In 1930, Harry Craddock, a bartender at The Savoy, published a book called The Savoy Cocktail Book, in which he gave a version of the Aviation without the crème de violette. However, this cocktail is now making a comeback with the sporadic availability of the liqueurs required for preparing it.
Nutrition
Nutritional profile for Aviation cocktail (1 serving):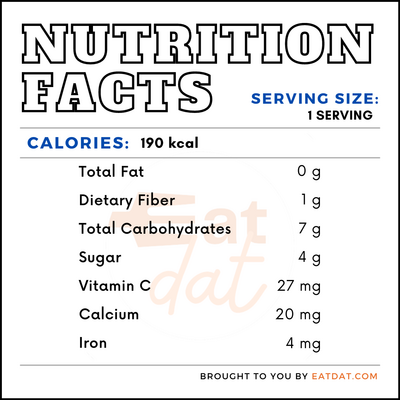 Lemons and lemon juice, by extension, have very little calories but are chock full of nutrition. A single lemon can provide 30 mg of vitamin C. Furthermore, lemon juice contains plenty of different flavonoids and phenolic compounds, which are powerful antioxidants. Also, lemon juice contains decent levels of calcium, iron, phosphorus, potassium, selenium, folate, choline, vitamin A, lutein, and zeaxanthin, all of which are essential for good health. Traditionally, lemon juice has been used as a treatment for high blood pressure, common cold, sore throat, and irregular menstruation. In addition, regular consumption of lemon juice can help in lowering the risk of stroke, cancer, and asthma, while increasing iron absorption, immune system functioning, and weight loss. 
Gin has no nutritional value and without any vitamins and minerals, has empty calories. There are seven calories in every gram of alcohol. Furthermore, overconsumption of alcohol can result in a change in the brain's functioning patterns, liver cirrhosis, pancreatitis, heart problems, strokes, different types of cancers, as well as affect overall immunity.
Commercial production
The production of the Aviation requires gin, Maraschino liqueur, lemon juice, and crème de violette. First, these ingredients are added to a cocktail shaker filled with ice and shaken until the liquid is chilled and a mild purple in color. Then, the cocktail is strained into a coupe glass or a martini glass and served with a maraschino cherry as garnish. A Nick and Nora glass may also be used.
Aviation cocktail recipes
This beverage is a classic cocktail although it uses difficult-to-source ingredients. Here are some recipes to try:
FDA regulations
The TTB classifies gin as a product obtained by original distillation from mash, or by re-distillation of the distilled spirits, with juniper berries and other aromatics. Gin must be bottled at 80⁰ proof. Different types of gin are covered under this description. Crème de violette is classified as a liqueur or cordial with the predominant flavor of violets. There is no specific definition for Maraschino liqueur but it is indicated that the flavor (maraschino cherry) must be indicated in its name.
The FDA defines lemon juice as the unfermented juice obtained from ripe lemons from which seeds and excess pulp are removed. The acidity of concentrated lemon juice must not exceed 15 percent of the acidity of the finished food. 
References
Robert Simonson & Lizzie Munro, The Rise and Fall of the Aviation Cocktail, Punch Magazine, https://punchdrink.com/articles/aviation-cocktail-recipe-history-rise-and-fall/
National Institute of Alcohol Abuse and Alcoholism, Alcohol's Effects on the Body, https://www.niaaa.nih.gov/alcohols-effects-health/alcohols-effects-body
Hughes, N. (1992), "Gin", Nutrition & Food Science, Vol. 92 No. 4, pp. 14-16. https://doi.org/10.1108/EUM0000000000962 
Oikeh, Ehigbai I et al. "Phytochemical, antimicrobial, and antioxidant activities of different citrus juice concentrates." Food science & nutrition vol. 4,1 103-9. 30 Jul. 2015, doi:10.1002/fsn3.268, https://www.ncbi.nlm.nih.gov/pmc/articles/PMC4708628/