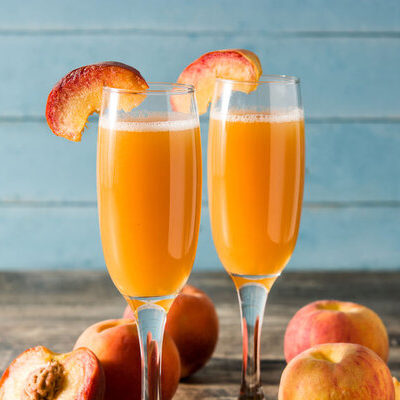 Bellini
---
What is Bellini?
Bellini is a cocktail of Italian origin made with Prosecco and white peach puree. Fruit juices, such as raspberry and cherry, may also be added. The cocktail has a pinkish color, as well as a thick consistency and mildly sweet taste. White peaches are preferred for the drink but yellow peaches may be used in case of unavailability of the former.
The alcohol content of a glass Bellini cocktail is just 7 percent ABV, making it a preferred choice for a brunch

cocktail

.

The beverage is traditionally served in a champagne or flute glass.
Some top Prosecco wines that may be used in making a Bellini are:
Adami Garbèl

La Marca

Giuliana

Cinzano

Bocelli

Ruffino

Carpené Malvolti

Santa Margherita

Mionetto

Stellina di Notte

Zonin 
Origin of bellini
This cocktail was first invented in 1948 by Giuseppe Cipriani, owner of the famous Harry's Bar in Venice. The name of the cocktail honors the Renaissance artist Giovani Bellini, whose paintings had vivid hues similar to those of the drink. In 1946, Luciano Canella had started producing Prosecco wine just outside Venice, making the invention of this cocktail perfectly timed. After the Bellini gained popularity, Canella's children decided to produce the cocktail in a bottle. Due to both regulars of Harry's Bar and Canella's customers, the Bellini became known far and wide.
Nutrition
One serving of Bellini has approximately 180 calories: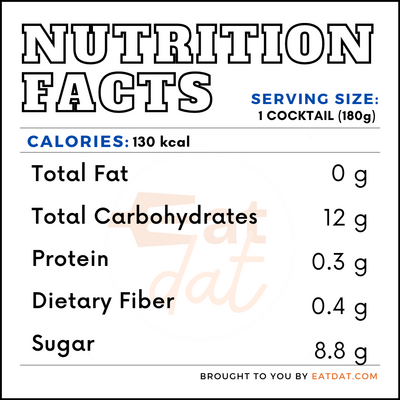 nutrients such as vitamins A & C, calcium, potassium, and iron. Prosecco and other white wines also offer protection against cardiovascular diseases and cancer. However, overconsumption of alcoholic beverages in general may lead to health problems.
Commercial production
To prepare the classic cocktail, one chilled bottle of Prosecco wine, 4 white peaches, raspberries or cherries, and peach slices are required. First, the peaches are peeled and the flesh is pureed in a blender. Then, the puree is chilled. Meanwhile, raspberries and cherries are also pureed and strained. To prepare the cocktail, the peach and raspberry purees are put into the glass, to which the wine is added. Finally, the drink is stirred and garnished with a slice of peach. Most bars and restaurants serve this drink in a flute glass.
Bellini recipes
This cocktail makes a great flavor for different desserts and drinks. Here are a few recipes to try out:
FDA regulations
All alcohol is regulated by the  TTB (Alcohol and Tobacco Tax and Trade Bureau) unless they are artisanal products, in which case they are regulated by the FDA. There are strict regulations regarding the governing of any type of wine. However, prosecco has yet to be explicitly defined by the TTB.
References
Franceschi D., Tiranno M., Vincenzi S., Boatto V., Bravi M., 2015, 'artificial sensory analysis' for sensory classification of prosecco sparkling wines, Chemical Engineering Transactions, 43, 181-186 DOI: 10.3303/CET1543031, https://www.aidic.it/cet/15/43/031.pdf 
Is it time to rethink how much you drink?, Harvard Health Publishing, Harvard Medical School, https://www.health.harvard.edu/heart-health/is-it-time-to-rethink-how-much-you-drink
The History Behind the Bellini Cocktail, Eataly Alti Cibi, https://www.eataly.com/us_en/magazine/culture/history-bellini-cocktail/ 
Lamuela-Raventós, R M, and M C de la Torre-Boronat. "Beneficial effects of white wines." Drugs under experimental and clinical research vol. 25,2-3 (1999): 121-4, https://pubmed.ncbi.nlm.nih.gov/10370874/