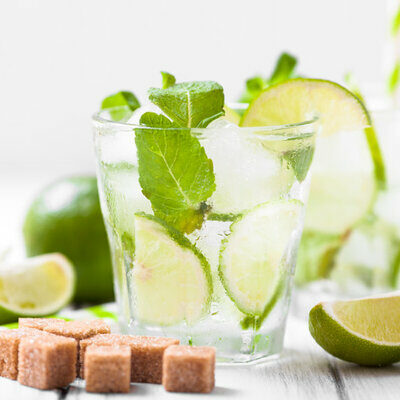 Caipirinha
---
What is Caipirinha?
The Caipirinha is a cocktail of Brazilian origin. It is made with cachaça, sugar, and lime juice. This drink is usually shared and is made in a large jar from which individual portions are poured out. The cocktail has a subtle flavor of sugarcane and lime juice, and the aromas of sugarcane and its fermentation.
It is very high on alcohol content and has an ABV of approximately 38 to 48 percent.

Also, Caipirinha is the national drink of Brazil.
The top 6 most popular cachaça brands are:
Beija 

Milagre de Minas

Ypioca

Minas Gerais

Germana 

Magnifica
Origin of caipirinha
It is believed that caipirinha originated as a medicinal concoction during the Spanish Flu epidemic. It originally contained garlic, honey, lime, and other herbs used to cure colds. Eventually sugar replaced the honey and the herbs were removed to create the modern drink. The word comes from the Portuguese word 'caipira', which refers to country people. Caipirinha is often described as the Brazilian Mojito. 
Nutrition
Nutritional profile for Caipirinha (1 glass):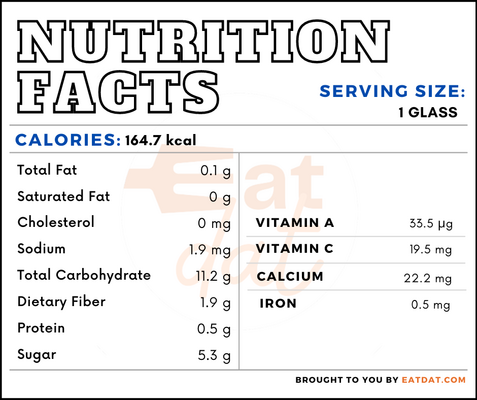 The cachaça in the cocktail may result in alveolar bone deterioration. Furthermore, overconsumption of alcohol can lead to several health problems, including affecting the brain's functioning patterns and general lowering of immunity. Regular consumption of alcohol can increase the risk of heart disease, liver cirrhosis, pancreatitis, high blood pressure, stroke, diabetes, cancer, as well as obesity, depression, and aging. It is best to consume this beverage responsibly and in moderation.
Commercial production
To prepare a Caipirinha, the main ingredients required are cachaça, sugar, and lime wedges. Cachaça is a Brazilian liquor made with sugarcane and can only be produced in Brazil. Dark brown sugar offers a cocktail that is rich and flavorful while demerara sugar brings notes of toffee to the drink. However, white sugar is the most used ingredient. For the lime juice, the pith must be removed in order to prevent a bitter flavor.
First, the lime wedges and sugar are muddled in a glass and then ice is added to it. Then, the cachaça is poured over the drink and served. The best garnish for this drink is a lime slice. This cocktail is best served in a highball glass or a rocks glass.
Cairpirinha recipes
This is a versatile cocktail that may be changed according to taste to incorporate several fresh fruit juices. Also, changing the base liquor can create some variations. Here are a few recipes:
FDA regulations
In the US, cachaça is defined by the TTB as a type of rum and a distinctive product of Brazil since 2013. In Brazil, cachaça is recognized as a separate distilled spirit made from sugarcane, containing an ABV of between 38 to 48 percent. Sugar, known as sucrose sugar, cane sugar, or beet sugar is the chemical [beta]-D-fructofuranosyl-[alpha]-D-glucopyranoside obtained by crystallization from sugar cane or sugar beet juice that has been extracted by pressing or diffusion, then clarified and evaporated. The FDA regulates all fruit juices and citrus juices, including lime juice. It is specified that lime juice must have at least 24.5 percent concentration. 
References
Is it time to rethink how much you drink?, Harvard Health Publishing, Harvard Medical School, https://www.health.harvard.edu/heart-health/is-it-time-to-rethink-how-much-you-drink
Jaron, The Best Sugar for Making Caipirinha, Foodsguy, https://foodsguy.com/sugar-making-caipirinha/ 
Bastos, Marta Ferreira et al. "Effects of Cachaça, a typical Brazilian alcoholic beverage, on alveolar bone loss and density: a study in peripubertal rats." Archives of oral biology vol. 59,1 (2014): 82-91. doi:10.1016/j.archoralbio.2013.10.002, https://pubmed.ncbi.nlm.nih.gov/24183604/