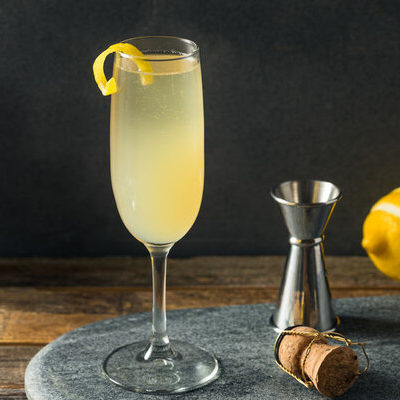 French 75
also known as 75 Cocktail
---
What is French 75?
French 75 is a champagne-based cocktail in which gin, lemon juice, and sugar are also added. In French, it is called "Soixante Quinze", which means 75.
The name is a reference to the 75mm machine gun that was popularly used by the French during World War I.

It is a relatively strong drink with approximately 15 percent ABV.
This cocktail is often consumed for brunch and is also a popular drink for special occasions and parties. Some of the best champagnes that can be used in preparing this cocktail are:
G.H. Mumm "Cordon Rouge" Brut NV

Taittinger Brut "La Francaise" Brut NV

Perrier-Jouët Grand Brut Champagne NV

Drappier "Carte d'Or" Brut NV

Charles de Fère "Cuvee Jean-Louis" Blanc de Blancs

Victorine de Chastenay Crémant de Bourgogne Brut NV

Domaine des Baumard Crémant de Loire "Carte Turquoise" Brut

Cava Flama d'Or Brut
Origin of french 75
The recipe for this cocktail can be found in the 1930's cookbook, The Savoy Cocktail Book. However, the actual origin of the cocktail was during WWI in France. It is believed that the name was given by Scot Harry MacElhone, an American who had a bar in Paris at the time. He credits its origin to the Buck Club in London. There is some evidence that similar drinks were being consumed in England as far back as 1867. 
Nutrition
One cocktail (122g) of french 75 contains: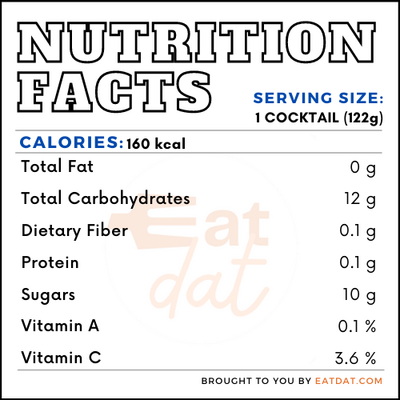 *Percentages are based on a diet of 2000 calories a day
A classic French 75 cocktail consists of gin, champagne, lemon juice, and sugar. Individually, these components have different effects on the human body. Gin has no nutritional value and, without any vitamins and minerals, provides empty calories. Generally speaking, there are seven calories in every gram of alcohol. Moderate consumption of champagne may improve blood flow. However, it also reduces the bioavailability of minerals through the blood. 
Lemon juice contains plenty of different flavonoids and phenolic compounds, which are powerful antioxidants. Also, lemon juice contains decent levels of calcium, iron, phosphorus, potassium, selenium, folate, choline, vitamin C, vitamin A, lutein, and zeaxanthin, all of which are essential for good health. Traditionally, lemon juice has been used as a treatment for high blood pressure, common cold, sore throat, and irregular menstruation. Regular consumption of lemon juice can also help in lowering the risk of stroke, cancer, and asthma, while increasing iron absorption, immune system functioning, and weight loss.
Sugar can be good for the health of the brain, provided it is consumed in balanced quantities. Overconsumption of sugar can lead to an increase in the risk of heart diseases, diabetes, cancer, and other diseases. Also, excessive consumption of it may lead to obesity, depression, and aging. It is very important to limit consumption of sugar in order to ensure that both mind and body are functioning properly. 
Commercial production
The cocktail requires a 1:3 proportion of gin to champagne. Lemon juice and sugar syrup are also added in equal quantities to half of the gin proportion. First, the lemon, gin, and sugar syrup are added to a glass with some ice and shaken well. Then, the ice is strained off and the drink is topped off with champagne. French 75 is usually served in a flute glass and garnished with a lemon twist.
French 75 recipes
The 75 cocktail is usually consumed on its own and has a standard recipe, but it can be occasionally varied with the addition of other ingredients. Here are a few popular recipes:
FDA regulations
The TTB classifies gin as a product obtained by original distillation from mash, or by re-distillation of the distilled spirits, with juniper berries and other aromatics. Gin must be bottled at 80⁰ proof. Different types of gin are covered under this description. Champagne is defined as a type of sparkling grape wine with an ABV of less than 14 percent, which is made from a secondary fermentation of the wine. It is also only attributed to products from the Champagne district of France.
The FDA defines lemon juice as the unfermented juice obtained from ripe lemons from which seeds and excess pulp are removed. The acidity of concentrated lemon juice must not exceed 15 percent of the acidity of the finished food. Sugar or sucrose is defined as the product obtained by crystallization from sugar cane or sugar beet juice that has been extracted by pressing or diffusion, then clarified and evaporated.
References
Hughes, N. (1992), "Gin", Nutrition & Food Science, Vol. 92 No. 4, pp. 14-16. https://doi.org/10.1108/EUM0000000000962 
Rehm, Jürgen. "The risks associated with alcohol use and alcoholism." Alcohol research & health : the journal of the National Institute on Alcohol Abuse and Alcoholism vol. 34,2 (2011): 135-43. https://www.ncbi.nlm.nih.gov/pmc/articles/PMC3307043/ 
Klimek-Szczykutowicz, Marta et al. "Citrus limon (Lemon) Phenomenon-A Review of the Chemistry, Pharmacological Properties, Applications in the Modern Pharmaceutical, Food, and Cosmetics Industries, and Biotechnological Studies." Plants (Basel, Switzerland) vol. 9,1 119. 17 Jan. 2020, doi:10.3390/plants9010119, https://www.ncbi.nlm.nih.gov/pmc/articles/PMC7020168/
French 75, Gin Foundry, https://www.ginfoundry.com/cocktail/french-75-cocktail/