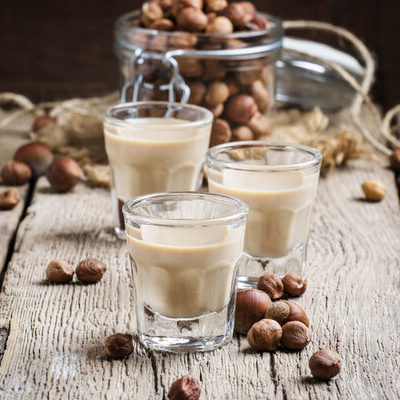 Hazelnut Liqueur
also known as Frangelico
---
What is Hazelnut Liqueur?
Hazelnut liqueur is a type of liqueur made from the infusion of hazelnuts and caramel. It has a distinct flavor of hazelnuts and can be consumed either straight or in a cocktail. It can add a sweet and nutty taste to a cocktail and can also include other flavors such as cocoa, coffee, and vanilla.
Hazelnut liqueur has 20 percent ABV and is a pale golden color. 

Frangelico is the most famous brand of hazelnut liqueur, and the brand has come to denote the product.
The most popular frangelico brands are:
Frangelico 

Baileys

Fratello 

Gabriel Boudier

Giffard

Adamsons of Anglesey

Luxardo Angioletto 
Origin of hazelnut liqueur
This liqueur is of Italian origin and the Frangelico brand is made in the Piedmont region. The brand was only created in 1978 by the Barbero family. The origin of the liqueur goes farther back in time, perhaps more than 300 years, to the Christian monks who were using wild hazelnuts to make liqueurs. The name of the brand comes from a monk called Fra' Angelico, who lived in Piedmont. The bottle is shaped like a monk's habit and has a rope dangling around the middle, denoting a friar's belt. 
Nutrition
A 1-ounce serving of hazelnut liqueur contains around: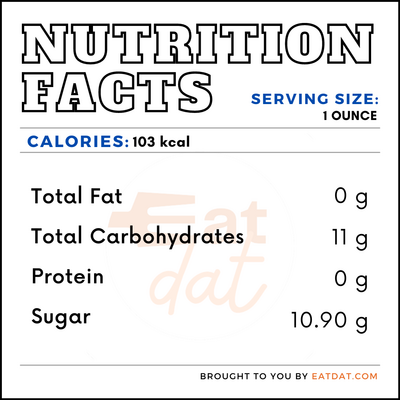 Furthermore, the alcohol has no nutritional value and has a moderate alcohol content at 20 percent ABV. Overconsumption can lead to several health problems, including affecting the brain's functioning patterns and a general lowering of immunity. Regular consumption of alcohol can increase the risk of heart disease, liver cirrhosis, pancreatitis, high blood pressure, stroke, diabetes, cancer, as well as obesity, depression, and aging. However, in moderation, consumption of hazelnut liqueur might bring some benefits, such as decreased risk of cardiovascular disease, hypertension, diabetes, and certain types of cancer due to the phenolic content of the liqueur. 
Commercial production
Frangelico is made with hazelnuts, cocoa seeds, vanilla beans, roasted coffee, caramel, and other flavoring ingredients. First, the hazelnuts are harvested, shelled, and then toasted. These nuts are then crushed and infused in a mixture of alcohol and water. Once the infusion is ready, it is distilled and then blended with the flavoring to produce a concentrate, which is then blended with alcohol, sugar, and water. The liqueur is then rested in vats for 6 to 8 weeks before bottling. Other hazelnut liqueurs might have mildly different recipes.
Any hazelnut liqueur must be stored in a cool and dark place, away from direct sunlight. An open bottle will begin to evaporate and lose flavor, so it is best to store it in optimum conditions. The shelf life of the product is around one year. Homemade hazelnut liqueur can last for up to 2 months.
Hazelnut liqueur recipes
This alcohol can be enjoyed as a dessert when poured over ice. It can also be mixed to make cocktails, for which whiskey and brandy are the best options. Adding cream to the mix also complements its flavor well, making for excellent dessert drinks. Another option is to pair it with fruits. Frangelico can also be used in cooking and baking. 
Here are a few recipes:
FDA regulations
All alcohol-related products are regulated by the Alcohol and Tobacco Tax and Trade Bureau (TTB) in the US. Liqueur is defined as flavored spirits mixed with fruits, flowers, plants, or juices. There is no specific standard of identity for hazelnut liqueur. 
References
Colleen Graham, What Is Frangelico Liqueur?, The Spruce Eats, https://www.thespruceeats.com/what-is-frangelico-liqueur-760271 
Arranz, Sara et al. "Wine, beer, alcohol and polyphenols on cardiovascular disease and cancer." Nutrients vol. 4,7 (2012): 759-81. doi:10.3390/nu4070759, https://www.ncbi.nlm.nih.gov/pmc/articles/PMC3407993/