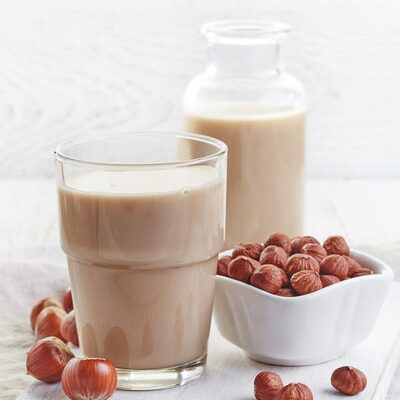 Hazelnut Milk
---
What is Hazelnut Milk?
Hazelnut milk is a milk alternative produced by roasting, soaking, blending, straining and mixing hazelnuts with water. This dairy-free milk has a sweet and nutty taste. Hazelnut trees can produce fruits for more than 100 years. Some common hazelnut varieties include: Barcelona, Daviana, American, Beaked, and Bush. 
The top two hazelnut milk brands, according to Thrive Cuisine, are:
Pacific Hazelnut Milk

Elmhurst Hazelnut Milk
In 2018, the global hazelnut production value reached $0.52 billion and was estimated to grow by 10.1% between 2019 and 2024. 
Origin of hazelnut milk
The hazelnut has its roots in Asia Minor where Chinese manuscripts mentioned it 5,000 years ago. The Romans and the Greeks were responsible for this nut spreading throughout Europe. There are even references to hazelnuts in ancient Roman and Greek writings. Theophrastus, the Greek philosopher (372-287 BC), recorded the benefits of hazelnuts in his works. In many cultures, hazelnuts are considered an icon of wisdom, knowledge, and fertility. People in Northern Europe also used them in traditional weddings.
In the United States, hazelnuts are very popular in Oregon, although their popularity started in a small town called Scottsburg in 1856. Sam Strickland, an English sailor, planted the first known hazelnut tree in America in this small Douglas County community. About 50 years later, George Dorris of Springfield established Oregon's first commercial orchard with 200 trees. From Dorris's farm, many hazelnut trees have sprung up in Oregon. Today, this nut and hazelnut milk are still enjoyed all over the country.
Function
People often use this milk to add flavor to their tea or coffee. The ground hazelnuts left after extracting the milk can also be used in baked goods. Additionally, this can be used in smoothies, hot drinks, popsicles, and other desserts.
Nutrition
An 8 fluid ounce serving of hazelnut milk contains: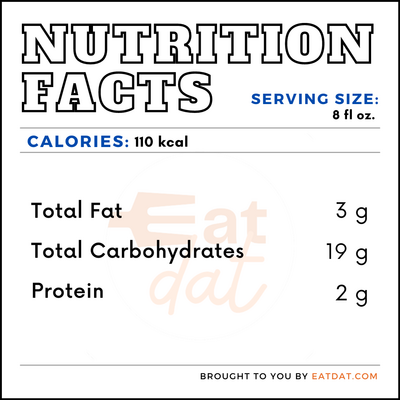 Here are some health benefits of this milk alternative:
This drink is rich in antioxidants, which help shield the body from oxidative stress.

It may be capable of reducing cholesterol levels in the blood.

It may also be capable of reducing the blood sugar level.

This milk has properties that can fight cancer.

It can even reduce the inflammatory response in the body.
Commercial production
To begin the commercial production of this beverage, the hazelnuts are first dried at a temperature of 95°F for 24 hours. Then, a manual technique is employed to crack and shell the nuts. The next step is to soak the nuts overnight. After that, workers remove the skin from the hazelnuts by hand. Only the kernel of the nuts remain after removing the skin. 
Cheese whey (a lactose source) is then mixed with the kernels. Next, a blender is used to grind the mixture for five minutes. The following step involves filtering the resulting substance through double-layered cheesecloth to get clear milk. Finally, the milk is pasteurized for 15 minutes and then packaged.
Application
Hazelnut milk is simple to make at home using the following steps:
First, soak the hazelnuts in water for a few hours.

Then, drain the nuts.

After that, add fresh water to the hazelnuts and pour them into a blender and blend.

Finally, you can drain the resulting milk into a container using a nut milk bag.
It's best to store packaged this milk at room temperature. However, if you have opened the milk, you can store it in the fridge. This milk should be consumed within a week.
Hazelnut milk recipes
This dairy-free milk can be used the same way as other milk alternatives. Here are some recipes:
FDA regulation
The Food and Drug Administration does not regulate any aspect of the production of hazelnuts. However, this nut is classified as a product that is rarely consumed in its raw form.  Furthermore, the FDA does not classify plant-based beverages like hazelnut milk as "milk" as they define milk as "the lacteal secretion of healthy cows". 
References
"Worldwide Hazelnut Market Analysis & Projections (2019-2024): In Terms of Consumption, Europe Is Expected to Register the Highest CAGR, at 7.6%." Cision PR Newswire, PR Newswire LLC, 11 July 2019, www.prnewswire.com/news-releases/worldwide-hazelnut-market-analysis–projections-2019-2024-in-terms-of-consumption-europe-is-expected-to-register-the-highest-cagr-at-7-6-300882836.html. 
Collier, Ellie. Guide to Alternative Milk: We Tried & Tested! 13 Nov. 2019, www.highspeedtraining.co.uk, highspeedtraining blog, https://www.highspeedtraining.co.uk/hub/best-alternative-to-milk/
Samira. "Simple DIY Homemade Hazelnut Milk ( Dairy-Free, GF)." www.alphafoodie.com, alphafoodie blog, 11 Aug. 2020, http://www.alphafoodie.com/simple-homemade-hazelnut-milk/
Semeco, Arlene. "7 Ways Hazelnuts Benefit Your Health." www.healthline.com, Healthline Media, 9 Feb. 2018, www.healthline.com/nutrition/hazelnut-benefits.