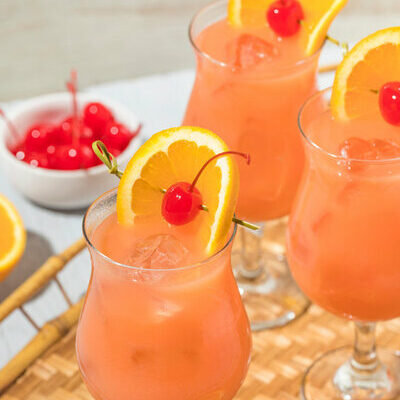 Hurricane
---
What is Hurricane?
The Hurricane is a rum-based cocktail to which lemon juice and passion fruit syrup are added. Often, two different rums are used, one light and the other dark. Traditionally, fassionola (a fruit flavored syrup) was utilized in this cocktail but it is no longer available and the original recipe has been forgotten.
The cocktail has an orangish-red color and a sweet taste with notes of sourness.

It is a popular drink in New Orleans, where it was invented. It is popularly consumed during Mardi Gras in paper cups by people partying on the streets.
The top 10 rum brand combinations for preparing a Hurricane are:
Three Roll Estate Spiced Rum and Wray & Nephew White Overproof Rum

Bacardi Facundo Neo Silver Rum and Bacardi Gran Reserva 10

Novo Fogo Cachaça and Plantation Stiggins' Fancy Pineapple

Don Q Cristal Rum and Ron Del Barrilito 3 Star Rum

Rhum J.M. XO

Rhum Barbancourt 5 Star

Bali Hai Tiki Gold

Banks 7 Golden Age Blend

Mount Gay Black Barrel

Diplomático Reserva
Origin of hurricane
This cocktail was invented in New Orleans, Louisiana during World War II. Pat O'Brien, a bootlegger during the Prohibition era, ran a speakeasy called Club Tipperary to which patrons needed a password to enter. With the repeal of the Prohibition, O'Brien made this into a legal bar called Pat O's. Whiskey, the favorite drink of Americans, suddenly became unavailable during WWII. However, rum was abundant and the employees at Pat O's created a new cocktail. The name of the drink was inspired by the password to Club Tipperary, storm's a-brewing, which was served in a hurricane-lantern and would become a symbol for the cocktail. 
Nutrition
Nutritional profile for Hurricane (1 serving):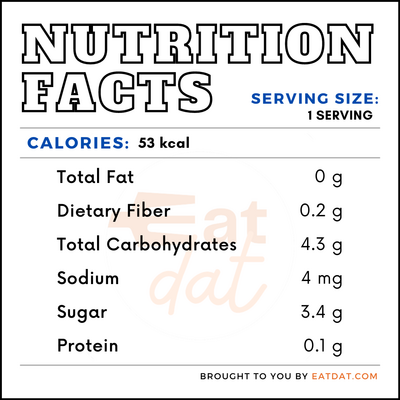 Limes, like most other citrus fruits, have a high concentration of vitamin C, which keeps the immune system healthy. Other nutrients that limes contain include iron, calcium, vitamin B6, thiamine, and potassium. Also, lime juice provides antibacterial, antioxidant, and phytochemical properties, which are excellent for good health. In addition, lime juice can help protect the heart, liver, bone, as well as prevent urinary diseases. Nonetheless, overconsumption of alcohol can result in a change in the brain's functioning patterns, liver cirrhosis, pancreatitis, heart problems, strokes, different types of cancers, as well as affect overall immunity. 
Commercial production
The production of the Hurricane requires rum, passion fruit juice or syrup, grenadine syrup, orange juice, and lime juice. Two different types of rum are combined for this cocktail. One must be a dark rum and the other must be a light rum. First, all the ingredients are poured into a cocktail shaker along with ice and shaken well. Then, the liquid is strained into a glass with ice. This cocktail is usually served in a hurricane glass or any kind of long, curvy glass. Orange slice and maraschino cherry works well as garnishes.
Hurricane recipes
This beverage is a versatile cocktail that may be modified slightly to create different versions of the drink. Here are a few recipes:
FDA regulations
Rum is regulated by the TTB and defined as spirit distilled from the fermented juice of sugarcane with less than 95% ABV. It must be bottled at no less than 40% ABV. The FDA regulates all fruit juices and citrus juices, including lime juice. It is specified that lime juice must have at least 24.5 percent concentration. In addition, lime juice is often used as a flavoring or acidifier, which comes under FDA regulations. Juice made from passion fruits must contain at least 14 percent pure juice.
References
Elizabeth Pearce, Drinking Up a Storm: Why The Hurricane Cocktail Still Matters, Edible New Orleans, https://edibleneworleans.ediblecommunities.com/drink/drinking-storm-why-hurricane-cocktail-still-matters 
National Institute of Alcohol Abuse and Alcoholism, Alcohol's Effects on the Body, https://www.niaaa.nih.gov/alcohols-effects-health/alcohols-effects-body