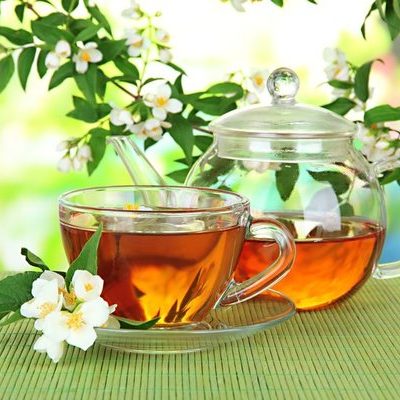 Jasmine Tea
---
What is Jasmine Tea?
Jasmine tea is a type of herbal tea that has been brewed with jasmine blossoms or flowers. Originating in China, this tea has a delightful aroma. The two most common jasmine flower species used in this tea are Common Jasmine (Jasminum officinale) and Sampaguita (Jasminum sambac).
Types of tea include green (the most popular), white, oolong, and black tea.

In

2018

, ready-to-drink packaged teas generated a revenue of $10.7 billion.
The top 10 most popular brands in the US are:
Two Leaves and a Bud

Novus Tea

TeaVivre

Teavana

Numi Organic Tea

Wegmans

Harney and Sons

Trader Joe's

Bigelow Tea

Foojoy
Origin of jasmin tea
For centuries, the white jasmine flower has been used for food, decorations, and perfumes. The first record of this was in Fuzhou, China over 1,000 years ago. Jasmine doesn't germinate naturally in China since the flower's natural origin is actually in Persia. For years, jasmine was transported from Persia to China through India on the ancient Silk Road. Gradually, as the flower's scent became more popular, this tea spread throughout the whole country. 
Teahouses began to spring up everywhere in China. Tea became an integral part of Chinese culture, as it was served in ceremonies. As centuries progressed, it found its way into other parts of Asia like Korea, Japan, and Tibet. In the 17th century, the Dutch were the first Europeans to get hold of this tea. A few decades later, it spread to other parts of Europe, as well. Soon after, the colonies of Spain, the Netherlands, and Portugal also began to consume jasmine tea. Today, jasmine tea has not lost its magic and remains one of the most consumed beverages all over the world.
Nutritional value
From a 100g serving, the nutritional data is: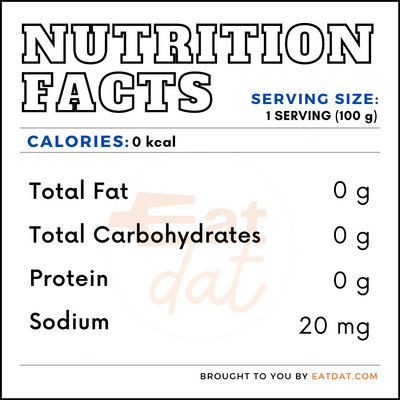 This might appear to offer zero nutritional value; however, it does provide some benefits. Here are five health benefits, according to health practitioners:
This tea possesses antioxidant properties that protect body cells from damage. 

This tea can speed up body metabolism and weight loss.

It can minimize the risk of heart disease.

It has cancer-fighting properties.

Drinking this can reduce the risk of having diabetes.
Jasmine tea has minimal side effects, although drinking too much of it can cause anxiety and restlessness due to its high caffeine content. Pregnant women should also limit their intake as it could increase the risk of miscarriage It can also reduce the body's ability to absorb iron from foods. 
Application
To make this, follow the given steps below:
Boil clean water, preferably in an electric kettle at a temperature of 175

°

F.

Add some boiled water to the teapot to warm it. Swirl and throw it out to cleanse the pot.

Introduce tea leaves into the teapot, then add the hot water.

Cover the teapot and brew for three minutes.

Strain out the tea leaves.
Here are a few beneficial tips that will help you prepare tea properly:
For green tea, you shouldn't heat the water too much. If the water is too hot, the tea will become bitter.

Also, don't steep the tea for more than three minutes to avoid a bitter taste.

Request any additional brewing instructions from the tea vendor.

Cover your steeping vessel to keep all the heat within.

Use cold and filtered water for boiling. Springwater is exceptionally good.

Add milk and sugar to taste.
To store your tea, keep it in a cool and dry place away from moisture and oxygen. This will prevent the tea leaves from losing their flavor fast. It's best to consume white or green jasmine tea within about six months of purchase.
FDA regulation
The Food and Drug Administration does not have any special regulations concerning jasmine tea. However, they have recommendations about how much caffeine you should consume in tea and other beverages. Tea brands have to obey the regulations set by the FDA when labeling their products. Labels must include an ingredients list and an identity statement such as "English Breakfast Tea" or  "Jasmine Tea".
References
Admin, Innova. "A Brief History of Jasmine Tea," Innovagreen.com, Innovagreen, 2 Nov. 2018, innovagreen.co.uk/2018/11/02/a-brief-history-of-jasmine-tea/.
Raman, Ryan. "9 Reasons Why Jasmine Tea Is Good for You," Healthline.com, Healthline, 3 April. 2019, http://www.healthline.com/nutrition/jasmine-tea-benefits.