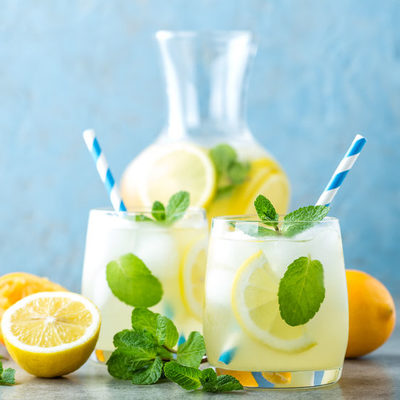 Lemonade
---
What is Lemonade?
Lemonade is commonly known as a sweetened beverage made from lemon juice, water, and sugar. This lemony drink comes into many categories like clear, cloudy, sweet, sour, still, and carbonated. There is a version of this beverage called pink lemonade which is made with grapefruit or other fruit juice for added color and flavor.
In American culture, this drink has inspired everything from sayings to economic styles to

musical artists

.

Often associated with summer, this drink has its own holiday which is celebrated on August 20th.
The top 10 most popular refrigerator brands in the US, according to Statista are:
Simply Lemonade

Private label

Minute Maid Premium

Turkey Hill

Simply Limeade

Minute Maid Light

Tropicana

Newman's Own

Florida's Natural

Minute Maid Just 15
Origin of Lemonade
The lemon fruit is native to China, where lemonade is likely to have first been consumed. Although the first written records of this beverage are in the 12th century on the Mediterranean coast of Egypt. Trade records also indicate the presence of a drink called qatarzimat (lemon juice and sugar) was popular in street markets. This beverage was consumed throughout the 13th century, slowly building the demand for this zesty drink. By the 17th century, this drink could be found all over Europe and was especially popular in Mediterranean countries. 
The first lemonade soft drink debuted in Paris in 1676, making it a huge success. European immigrants brought the recipe for this drink with them to America where it became an instant classic. Pink lemonade came later around 1879 when an article in West Virginia's Wheeling Register mentioned it. While the creator of this version of this beverage is up for debate, what's certain is that this new formula only made this drink more popular. Today, it is one of the most universally known beverages available on the market.
Nutrition
This is a refreshing, simple drink that doesn't have much nutritional value. A cup (100g) can have: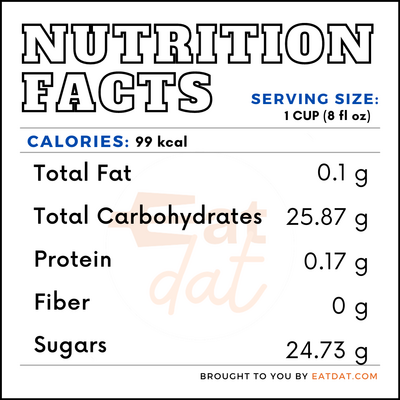 Nonetheless, this beverage offers a good dose of Vitamin C, as well as some potassium and iron. For a healthier version of this drink, minimize the amount of refined sugar in the recipe or switch to a natural sweetener.
Commercial production
At the supermarket, you can find premade drinks chilling in refrigerators, ready for purchase. Although not all recipes are the same, the standard commercial production is very straightforward. Lemons, and sometimes other fruit, are freshly juiced and poured into mixers to be combined with other ingredients. The other ingredients are usually water and sweeteners such as sugar. After that, the lemonade is filtered, pasteurized, bottled, and stored until it's sold.
Uses
When life gives you lemons, make the most refreshing lemonade you can manage. Storing this beverage correctly will mean that you'll be able to enjoy it for longer. Keeping this zesty drink in the refrigerator allows you to enjoy it for an extra 5 – 7 days. Should you want to store it longer than that, it's best to make a lemon concentrate. In the freezer, a concentrate will last anywhere from 3 weeks to 6 months.
Recipes
This citrus beverage is ideal for quenching your thirst or adding some zest to a sweet dish. Here are some popular recipes.
FDA Regulation
The Food & Drug Administration regulates canned fruit juices and beverages and, subsequently, lemonade. The FDA specifies the sucrose and acidity levels that are acceptable for frozen concentrate used to make this drink. If this concentrate has artificial sweeteners, the producers must comply with FDA regulations for these sweeteners.
This product should also be correctly and honestly labeled according to FDA labeling requirements.
References
Williams, Kathleen. "When Life Hands You Lemons, Make Qatarzimat." History.com, History Channel, 30 June 2015, www.history.com/news/when-life-hands-you-lemons-make-qatarzimat.
Aguilar, Jen. "The Marvelous History of Lemonade." Heraldweekly.com, Herald Weekly, 1 June 2020, www.heraldweekly.com/the-marvelous-history-of-lemonade/.
Kiniry, Laura. "The Unusual Origins of Pink Lemonade." Smithsonian.com, Smithsonian Institution, 16 Aug. 2016, www.smithsonianmag.com/history/unusual-origins-pink-lemonade-180960145/.
"CFR – Code of Federal Regulations Title 21." Accessdata.fda.gov, U.S. Food & Drug Administration, 1 Apr. 2019, www.accessdata.fda.gov/scripts/cdrh/cfdocs/cfcfr/CFRSearch.cfm?fr=146.120.