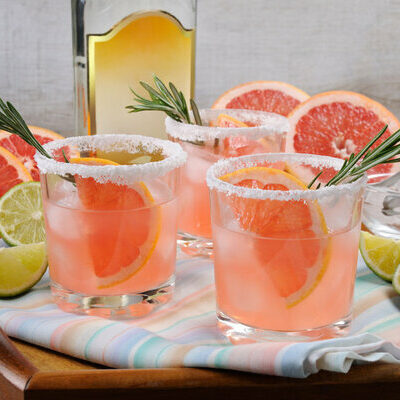 Paloma
---
What is Paloma?
Paloma is a tequila-based cocktail of Mexican origin. It is made by mixing tequila, lime juice, and grapefruit soda. The grapefruit soda may be substituted by fresh grapefruit juice and club soda. Sugar may be added, depending on the bartender.
The cocktail has a signature orange color and a nice blend of sweetness, sourness, bitterness, and saltiness.

The Paloma is the national drink of Mexico.
Some of Mexico's most popular drinks include:
Tequila

Cerveza

Margarita

Mezcal

Paloma

Kahlúa 

Michelada

Mexican Wine
Origin of paloma
The creation of this cocktail is credited to Don Javier, owner of a bar called La Capilla, located in the small town of Tequila. Additionally, he is credited with the creation of the batanga cocktail. The name of the drink means 'dove' in Spanish, and it is believed that it refers to a Mexican folk song from the 1860s. Evan Harrison introduced the drink in the US in the form of a pamphlet titled 'Popular Cocktails of The Rio Grande'. 
Nutrition
Nutritional profile for Paloma (1 glass):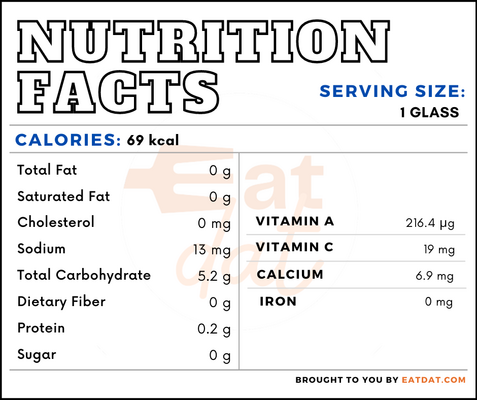 Sodas offer little nutritional value, as they contain large quantities of sugar and artificial compounds, which can lead to long-term health problems if consumed in excess. However, grapefruit juice is low in calories and also has a low glycemic index, which makes it suitable for diabetes patients. Also, this juice contains naringin, a flavonoid which improves glucose tolerance in people with diabetes. Grapefruit juice is filled with nutrients such as calcium, magnesium, phosphorus, potassium, folate, choline, beta carotene, and lycopene. Additionally, it contains good amounts of vitamins A and C. All these nutrients are helpful in maintaining heart and skin health, as well as preventing strokes and some types of cancers. However, mixing grapefruit juice with certain drugs should be avoided. 
Limes have a high concentration of vitamin C, which keeps the immune system healthy. Other nutrients that limes contain include iron, calcium, vitamin B6, thiamine, and potassium. Plus, lime juice provides antibacterial, antioxidant, and phytochemical properties, which are excellent for good health. In addition, lime juice can help protect the heart, liver, bone, as well as prevent urinary diseases. Overconsumption of alcohol can lead to several health problems, including affecting the brain's functioning patterns and general lowering of immunity. However, there is some evidence to link tequila consumption with increased lifespan, which is credited to the reduced insulin-like signaling.
Commercial production
To prepare the Paloma, the main ingredients required are tequila, lime juice, and grapefruit soda. First, a lime wedge is rubbed around the edge of the glass and the rim is then dipped in salt. Next, the tequila and lime juice are poured in and ice is added. After that, the cocktail is topped with grapefruit soda and stirred. A lime wheel usually serves as a garnish. This cocktail is served in a highball glass.
Paloma recipes
This cocktail can easily be adjusted to suit different palates. Here are a few recipes to try:
FDA regulations
Tequila falls under the purview of the TTB and is defined as a spirit distilled in Mexico in compliance with the laws and regulations of the Mexican Government from a fermented mash derived principally from the Agave Tequilana Weber and bottled at not less than 40% alcohol by volume. The FDA defines grapefruit juice as the unfermented juice obtained from ripe grapefruits and intended for direct consumption. Also, the juice must not contain seeds, peel, or excessive pulp. Grapefruit juice must have at least 10 percent concentration while lime juice must have at least 24.5 percent concentration. 
Grapefruit soda falls under the classification of carbonated soft drinks. The FDA has established Current Good Manufacturing Practices (CGMPs) to ensure that the sodas are compliant with food safety norms. All sodas must contain nutritional information on the container. There is no standard of identity for grapefruit sodas or soft drinks in general. 
References
Huang, Cheng-Wen et al. "Tequila Regulates Insulin-Like Signaling and Extends Life Span in Drosophila melanogaster." The journals of gerontology. Series A, Biological sciences and medical sciences vol. 70,12 (2015): 1461-9. doi:10.1093/gerona/glv094, https://www.ncbi.nlm.nih.gov/pmc/articles/PMC4675830/ 
Murunga, Alfred N et al. "Grapefruit Derived Flavonoid Naringin Improves Ketoacidosis and Lipid Peroxidation in Type 1 Diabetes Rat Model." PloS one vol. 11,4 e0153241. 13 Apr. 2016, doi:10.1371/journal.pone.0153241, https://www.ncbi.nlm.nih.gov/pmc/articles/PMC4830547/ 
Oikeh, Ehigbai I et al. "Phytochemical, antimicrobial, and antioxidant activities of different citrus juice concentrates." Food science & nutrition vol. 4,1 103-9. 30 Jul. 2015, doi:10.1002/fsn3.268, https://www.ncbi.nlm.nih.gov/pmc/articles/PMC4708628/