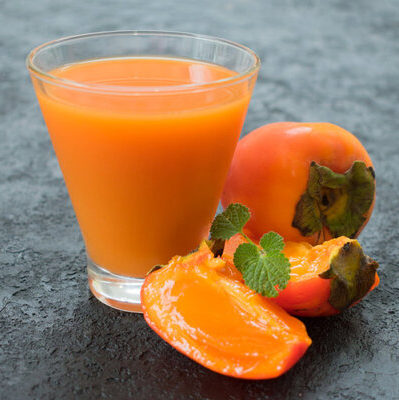 Persimmon Juice
---
What is Persimmon Juice?
Persimmon juice is a type of fruit juice made by pressing or extracting juice from the pulp of the persimmon fruit. The fruit has an outer yellowish orange skin, which is peeled to reveal the yellow flesh underneath. It has a sweet taste and a juicy texture. There are many varieties of persimmon but only a few are edible.
It is Japan's national fruit.

Persimmon juice can be made fresh at home or store-bought but is not as widely consumed as other juices.
Some of the most common varities of persimmon include:
Chocolate

Eureka

Fuyu

Gailey

Giombo

Great Wall

Hachiya

Hanagosho

Hana Fuyu

Hiratanenashi

Ichi Ki Kei Jiro

Izu

Jiro

Maekawa Jira

Matsumoto Wase Fuyu
Origin of persimmon juice
This fruit originated in China more than 10,000 years ago and was an important prehistoric crop. It was introduced to Japan in the 7th century, and quickly became popular and the national fruit. The Japanese have dedicated hundreds of haikus in its praise. Furthermore, the American persimmon was also a popular fruit grown in North America. This fruit was an integral part of the diets of the North American tribes.
Nutrition
Nutritional value of persimmon juice (168g):
Persimmon juice is a good source of vitamins A & C, fiber, and potassium. Additionally, it is rich in phytochemicals such as carotenoids, tannins, phenolic compounds, proanthocyanidins, and catechins. Also, regular consumption may help in reducing oxidative stress, and risk of diseases such as hypertension, diabetes, cardiovascular diseases, certain types of cancers, and strokes. 
Commercial production
The commercial production of persimmon juice begins with first harvesting the fruit. After the fruits are cleaned and peeled, they are placed in an extractor to obtain their juice. Then, the persimmon juice is thermally treated to avoid any foodborne illnesses. Finally, the juice is capped and bottled.
The main producer of persimmons is China, covering about 71 percent of the world's production. Other countries that also have a significant production are Korea, Spain, Japan, Brazil, Azerbaijan, Taiwan, Uzbekistan, Italy, Israel, and Turkey. Azerbaijan, Spain, China, and Israel are main exporters while Russia, Kazakhstan, and Germany are the main importers.
Persimmon juice recipes
This fruit juice can be used in different ways to give a sweet flavor to desserts and beverages. Also, this fruit juice pairs well with milk or plant-based milks. Here are a few recipes to try:
FDA regulations
The FDA regulates all fruit juices, including persimmon juice. The FDA defines fruit juice as any beverage that contains any amount of juice derived from fruits. The addition of carbohydrate sweeteners is allowed for fruit juices. There is no specific regulation related to this product but its import into the US is regulated by the USDA.
References
Turgut Yesiloglu, Berken Cimen, Meral Incesu and Bilge Yilmaz (March 23rd 2018). Genetic Diversity and Breeding of Persimmon, Breeding and Health Benefits of Fruit and Nut Crops, Jaya R. Soneji and Madhugiri Nageswara-Rao, IntechOpen, DOI: 10.5772/intechopen.74977.
https://www.intechopen.com/books/breeding-and-health-benefits-of-fruit-and-nut-crops/genetic-diversity-and-breeding-of-persimmon 
Butt, Masood Sadiq et al. "Persimmon (Diospyros kaki) fruit: hidden phytochemicals and health claims." EXCLI journal vol. 14 542-61. 4 May. 2015, doi:10.17179/excli2015-159, https://www.ncbi.nlm.nih.gov/pmc/articles/PMC4817420/ 
Domínguez Díaz, Laura et al. "Potential Nutrition and Health Claims in Deastringed Persimmon Fruits (Diospyros kaki L.), Variety 'Rojo Brillante', PDO 'Ribera del Xúquer'." Nutrients vol. 12,5 1397. 13 May. 2020, doi:10.3390/nu12051397, https://www.ncbi.nlm.nih.gov/pmc/articles/PMC7284415/