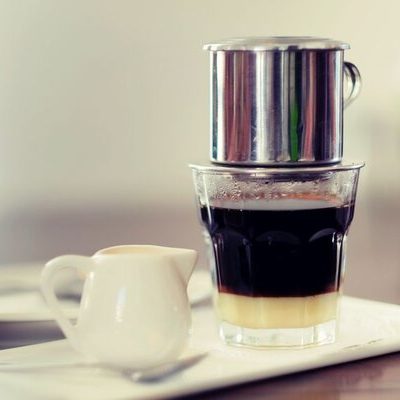 Vietnamese Coffee
---
What is Vietnamese Coffee?
Vietnamese coffee is a beverage made with ground dark-roasted coffee, condensed milk, and hot water. The preparation process and blend of beans used to make this coffee unique and give it a rich and sweet taste. It can be drunk hot or cold, though the traditional way is to serve it cold. Sometimes, egg and yogurt are also added to the coffee to give it more variety.
Vietnam has a rich coffee culture, in which people like to take time with their coffee and savor the experience.

Vietnam is also the second-largest producer of coffee in the world.
The top 6 most popular brands are:
Vinacafe Instant Coffee Mix

Trung Nguyen

Saigon Phin Daklak

Chestbrew Moonbear

G7 3-In-1 Instant Premium

Len's Coffee Kit
Origin of Vietnamese coffee
France introduced coffee to Vietnam in 1857 with the goal of developing cash crops, thereby, creating a coffee production boom there. A shortage of milk during World War II led to the use of condensed milk. The egg coffee of Vietnam is credited to a man called Giang, who worked at the Metropole Hotel in Hanoi, and tried to create a milk substitute by whisking egg yolk and sugar together. The Second Indochina War, which lasted from 1955 to 1975, again disrupted coffee production in the country. However, since the 1990s, Vietnam's coffee production and its coffee culture has been growing.
Nutrition
One serving of this coffee contains approximately: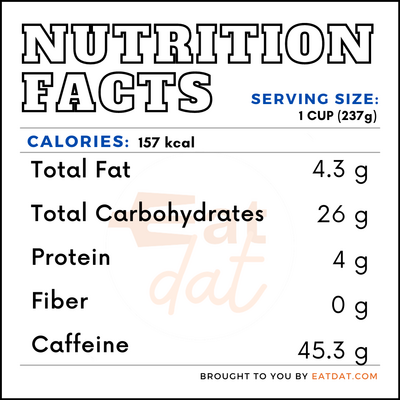 The beverage is high in fats and carbohydrates. It is also rich in calcium, sodium, and potassium. Coffee contains high levels of antioxidants, which help prevent certain types of cancer and regulate insulin levels, in addition to providing an instant buzz. Furthermore, caffeine is believed to protect the brain against dementia and Alzheimer's. High doses of caffeine, however, can lead to heart problems, as well as palpitations, high blood pressure, irregular heart rate, and heart attacks. 
Condensed milk contains vitamins A, B6, B12 and C, as well as thiamin, riboflavin, folate, pantothenic acid, calcium, magnesium, phosphorus, potassium, sodium, zinc, and selenium in decent quantities. However, it is high in carbohydrate and fat content, so limited intake is advised. Eggs, which are sometimes added to the coffee, are rich in protein and contain all essential amino acids. They also contain a host of vitamins and minerals. 
Commercial production
The process of making this begins with pouring 3 tablespoons of condensed milk into a coffee glass. Meanwhile, 3 tablespoons of ground coffee are placed in a filter and hot water is then poured over it, allowing it to drip. The filter is then removed and the coffee and condensed milk are stirred together to make a sweet and rich Vietnamese coffee. This drink has many different variations.
However, commercially sold coffee might not be pure. Instead of pure coffee, fillers like roasted corn or soybean are substituted in order to make it more affordable. There are also fake coffee factories that produce a coffee mix of corn, soybean, and unidentified chemicals, some of which may be hazardous. 
Vietnamese coffee recipes
This coffee comes in different types. Here are a few popular recipes:
FDA regulations
The USDA regulates the production of coffee beans and is also involved in the import of coffee from other coffee-producing countries. Some aspects of the processing of coffee beans come under the purview of FDA regulations. The processing of green coffee beans is strictly regulated to ensure that they do not contain allergens or pose a health hazard. Sweetened condensed milk is defined as the food obtained by partial removal of water from milk and sweeteners. The finished product must be pasteurized and contain at least 8 percent milkfat and 28 percent milk solids.
References
Elisabeth Rosen, A guide to Vietnamese coffee, Lonely Planet, https://www.lonelyplanet.com/articles/a-guide-to-vietnamese-coffee
Galland, Angelica. "Vietnamese Coffee Culture." Weaverscoffee.com, Weaver's Coffee & Tea, 9 May 2018, weaverscoffee.com/blogs/blog/what-vietnamese-coffee-culture-gets-right-beyond-sweetened-condensed-milk. 
Milijana, Coffee In Vietnam: Vietnamese Coffee Types You Must Try In Vietnam, World Travel Connector, https://www.worldtravelconnector.com/guide-coffee-vietnam-vietnamese-coffee-types/
What's Really in Your Ca Phe Sua Da?, City Pass Guide, https://www.citypassguide.com/travel/ho-chi-minh-city/drink/blog/whats-really-in-your-ca-phe-sua-da