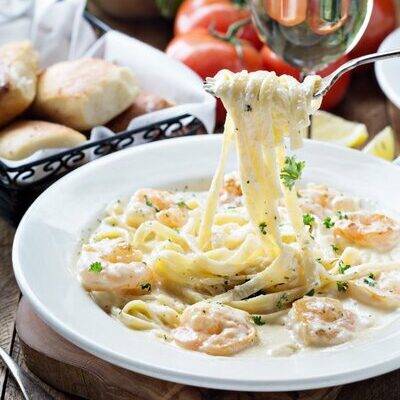 Alfredo Sauce
---
What is Alfredo Sauce?
Alfredo sauce is a type of white sauce of Italian origin. It is a simple sauce made with butter and Parmesan cheese, and is often paired with fettucine pasta. Also, it may include garlic and heavy cream, depending on the recipe. Pieces of ham, anchovies, and olives may also be added to enhance the taste. This sauce has a mild and savory flavor.
Though easy to make fresh, Alfredo sauce can also be bought in a jar.

Alfredo sauce is very popular in the US.
The top brands of Alfredo sauce on the market are:
Rao's

Primal Kitchen

Buitoni

Victoria Vegan

Gino Angelini

Bertolli

Newman's Own

Classico

Prego
Origin of alfredo sauce
This sauce was invented by Alfredo di Lelio, a restaurant owner in Rome. Di Lelio created this sauce in order to tempt his wife to eat when she lost her appetite after childbirth. He coaxed her into eating it, and she approved of it. Di Lelio then introduced it into the menu at the family restaurant in 1908. When Douglas Fairbanks and Mary Pickford visited Rome during their honeymoon, they loved this dish and asked for the recipe. After that, they introduced the recipe in the US, where it was modified to local taste and quickly became popular. The two presented di Lelio with golden silverware with engraved epitaph with the words "To Alfredo, the King of the Noodles". 
Nutrition
Nutritional profile for Alfredo sauce (1 cup):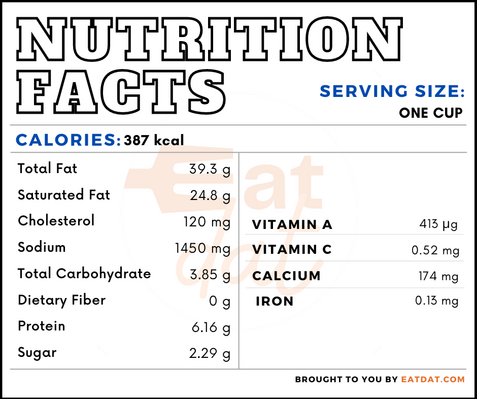 Alfredo sauce is rich in calcium, phosphorous, potassium, sodium, vitamin A, retinol, carotene, and fatty acids. Additionally, butter is high in saturated fats as well as omega 3 and omega 6 fatty acids. Despite having a bad reputation, studies have shown that butter does not impact cardiovascular health negatively. Limited consumption of butter may be good for health in the long run. 
Parmesan cheese helps in aiding digestion and despite being made with cow's milk, is suitable for lactose intolerant people. The high amount of calcium in the cheese helps in building bone strength and prevents osteoporosis. Some elements found in parmesan are used in immunotherapy for HIV/AIDS. In addition, regular consumption of parmesan may help in reducing the risk of diabetes, gastrointestinal problems, obesity, hypertension, cardiovascular diseases, and colon cancer.
Commercial production
Alfredo sauce is one of the most commonly available and consumed pasta sauce in the US. It is served in almost all Italian-American restaurants. For preparing this sauce, the main ingredients required are parmesan cheese, butter, heavy cream, garlic, salt, pepper, and Italian seasoning. 
First, the butter and cream are first warmed over low heat, and then garlic and other seasonings are slowly whisked in. Once the garlic is cooked, the cheese is added. It is stirred until the cheese melts and the sauce thickens. Finally, this sauce is often served with fettuccine pasta, but adapts well to other long pastas too.
Alfredo sauce recipes
Though Alfredo sauce is mainly used in the preparation of the dish fettuccine Alfredo, it can be used in a variety of dishes to enhance flavor. Here are a few recipes:
FDA regulations
Alfredo sauce falls under the sauces, dips, gravies, and condiments category of the FDA.
References
Rome Then & Now: The Truth about Fettuccine Alfredo, Devour Tours. https://devourtours.com/blog/fettuccine-alfredo/ 
Pimpin, Laura et al. "Is Butter Back? A Systematic Review and Meta-Analysis of Butter Consumption and Risk of Cardiovascular Disease, Diabetes, and Total Mortality." PloS one vol. 11,6 e0158118. 29 Jun. 2016, doi:10.1371/journal.pone.0158118, https://www.ncbi.nlm.nih.gov/pmc/articles/PMC4927102/ 
Summer, Andrea et al. "Cheese as Functional Food: The Example of Parmigiano Reggiano and Grana Padano." Food technology and biotechnology vol. 55,3 (2017): 277-289. doi:10.17113/ftb.55.03.17.5233, https://www.ncbi.nlm.nih.gov/pmc/articles/PMC5654426/