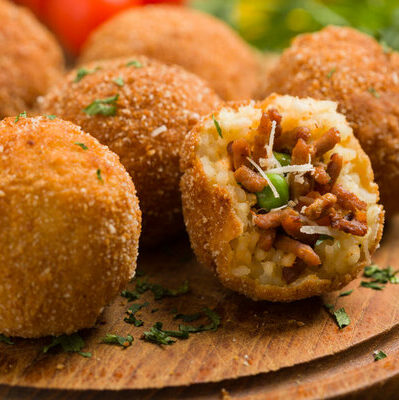 Arancini
also known as Crispy Rice Balls, Arancino
---
What is an Arancino?
The arancino is an Italian dish.
Arancini consist of

rice

balls cooked in broth, stuffed with different ingredients such as

cheese

,

meat

, and

vegetables

, and then deep-fried.

They are a traditional dish from Sicily and have been popular since the 10

th

century AD. 
Some of the best known dishes from Sicily include:
Arancini

Caponata 

Gambero Rosso

Busiate al Pesto Trapanese

Pasta alla Norma

Pasta con le Sarde

Sarde a Beccafico

Involtini di Pesce Spade

Cannoli

Granita con Brioche
Origin of Arancino
Arancini originated in Southern Italy and were originally called palle di riso (rice balls). Furthermore, their original recipe was sweet and used cheese, sugar, spices, and milk. It was only with the conquest of the Americas that other ingredients were included. The name for this dish was coined in Sicily. Today, it is a staple of Sicilian cuisine. Not to mention, these fried rice balls are a popular street food in Italy, though not well known outside the country.
Nutrition
Nutritional profile for arancini (1 ball):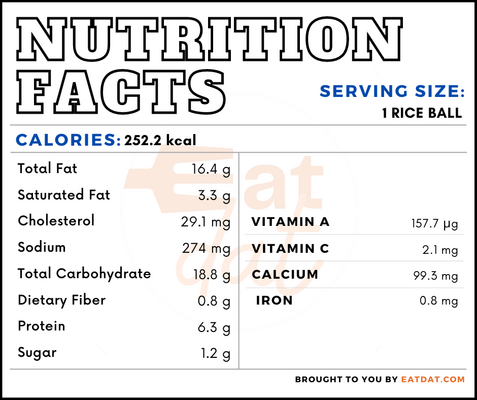 This dish is rich in calcium, potassium, sodium, magnesium, folate, and vitamin A. Each different type of arancino stuffing will indicate its complete nutritional values. However, because this dish is high in simple carbohydrates and deep-fried, it is best to consume it in moderation alongside a balanced diet and regular exercise. 
Commercial production
To prepare arancini, the ingredients required are risotto rice, broth, cheese, herbs, nuts, eggs, breadcrumbs, salt, and oil. First, the rice is cooked in the broth to impart flavor. Then, the stuffing is prepared. Next, eggs are beaten together with the rice, after which parmesan and breadcrumbs are It is a popular street food in Italy, though not well known outside the country.mixed in. Finally, the rice mixture is filled with the stuffing and formed into balls, which are rolled in breadcrumbs, and deep fried. 
Arancino Recipes
There are different types of arancini, depending on the stuffing. Here are a few recipes to try:
FDA regulations
The FDA defines a standard of identity for white rice, also known as enriched rice, but has no definition for arancini, either in terms of rice variety or in terms of the prepared dish. However, one type of rice commonly use to make risotto, Vialone Nano, is granted a Protected Geographical Indication under the European Union laws and can only be grown in Verona, Italy.
References
Caradonna, Fabio et al. "Science and Healthy Meals in the World: Nutritional Epigenomics and Nutrigenetics of the Mediterranean Diet." Nutrients vol. 12,6 1748. 11 Jun. 2020, doi:10.3390/nu12061748, https://www.ncbi.nlm.nih.gov/pmc/articles/PMC7353392/ 
Jerry Finci & Lisa Finzi, The History of Arancini (Rice Balls) and Lisa's Recipe, Grand Voyage Italy, http://www.grandvoyageitaly.com/piazza/the-history-of-arancini-rice-balls-and-lisas-recipe