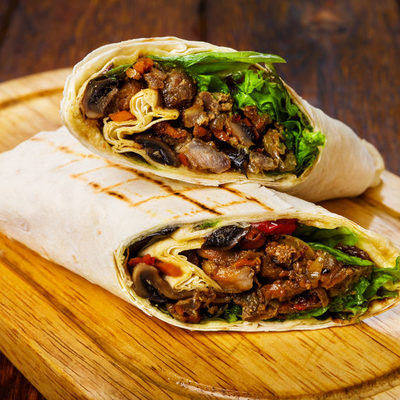 Burrito
---
What is a Burrito?
Burrito is a Mexican dish that consists of different ingredients and stuffing mixed and filled into a flour tortilla and rolled like a wrap. It is sometimes also served with sauce. Burritos are similar to tacos and enchiladas.
Burritos are mostly eaten fresh, but frozen burritos are also available in the market.

The

fillings

that can be included in a burrito include rice, beans, meat, vegetables, salad, cheese, herbs like cilantro, and cream.
The top burrito brands include:
El Monterrey

Tina's Burritos

Amy's Kitchen Burritos

Jose Ole Burritos

Reynaldo's Jumbo Burritos

Patio Burritos

Don Miguel

Evol Foods

Red's All Natural Burritos

Las Campanas Burritos
Burrito history
Corn tortillas were already in use by the Aztecs, and these were eaten filled with chillies, tomatoes, mushrooms, squash, and avocados in a type of burrito. The taco, enchilada, quesadilla, and of course, burrito is considered to have a similar ancestor, this Aztec dish. The Pueblo people from Southwestern US also had a similar dish with beans and sauce. 
As legend goes, a taco-seller called Juan Mendez invented the burrito. In order to keep his food warm, he wrapped it up in large flour tortillas, and called it burrito, or 'food of the little donkey' since he used a donkey for transport. Another story has it that in Ciudad Juarez, a street food seller who sold to school children realised they often didn't have money to buy whole plates of food. He hit on the convenient stuffed tortilla and sold it for less money. He called the children burritos, which can be an endearment or derogatory. These began to be sold in restaurants in the 1930s and are still valued highly for their portability.
Nutrition
Whether burritos are healthy or not depends on its ingredients, toppings, sauces, and method of preparation. This Mexican food is versatile and can lend itself to a variety of ingredients. If you are preparing it with fresh and healthy ingredients, it will be a healthy dish. 
One burrito can contain: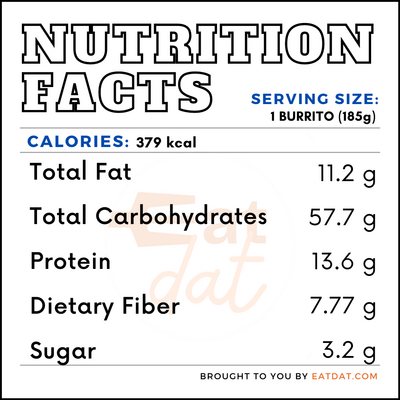 Tortillas are high in carbs and sodium, over consumption of which can lead to health problems such as obesity, diabetes, high blood pressure, etc. In moderation, however, the carbs in the flour tortillas and the rice stuffing is a good source of energy. Meat and cheese provide fats, calcium, iron, and a host of other micro nutrients. Beans are a great source of protein and are often included in burritos. 
Burrito recipes
Burritos are extremely versatile and can be filled with a mixture of different stuffing. Here are a few recipes:
FDA regulations
The FDA regulates both tortillas and cheese. Tortillas are classified as bakery products and regulated as such. Beans are classified under produce that is rarely consumed raw. The Food Safety and Inspection Service (FSIS) of the U.S. Department of Agriculture (USDA) is responsible for the regulation of meat and poultry, used in the traditional recipes. 
References
Burritos!: Hot on the Trail of the Little Burro by Thomsen, David and Wilson, Derek
https://archive.org/details/burritoshotontra0000thom/mode/2up
Celebrating Latino Folklore: An Encyclopedia of Cultural Traditions by Herrera-Sobek, Maria