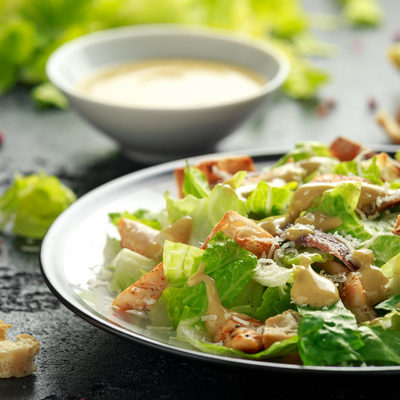 Caesar Salad
---
What is caesar salad?
Caesar salad is a fresh, leafy dish that contains romaine lettuce, croutons, cheese, and Caesar salad dressing. This salad dressing is made with olive oil, lemon juice, Worcestershire sauce, egg, anchovies, Parmesan cheese, garlic, and black pepper.
As this dish is quite simple, you'll find it in a wide array of restaurants across the US. Statistics show that most Americans enjoy salad and that caesar is their

second favorite

.

This dish even has its own holiday, National Caesar Salad Day, which is celebrated on

July 4th

every year.
According to Influenster, the top 8 most popular store-bought Caesar salad dressings are:
Newman's Own All Natural Creamy Caesar Dressing

Kraft Vinaigrette Caesar Parmesan Salad Dressing 

Hidden Valley Farmhouse Originals Caesar Dressing & Dip

Girard's Premium Dressing

Marzetti Simply Dressed All Natural Dressing

Briannas Home Style Asiago Caesar Dressing

Bolthouse Farms Yogurt Dressing Caesar Parmigiano

Marie's All Natural Caesar Dressing
Origin
This was created on the 4th of July in 1924 in Tijuana, Mexico by a man named Caesar Cardini. Cardini was born in Italy in the late 19th century but moved to the US in the 1910s. In the 1920s, Cardini was involved with a couple of restaurants in California. As Prohibition came into effect in the US, Cardini decided to open a restaurant in Tijuana where alcohol could be served. One day, while cooking and trying to make the best out of a lack of ingredients, Cardini created this famous salad.
It originally contained romaine lettuce, olive oil, raw egg, garlic, Parmesan cheese, and Worcestershire sauce and was intended to be finger food. It was later in 1926 when Cardini's brother Alex is believed to have added anchovies to the salad. The original name for this dish was the "Aviator salad," but because of its huge success it was renamed Caesar salad to honor its creator. Hollywood celebrities loved this dish and are credited with bringing it back to the USA where it became famous and eventually traveled to Europe. In 1953, this was given the honor of 'the greatest recipe to originate in the Americas in 50 years' by the International Society of Epicures in Paris.
Nutrition
The nutritional value for a 374 g serving of ceasar salad is: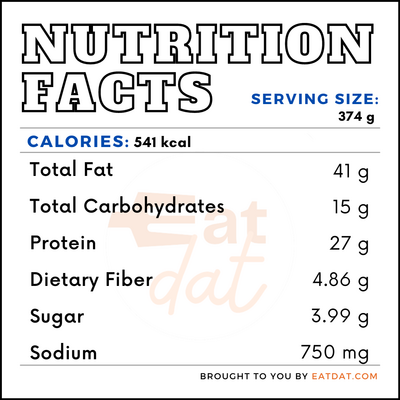 When following the traditional recipe, it contains a lot of fat and sodium. Not to mention that the majority of its calories come from the dressing. Three cups of this can contain around 480 calories. Harvard's School of Public Health offers a healthier version that replaces the dressing's egg with white beans. This substitution adds more protein and fiber to the dish, as well as reduces the sodium content by nearly half.
Commercial Production
The growing popularity played a big role in the rise of commercial production of romaine lettuce. When this dish began being served at fast-food restaurants, romaine production skyrocketed from hardly any farmland to 16,000 acres. Today, that number is somewhere around 20,000 acres across the country. Furthermore, as with most salad dressings, its dressing is commercially produced in food factories and sold to supermarkets.
Uses
This is a creamy dish for those looking to spruce up their lettuce. Although each of its components have different life spans, keeping them fresh is always best. Lettuce can last longer if it's packaged and undressed. Store-bought caesar dressing contains egg and dairy, so it's recommendable to seal it properly after use and keep it consistently cool. If you follow these rules, you can enjoy your dressing for 6-9 months.
Recipes
This flavorful salad has been reinvented in many ways. Here are some popular recipes:
FDA Regulation
Despite the FDA not having any regulations about it, they do have strict codes for salad dressing. This regulation describes the percentages of vegetable oil that are allowed in salad dressing. It also states that salad dressing must be packaged in a place with good ventilation.
References
Blitz, Matt. "We Can Thank Tijuana and Prohibition for the Caesar Salad." Food & Wine, Meredith Corporation, 2 Mar. 2016, www.foodandwine.com/news/we-can-thank-tijuana-and-prohibition-caesar-salad.
Gora, L Sasha. "Travel – The Surprising Truth about Caesar Salad." BBC, BBC, 22 May 2019, www.bbc.com/travel/story/20190521-the-surprising-truth-about-caesar-salad.
"The History of Caesar Salad." Food History, The Kitchen Project, 12 July 2018, www.kitchenproject.com/history/CaesarSalad/.
"CFR – Code of Federal Regulations Title 21." Accessdata.fda.gov, U.S. Food & Drug Administration, 1 Apr. 2019, www.accessdata.fda.gov/scripts/cdrh/cfdocs/cfcfr/CFRSearch.cfm?fr=169.150.