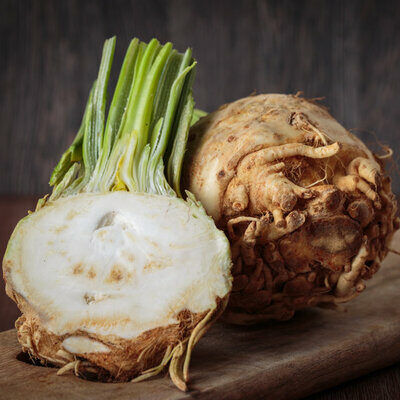 Celeriac
also known as Celery root, Knob celery
---
What is a Celeriac?
Celeriac is a root vegetable, and a member of the Apium graveolens family of plants. Its name comes from celery, which is the same plant, but celeriac is grown more for its root than the leaves.
It has a knobby shape with a brownish skin and cream-colored flesh.

The root has more intense celery flavor with hints of nuttiness.
 It can be consumed raw or cooked in various ways, and is popular in Mediterranean and Scandinavian cuisines. This root can be used like a potato when cooked or like a carrot when fresh.
Some popular ways to use this root vegetable in the kitchen include:
Baked

Roasted

Soups

Coleslaw

Gratin

Toast

Salads

Purée

Fried

Tarts
Origin of celery root
Celeriac descends from wild celery, and is one of the oldest root vegetables to ever be widely consumed. It was consumed by ancient Greeks, Romans, and Egyptians, and was also used by these cultures for medicinal purposes. This root was even mentioned in Odyssey, but its first reference as a food was in France in 1623. After that, it became popular throughout Europe during the Middle Ages.
Commercial production
Poland is the largest producer of celeriac. The main consumers of this root are Poland, the Netherlands, Romania, Czech Republic, and Hungary. Its main exporters are the Netherlands, Italy, China, Spain, and Mexico. 
This vegetable requires cool weather and rich, moisture retentive soils. The longer the roots stay in the soil, the stronger the flavor they have. These are actually one of the few crops that taste better if harvested after a frost. The harvesting is done by hand, by cutting the stems close to the root, and then the root is lifted after loosening the soil around it.
Celeriac can be stored like any other root in a cool and dry place without direct sunlight, and it will remain fresh for up to two weeks.
Nutrition
Nutritional profile for celeriac (100 g, raw):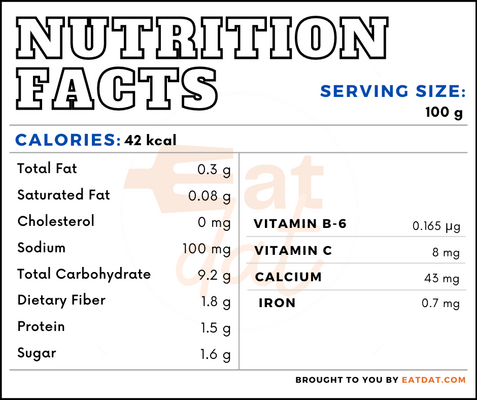 Celeriac is rich in calcium, phosphorous, sodium, and vitamin K. Additionally, it contains magnesium, vitamin C, folate, and choline. This vegetable has the capacity to help manage diabetes and improve insulin sensitivity. Moreover, it helps promote weight loss and macronutrient absorption. It may also reduce the risk of hypertension, dyslipidemia, and cardiovascular diseases.
Celeriac Recipes
This is a hearty and filling root vegetable that is suitable for preparing salads, stews, and soups. It may also be cooked and made into stuffing in different dishes. Here are a few recipes:
FDA regulations
The FDA classifies celeriac under the raw agricultural produce category. The organization oversees all aspects of its growing, harvesting, packing, and holding.
References
Steve Albert, How to Grow Celeriac, Harvest to Table: Plant Prepare Preserve, https://harvesttotable.com/how_to_grow_celeriac/ 
Jack Staub, The Vegetable World's Ugly Duckling: Celeriac, Kitchen Window, NPR, https://www.npr.org/templates/story/story.php?storyId=6551175 
Thorup, Anne Cathrine et al. "Strong and Bitter Vegetables from Traditional Cultivars and Cropping Methods Improve the Health Status of Type 2 Diabetics: A Randomized Control Trial." Nutrients vol. 13,6 1813. 26 May. 2021, doi:10.3390/nu13061813, https://www.ncbi.nlm.nih.gov/pmc/articles/PMC8227621/