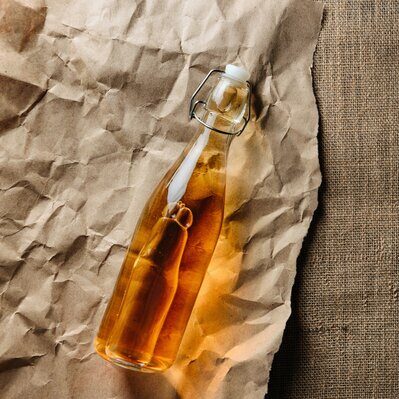 Cider Vinegar
---
What is Cider Vinegar?
Cider vinegar is a type of vinegar made from fermented fruit juice. The most popular form is made from apples, but rarely other fruits such as pears, grapes, pomegranates, mangoes, papayas, and peaches are also used. This vinegar is used to impart sourness to different dishes and is mainly used in salad dressings, vinaigrettes, and marinades.
The sourness is due to the combination of acetic acid and malic acid.

Also, this type of vinegar comes mostly in liquid form, but can be found in capsule or gummy form as a nutritional supplement.
The most popular brands on the market are:
Bragg

Thrive Market

Wedderspoon

Dynamic Health

Acid League

Lillie's Q

Vitafusion

Paleovalley

American Vinegar Works
Origin of cider vinegar
The first fruit to be turned into vinegar was the date palm around 5,000 years ago. The Babylonians were the first to discover the method and used this vinegar to preserve foods. However, cider vinegar was used throughout the world in ancient cultures as a medicine and for preserving food at some point in history. Today, this vinegar has begun to regain popularity for its purported health benefits.
Nutrition
Nutritional profile for cider vinegar (1 tbsp):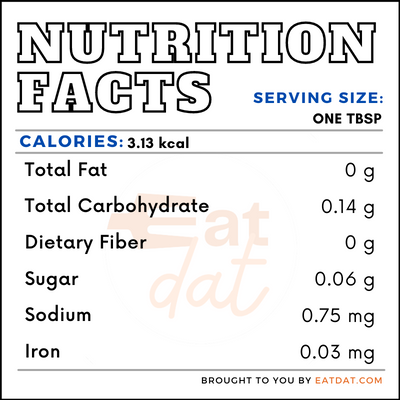 This contains calcium, magnesium, phosphorous, potassium, and sodium in decent quantities. Recent research has shown that regular consumption can help in reducing blood glucose by reducing postprandial insulin response. Furthermore, apple cider vinegar has been shown to reduce the amount of bacteria in foods, making it ideal for washing fruits and vegetables.
Commercial production
To prepare, the apples (or other fruit) are crushed to extract the pure juice from them. Then, the juice is filtered to remove particles and allowed to ferment for a couple of weeks. This process turns the sugar in the juice into ethanol. After that, it is again allowed to ferment, during which airborne bacteria will convert the ethanol into acetic acid. Finally, it is left to mature for about a year.
There is no need to refrigerate. It can be stored in the kitchen at room temperature and lasts for approximately two years.
Cider vinegar recipes
This is often used to impart a sour flavor to a dish that may be otherwise sweet or savory. It is most commonly used in the form of a garnish or vinaigrette. Here are a few recipes to try:
FDA regulations
All types of vinegar fall under the generally recognized as safe category. Vinegar is considered to be an acidifying agent.
References
How's Apple Cider Vinegar Made? Here's Where You Can Find Out, ZHOU Nutrition, https://www.zhounutrition.com/blogs/the-greatness-files/hows-apple-cider-vinegar-made-here-s-where-you-can-find-out
Ousaaid, Driss et al. "Beneficial Effects of Apple Vinegar on Hyperglycemia and Hyperlipidemia in Hypercaloric-Fed Rats." Journal of diabetes research vol. 2020 9284987. 10 Jul. 2020, doi:10.1155/2020/9284987, https://www.ncbi.nlm.nih.gov/pmc/articles/PMC7374219/