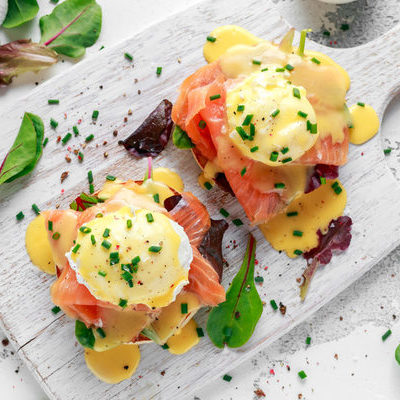 Eggs Benedict
---
What is Eggs Benedict?
Eggs Benedict is a dish commonly eaten for breakfast or brunch in North America. This dish is made of an English muffin topped with a poached egg, Canadian bacon, and Hollandaise sauce.
It's also possible to use traditional strip bacon or ham on this dish.

The chef, Charles Ranhofer, is said to have then whipped up the first eggs benedict.
Eggs benedict is ranked as one of the most popular brunch foods alongside pancakes and bagels. Every year, people celebrate this beloved dish on April 16th.
According to Mobile Cuisine, some popular variations of eggs benedict are:
Eggs Blackstone

Eggs Florentine

Huevos Benedict

Eggs Hussarde

Eggs Sardou

Artichoke Benedict

Country Benedict

Irish Benedict

Eggs Hemingway
Origin of eggs benedict
There are several theories about who truly invented eggs benedict; however, credit is often given to New York City's Delmonico Restaurant in the 1860s. Legend has it that there was a patron named Mrs. LeGrand Benedict who requested to have a new dish made just for her. There is another story that says the dish was invented in 1894 when a man named Lemuel Benedict ordered it at the Waldorf Hotel.
What is certain is that this dish was a hit and soon grew in popularity all over the city and later the country. Then in 1967, another theory came to light when a writer named Craig Claiborne wrote about a letter he received in the New York Times. Claiborne alleged that he'd received a letter from an American living in France who believed they knew the true origin of eggs benedict. The letter claimed that this famous dish had been invented by a Frenchman named Commodore E.C. Benedict who'd been taught the recipe by his mother. While we may never know who really invented this delicious dish, it will certainly live on in culinary history.
Nutrition
This dish is a good source of protein and contains nutrients. While eggs are nutritious, adding ham, Hollandaise sauce, and an English muffin makes this dish a caloric bomb. One serving of eggs benedict can have: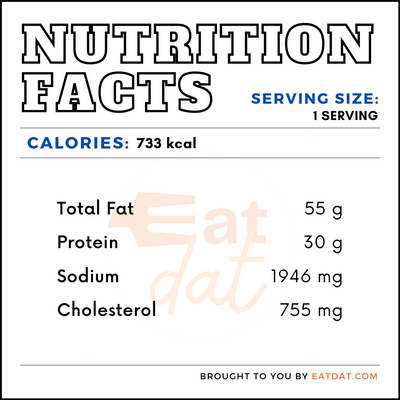 In restaurants, this dish can even have twice the amount of calories. Nutritionists recommend consuming this dish in moderation paired with a balanced diet and regular exercise.
Commercial production
Commercial production of eggs is at an all-time high. In the United States, there are 340 million commercial laying hens. One hen can produce an average of 294 eggs per year. Technological advances have allowed farmers to improve nutrition, disease prevention, and flock management, leading to hens producing more than ever before. As this dish is served mostly at restaurants, it is not commonly mass-produced. Eggs are poached in steamers and then served warm on English muffins with hollandaise sauce.
Uses
Consuming eggs safely requires that you store them properly. Once they are inside your fridge, you should keep them in their carton to protect them against strong odors and breakage. For safety reasons, raw egg yolks or whites should always be stored in an airtight container and refrigerated immediately. To ensure that salmonella is no longer present, eggs must be cooked or heated to 150° F for at least 12 minutes. It's also possible to kill salmonella at 140° F when cooking for 78 to 83 minutes. 
If you are preparing your eggs for eggs benedict in advance, you can poach them the day before. After the eggs are cooked, simply place them in an ice bath and refrigerate them. The following day, when you want to reheat the eggs, fill a large pot with water and allow it to simmer. Then, take the eggs out of the egg bath and place them inside. Allow the egg to cook for one minute then let it drain on a lined sheet tray.
Eggs benedict recipes
This dish is a brunch classic that has been reinvented in many ways. Here are some popular recipes:
FDA Regulation
Recently, the Food and Drug Administration put into place a new regulation to prevent illnesses and, in some cases, death caused by eggs infected by salmonella. This regulation requires that eggs be immediately refrigerated during both storage and transportation. Commercial producers who have at least 3,000 hens or who do not pasteurize or treat eggshells are required to comply with this regulation. The FDA also advises against pregnant women consuming eggs benedict as it may have raw egg.
References
Stradley, Linda. "Eggs Benedict History and Recipe." Whatscookingamerica.net, What's Cooking America, 1 June 2019, whatscookingamerica.net/Eggs/EggBenedict.htm.
Siciliano-Rosen, Laura. "Eggs Benedict." Encyclopædia Britannica, Encyclopædia Britannica, Inc., 21 Jan. 2016, www.britannica.com/topic/eggs-Benedict.
"People at Risk: Pregnant Women." FoodSafety.gov, Food Safety, 21 Nov. 2019, www.foodsafety.gov/people-at-risk/pregnant-women.
"Egg Safety Final Rule." U.S. Food and Drug Administration, FDA, 6 Apr. 2020, www.fda.gov/food/eggs-guidance-documents-regulatory-information/egg-safety-final-rule.