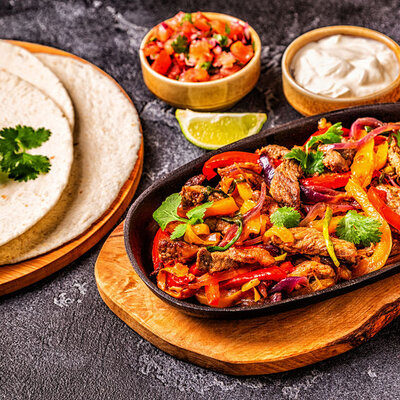 Fajitas
---
What are Fajitas?
Fajitas are a popular dish in Tex-Mex cuisine made of grilled meat, which can be beef, chicken, or pork. The meat is cut into long strips, covered in seasoning or spices, and chargrilled.
In Spanish, the word "fajita" means

little band

and refers to the long piece of meat between the heart and lungs on a carcass, which this dish was originally made from.

Fajitas are commonly accompanied by grilled vegetables and corn or flour tortillas, as well as toppings like spicy sauces, guacamole, jalapeño peppers, sour cream, cheese, cilantro, and fresh lime.
This dish is so popular that every year on August 18th, people across the US celebrate by devouring this Tex-Mex classic.
The most popular store-bought fajita seasonings are:
Magic Seasoning Blends' Fajita Magic Seasoning 

Bolner's Fiesta Extra Fancy Chicken Seasoning

Badia Fajita Seasoning

The Spice Hunter Fajita Seasoning Blend 
Origin of fajitas
This dish originated in Texas in the 1930s and the term was coined by Mexican cowboys anecdotally referring to skirt steak. These cowboys were partially paid in leftover meats, which they would cook in the open campfire, giving this dish its famous chargrilled flavor. However, Tex-Mex cuisine wouldn't become well-known in the United States until the 1940s. Fajitas would later make their debut to the general public when they began to be served at country fairs and festivals in Texas during the 1960s.
In 1971, the word "fajita" was printed in the Oxford English Dictionary solidifying this Tex-Mex dish's place in history. Although this dish began as a food for cattle farmhands, by 1993 it was being served in fancy hotels in downtown Austin, Texas. These days, fajitas are popular all over the US and can be found in most chain restaurants. Across the pond, this Tex-Mex dish has also become one of the most favorite international dishes for Brits.
Nutrition
As this dish can be easily customized with different meats, vegetables, and toppings, it's nutritional values will vary. Nonetheless, a single serving of chicken fajitas can have: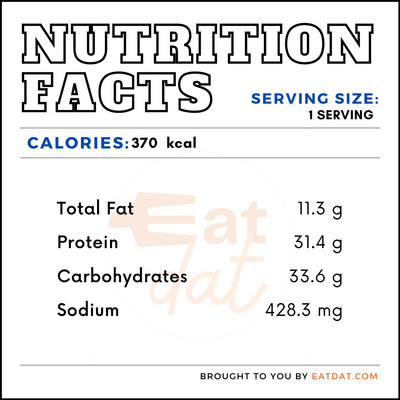 Although the meat in this dish offers plenty of nutrients, it's levels of sodium, fat, and carbohydrates are not ideal for regular consumption. For healthier fajitas, you can reduce the number of tortillas you consume and make healthy swaps like Greek yogurt instead of sour cream. 
Commercial Production
While it is possible to purchase commercially produced fajitas in the frozen section of your supermarket, the freshly made dish is more common. Making this grilled dish begins with first cleaning the meat and cutting slits into it for easy grilling. Then, the meat is left to marinate for at least one hour or overnight, depending on the recipe. Once it is ready, the grill is fired up to cook the meat at a temperature of 120°F for about 3-5 minutes. 
After the meat is cooked, it's sliced into thin strips and served with grilled vegetables, such as onions and bell peppers. When eating, the meat and vegetables are placed on warm corn or flour tortillas and topped with classic Tex-Mex toppings. These toppings include sour cream, shredded cheese, guacamole, jalapeño peppers, spicy sauces, cilantro, and lime juice.
Use
Fajitas are a warm and flavorful dish that is sure to please everyone in the family. If there are any leftovers, it's simple to store and reheat them later. It's best to wait until the food has cooled down to room temperature before placing any leftovers in an airtight container. In the refrigerator, this dish can last up to 5 days. When you're ready to eat this dish, you can cook it on a skillet or reheat it in the microwave.
Fajitas recipes
This classic Tex-Mex dish can be adapted to suit any palate. Here are some popular recipes:
FDA Regulation
While the Food & Drug Administration has no regulations on fajitas, they do regulate this dish's ingredients. Vegetables such as bell peppers, hot peppers, and onions are considered raw agricultural commodities, meaning that the FDA regulates their growing, harvesting, and packing. Additionally, the FDA (alongside the USDA) regulates meat production and cooking in the United States. The FDA's food safety guidelines address the best practices for cooking meat and poultry. Federally inspected establishments that serve meat are also held to this same standard. 
References
Wood, Virginia B. "Fajita History." Austinchronicle.com, Austin Chronicle, 4 Mar. 2005, www.austinchronicle.com/food/2005-03-04/261130/. 
Olver, Lynne. "Mexican & Tex-Mex Foods." Foodtimeline.org, Food Timeline, 10 Mar. 2015, www.foodtimeline.org/foodmexican.html. 
"Authentic Fajitas." Texasfajitaco.com, Texas Fajita Co., www.texasfajitaco.com/Fajita-History.html.