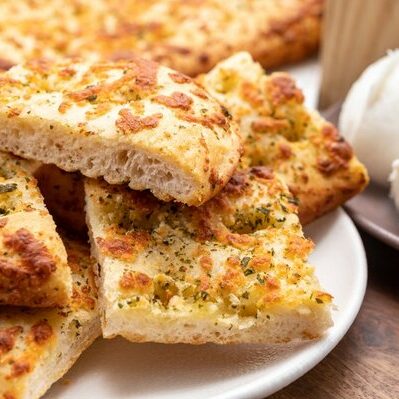 Focaccia
---
What is Focaccia?
Focaccia is a type of bread of Italian origin. It is a leavened flatbread made with white flour and baked in an oven. It is often topped with salt, olive oil, rosemary, olives, cheese, tomatoes, or even onions. This bread varies depending on the region in which it is made. A sweet variety of this bread is also popular in northwest Italy. In Austria, this bread is typically consumed on Easter and is gifted by godparents to their godchildren.
It can be consumed with soups, toasted with cheese or butter, or in sandwiches.

Also, it goes well with salads, but can easily be consumed on its own.
Some of the most popular Italian breads include:
Focaccia

Pane Toscano

Pizza Bianca

Ciabatta

Coppia Ferrarese

Piadina Romagnola

Ciambella

Certosino

Pane di Segale

Baba Rustico
Origin
Focaccia probably originated in Etruscan times in Italy. Similar flatbreads have been found in other Mediterranean countries of Europe and Asia. The name itself comes from the Latin 'panis focacius', which translates to 'hearth bread', in reference to the bread being baked in coals. Focaccia was popular in both Ancient Rome and Ancient Greece and was used as a dipping bread. 
Nutrition
Nutritional profile for focaccia (1 piece):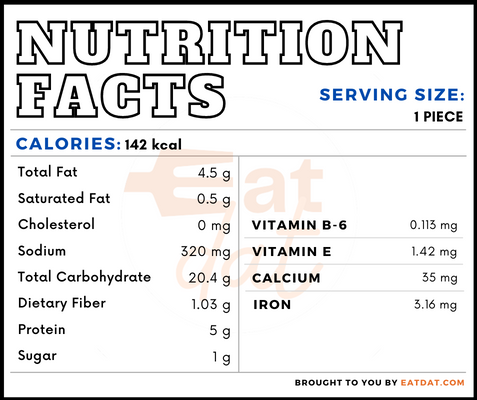 Focaccia is rich in calcium, magnesium, phosphorous, potassium, sodium, selenium, folate, and lutein + zeaxanthin. Also, this bread is prepared with refined flour, which contains simple carbohydrates, due to the stripping of the outer layers, and has a high glycemic index. Refined grain intake is connected to an increased risk of cardiovascular disease, type 2 diabetes, and obesity. 
Olive oil contains powerful antioxidants in the form of polyphenolic compounds, which have anti-cancer, anti-angiogenic, and anti-inflammatory properties. Oleic acid makes up 55–80% of olive oil and keeps the cholesterol and blood pressure in check. The benefits of olive oil reduce as processing levels increase. The most beneficial oil is extra-virgin olive oil, while pomace oil gives the least benefits.
Commercial production
To prepare focaccia, the ingredients required are flour, water, olive oil, and yeast. These are kneaded into a dough and left to rise for a day or more. Then, the dough is stretched into a greased pan. Indentations are made on the top crust to prevent air bubbles from forming. Next, salt and olive oil are added and the bread is baked. Several different types of toppings may be added to the bread including rosemary, thyme, sage, cherry tomatoes, potatoes, onions, different types of cheeses, garlic, asparagus, artichokes, olives, pesto, and a variety of other herbs and vegetables.
This bread is best consumed fresh and can go bad quickly. However, if stored in the refrigerator, it can last for up to five days.
Focaccia Recipes
Focaccia can have different variations depending on the region it comes from. This type of flatbread is also popular in France and Spain, and is referred to as foisse and hogaza, respectively. Here are a few recipes to try:
FDA regulations
The FDA regulates all breads under the umbrella term of bakery products. Bread is defined as food produced by baking mixed yeast-leavened dough prepared with wheat. In order to be classified as bread, the product must have a minimum of 62 percent solids. There is no specific standard of identity for focaccia.
References
Origins of Focaccia, Delicious Italy. https://www.deliciousitaly.com/liguria-food/origins-of-focaccia 
Gaesser, Glenn A. "Perspective: Refined Grains and Health: Genuine Risk, or Guilt by Association?." Advances in nutrition (Bethesda, Md.) vol. 10,3 (2019): 361-371. doi:10.1093/advances/nmy104, https://www.ncbi.nlm.nih.gov/pmc/articles/PMC6520038/
Gorzynik-Debicka, Monika et al. "Potential Health Benefits of Olive Oil and Plant Polyphenols." International journal of molecular sciences vol. 19,3 686. 28 Feb. 2018, doi:10.3390/ijms19030686, http://ncbi.nlm.nih.gov/pmc/articles/PMC5877547/