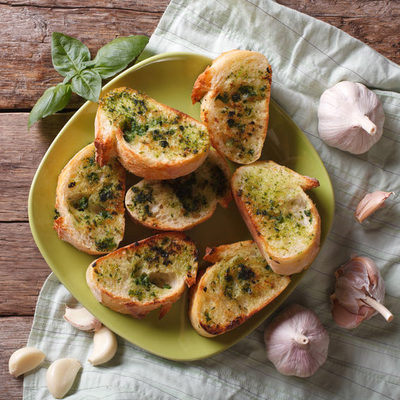 Garlic Bread
---
What is garlic bread?
Garlic bread is a flavored bread of Italian origin that includes thickly sliced bread, oil or butter, and garlic. The bread used for this dish is generally a baguette as it provides a crispy and crunchy texture.
According to Nutritionix, the most popular types of garlic bread at American supermarkets are:
Garlic Knots by New York Bakery

Garlic Texas Toast by Great Value

Garlic Bread Sticks by Great Value

Garlic Bread by Pepperidge Farm

Soft Pull Aparts by New York Bakery

Garlic Mini-Loaf Bread by Cole's

The Original by Cole's

Five Cheese Garlic Bread by Pepperidge Farm

Three Cheese Garlic Bread by The Bakery

 Garlic Bread by Great Value
Origin
This flavored bread evolved from the Italian dish bruschetta which dates back to the 15th century in the land between Tuscany and Rome. In the Roman dialect, 'brusciare' means 'to roast over coals' which indicates that bruschetta was traditionally made by heating day-old bread over coals. As time went one, people began to add more ingredients such as oil or butter and even rubbed the bread with garlic. This dish spread to other parts of the country and became a staple in Italian cuisine. In Naples, people began to eat it with tomatoes on top or add prosciutto to this toasted bread. 
While garlic was used as a seasoning in many parts of Europe for centuries, it didn't become popular in the US until the 20th century. Italian immigrants brought it to America where it flourished. In 1951, garlic recipes such as this and garlic olives appeared in Fannie Farmer's The Boston Cooking-School Cook Book and soon after began appearing in restaurants. In 1973, the garlic knot was born to prevent food waste and with that American version continued to evolve. Since then, this has evolved in the US to include cheese and is often eaten alongside pizza or pasta.

Nutrition
Garlic bread is mostly carbohydrates and fat with only a bit of protein.  A 43 g serving contains: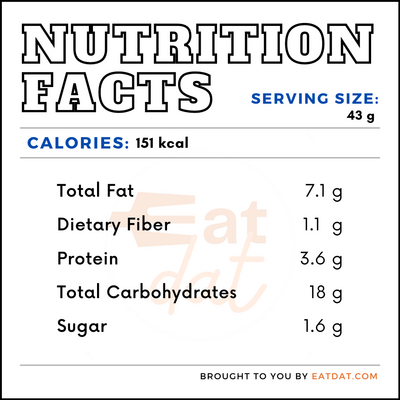 If consumed at a restaurant or fast-food chain, the caloric value may be much higher. When combined with a balanced diet and exercise, this food can be enjoyed in moderation.
Commercial production
It is produced on a large scale using machines that slice bread and spreads the bread with garlic flavor. This garlic flavor is often made from oil that's been infused with garlic to give it a more potent flavor. Commercial garlic oil has 200 times the strength of dried oil which is why it's diluted with other oils to create a more palatable flavor. Although since most garlic products in the US are dehydrated, commercial producers may also create a rub using garlic salt and oil to craft their product.
Uses
This can add a punch of flavor to any meal, but just like with any bread it must be stored correctly to maintain its taste. To store this, you should wrap it tightly in foil to keep it from drying out. It's best to store it in the freezer as refrigeration leads to bread becoming stale. When freezing this, place the wrapped bread in a freezer-safe bag to lock in moisture. The bread should be consistently kept at 0° F for optimal storage.
Recipes
This Italian-inspired dish has been reinvented so many ways. Here are some popular recipes:
References
Willett, Megan. "8 Real Italian Dishes You Should Order Instead Of The American Knockoffs." Business Insider, Business Insider, 9 June 2014, www.businessinsider.com/italian-versus-american-italian-cuisine-2014-5?IR=T.
Olver, Lynne. "Food Timeline: Bread." Food Timeline, www.foodtimeline.org/foodbreads.html.
Adema, Pauline. Garlic Capital of the World: Gilroy, Garlic, and the Making of a Festive Foodscape. University Press of Mississippi, 2009.
The Complete Technology Book on Bakery Products: Baking Science with Formulation & Production. NIIR Project Consultancy Services, 2014.