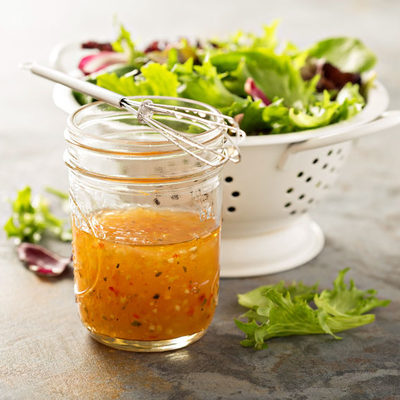 Italian Dressing
---
What is Italian Dressing?
Italian dressing is a salad dressing, similar to a vinaigrette, that contains oil, vinegar or lemon juice, bell pepper, sweetener, herbs, and spices. There are different recipes and formulations for this dressing that sometimes add onions or garlic to give the dressing more flavor. This dressing is popular in both the United States and Canada.
North America has the world's largest market for condiments, which is estimated to surpass

$37.7 billion

in 2023.

Italian dressing is the

second most popular

salad dressing in the US, after Ranch dressing.
The top 10 best Italian dressings, according to Good Housekeeping are:
Marzetti's Sweet Italian

Annie's Naturals Tuscany Italian

Kraft Zesty Italian

Wish-Bone Italian

Annie's Naturals Lite Italian

Newman's Own Light Italian

Cardini's Italian

Hidden Valley Farmhouse Originals Italian

Kraft Light Italian

Kraft Light Zesty Italian
Origin of Italian dressing
The Babylonians were dressing their greens in oil and vinegar 2,000 years ago. More condiments were invented as society evolved, leading to the invention of Worchestire sauce and Mayonnaise. Salads have been popular for a long time and royal chefs often combined many ingredients, sometimes as many as 35, to dress salads. It was not until the 20th century that premade salad dressing became as common as it is today. Still, by 1896, Joe Marzetti had already opened a restaurant and begun serving salads using recipes from the old country.
With a plethora of ingredients and plenty of creativity, North American chefs began to craft many different flavors of salad dressing. By the 1920s, it was possible to buy premade salad dressing in most stores across the United States. Although it is not clear when Italian dressing came about, one thing is certain, it is not traditionally Italian. Italian Americans likely invented Italian dressing, which would soon become one of America's favorite salad dressings. 
Function
Italian dressing is commonly used to add flavor to raw or roasted vegetables as a salad dressing or dip. Although there are plenty of ways to use this zesty condiment, such as marinating m1eats like steak or chicken. You can also use this dressing in pasta salad, rice dishes, burgers, or wraps. Try adding some herbs and spices to your stir fry with Italian dressing, as well.
Nutrition
While this dressing gives spice and flavor to salad, it has lots of fat, sodium, and sweeteners such as sugar or high fructose corn syrup. Two tablespoons of Italian dressing can have: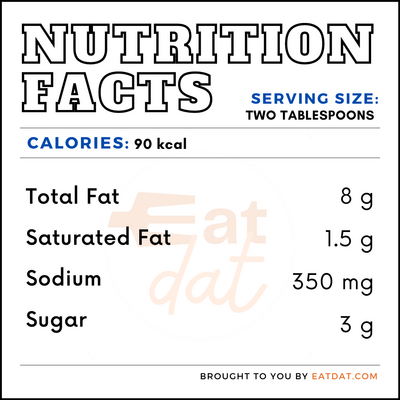 There are hardly any vitamins or minerals in this food, so it does not have much nutritional value. If you find that your salad dressing is too high in fat, sodium or sugar, try to consume less of it.
Commercial Production
The commercial production of salad dressings vary according to their ingredients, as well as the base that is used. Italian dressing begins by adding herbs, dried vegetables such as pepper, onion, or garlic, and salt to a mixing tank full of water. To combine the flavors and allow the dried vegetables to rehydrate properly, the mixture is left to mix in the tank for almost 1 hour. 
After that, oils such as vegetable or olive oil are added to the mixture. The final ingredient is vinegar which is added at the end to provide a full-body flavor. Once all the ingredients are in, they are mixed and cooked for 20 minutes to stabilize the product. Finally, the Italian dressing is bottled, capped, sealed, and labeled then stored until sold. 
Uses
Italian dressing can make any combination of vegetables or fresh meats more flavorful. However, simply because it is oilier than other condiments doesn't mean you don't have to worry about storing it properly. To ensure that your dressing is safe to consume, you should keep it cool in the refrigerator. Storing Italian dressing in the refrigerator will keep ingredients such as onions or citrus juice from going rancid. It's also recommended to consume this dressing by its 'best by' date.
Italian dressing recipes
This tangy dressing can liven up any salad or savory dish. Here are some popular recipes.
FDA Regulation
The Food & Drug Administration has a strict code for what constitutes salad dressing. This regulation describes the percentages of vegetable oil that are allowed in salad dressing. It also states that salad dressing must be packaged in a place with good ventilation.
References
Stradley, Linda. "History of Salads and Salad Dressings." Whatscookingamerica.net, What's Cooking America, 4 June 2016, whatscookingamerica.net/History/SaladHistory.htm.
"History of Salad Dressings." Dressings-Sauces.org, The Association for Dressings & Sauces, dressings-sauces.org/history-of-salad-dressings/.
"Is Your Salad Dressing Hurting Your Healthy Diet?" Health.harvard.edu, Harvard Health Publishing, 1 May 2017, www.health.harvard.edu/blood-pressure/is-your-salad-dressing-hurting-your-healthy-diet.
"CFR – Code of Federal Regulations Title 21." Accessdata.fda.gov, U.S. Food & Drug Administration , 1 Apr. 2019, www.accessdata.fda.gov/scripts/cdrh/cfdocs/cfcfr/CFRSearch.cfm?fr=169.150.