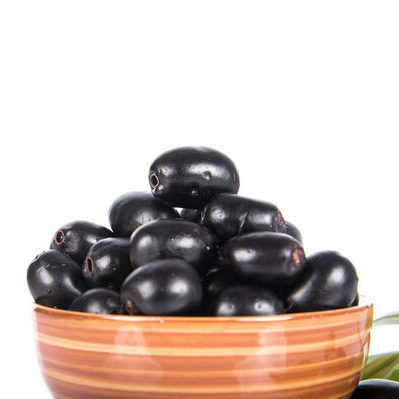 Java Plum
also known as Jambolan, Malabar Plum, Jambu
---
What is Java Plum?
Java plum (Syzygium cumini) is a tropical evergreen tree, known for its fruit. The tree grows to approximately 32-98 ft in height. The leaves are smooth, shiny, leathery, and oval-shaped. Additionally, this tree grows pink or white flowers.
The fruits are juicy, oval-shaped, greenish, or black when ripe, with a dark purple flesh.

Over the ages, the seeds and fruits have been used for various medical purposes.
The most common varieties are: 
Ra Jaman

Kaatha

Early Wild 

Late Wild

Pharenda  

Small Jaman

Dabka

Krian Duat
Origin of java plum
The fruit is native to Bangladesh, Sri Lanka, and Nepal. Additionally, this fruit has been traced to Australia and India, where the indigenous people eat the fruit and use it for traditional medicine. Also, this fruit is of religious importance in southern Asia, where it can be found near Hindu temples. By 1870, java plums trees were established in Hawaii. From there, the fruit would make its way to the Caribbean.
Function
The fruit may be eaten raw or processed into desserts, such as cake. Not to mention, it works well in beverages like smoothies and cocktails. Furthermore, the bark is a source of tannins and brown dye commonly used in coloring commercial products.
Nutrition
A 100g serving of java plum contains the following nutritional values: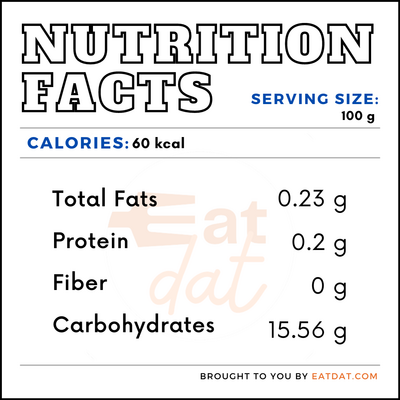 Java plum, plus its seeds, leaves, and bark, offer various health benefits. The seeds, in particular, have diuretic, hypothermic, chemoprotective and cardioprotective effects. Furthermore, the fruit's seeds are useful for treating allergies, viral infection, and inflammation. Additionally, jamun seeds are thought to have anti-diabetic properties.
Commercial production
This tree is a plant of the tropics and subtropics, growing best in an average temperature between 68°F-89°F but may survive 53°F-118°F. The mature tree can be killed by temperatures of 28°F or lower, while young ones may be killed at 30°F. In addition, this tree can withstand a dry season of up to 6-7 months. 
Also, this plant can grow on a wide range of soils. It can even grow on shallow, rocky soils provided the rainfall is sufficient. This tree is resistant to overwatering and can tolerate prolonged flooding. Furthermore, it is a fast-growing plant, and its seedlings may reach a height of 13 feet.
Java plum recipe
This fruit lends itself to an array of dishes. Here are some popular recipes:
FDA Regulation
The Food & Drug Administration has no standard of identity for java plum. However, the FDA inspects all goods imported into the US for safety and sanitary quality. Furthermore, the FDA regulates the health claims made for java plums, and can issue warnings to producers who overstep their boundaries.
References
Skeels, L. "Syzygium Cumini." Plants for a Future, Plants for a Future, pfaf.org/user/Plant.aspx?LatinName=Syzygium%2Bcumini. 
Morton, Julia. Jambolan, Purdue University, 1987, hort.purdue.edu/newcrop/morton/jambolan.html. 
Singh, Shyamoli & Sharma, Daisy. (2020). Chapter -3 Health Benefits of Syzygium cumini (Jamun) Seeds Chapter -3 Health Benefits of Syzygium cumini (Jamun) Seeds.