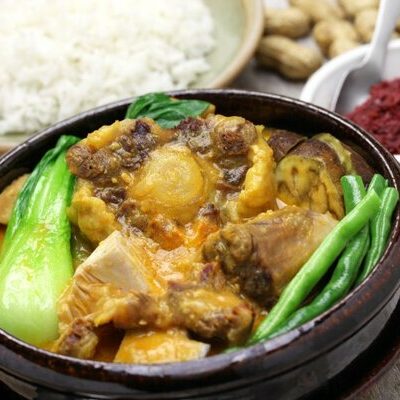 Kare-Kare
---
What is Kare-kare?
Kare-kare is a Filipino dish made with oxtail, beef cuts, tripe, and pock hocks as the base of a stew. Vegetables such as banana flower, long beans, okra, and eggplant are also added. Another vital ingredient is ground peanuts. The name is a reference to curry, which itself developed from the Tamil kari, referring to black pepper or vegetables.
The dish is served with rice and fermented shrimp paste. Kare-kare has a distinctive orangish-yellow color and an earthy, sweetish flavor.

It is prepared without too many seasonings.
Some of the most popular Filipino foods served at celebrations include:
Shanghai Lumpia

Pancit

Palabok

Filipino Spaghetti

Kare Kare

Adobo

Sinigang

Sisig

Dinuguan

Kalderata
Origin of kare-kare
This is a Filipino dish that dates back several centuries. It originated in Pampanga, a province in the Philippines. However, it was developed from an Indian dish known as kari, similar to fish curry of Southeast or South Asia. The original ingredients were mudfish with a bunch of spices. Portuguese colonists introduced peanuts to the country from Brazil, which were then used to add more flavor to the dish. 
Nutrition
Nutritional profile for kare-kare (100 gms):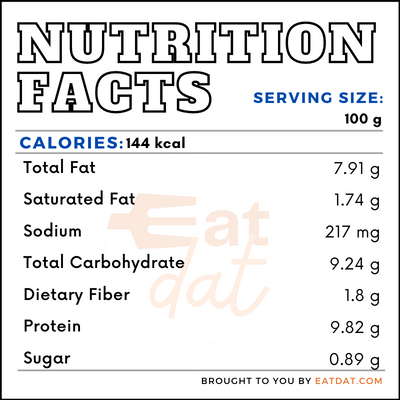 Oxtail is rich in bone marrow, which is useful for healing or preventing cardiovascular diseases. In addition, oxtail may also help in protecting the joints, fighting osteoarthritis, and reducing inflammation. High beef consumption can lead to diseases such as colon cancer, inflammatory diseases such as atherosclerosis, diabetes, rheumatoid arthritis, macular degeneration, as well as infertility. However, if consumed in moderation, beef is a nutrient-dense food that increases the bioavailability of certain micronutrients.
Regular consumption of eggplant can aid in cardiovascular system protection. It may help in preventing diabetes and reduces inflammation. Additionally, this vegetable has the ability to assist in preventing obesity, hypertension, and hyperlipidemia. Furthermore, banana flowers may help in preventing cardiovascular diseases, diabetes, atherosclerosis, and strokes.
Commercial production
Kare-kare is a staple dish prepared for special occasions. Also, it is commonly served in Filipino restaurants. It is cooked in a clay pot, known as palayok, which also serves as a serving bowl. 
Oxtail is the most common meat used in kare-kare, which is cut into slices for the dish. The vegetables required may include banana flower, bok choy, green beans, and aubergine. Ground peanuts, peanut butter, and shrimp paste are added for flavor. Annatto seeds and toasted rice flour are added to thicken the stew and give it its distinctive color.
First, water is boiled in a pot. Once bubbling, the meat and onions are added in and allowed to cook for up to 3 hours until tender. Then, peanuts, rice flour, and annatto seed water are added to flavor and color the stew and allowed to simmer further. After that, the vegetables are sautéed separately with garlic and added to the pot. Finally, the stew is seasoned with salt and pepper. It is served hot with white rice and shrimp paste.
Kare-kare recipes
Kare-kare recipes may have different variations but the basic ingredients remain the same. Here are a few recipes to try:
FDA regulations
The USDA regulates all meat products in the US. Oxtail falls under the category of meat by-products. The USDA defines oxtail as tail removed from the carcass at the juncture of the second and third coccygeal vertebrae. Beef is defined as meat from full-grown cattle about 2 years old. Pork is defined as the meat from hogs, or domestic swine.
Peanut falls under the category of rarely consumed raw. The USDA deals with the import of peanuts and sets the standards for their categorization and quality control.
References
Roberto Villar, The Fascinating History of Kare-kare, Esquire Magazine, https://www.esquiremag.ph/long-reads/features/the-fascinating-history-of-kare-kare-a2386-20190802-lfrm2 
Swirski, Filip K, and Matthias Nahrendorf. "Bone Marrow Takes Center Stage in Cardiovascular Disease." Circulation research vol. 119,6 (2016): 701-3. doi:10.1161/CIRCRESAHA.116.309584, https://www.ncbi.nlm.nih.gov/pmc/articles/PMC5012290/