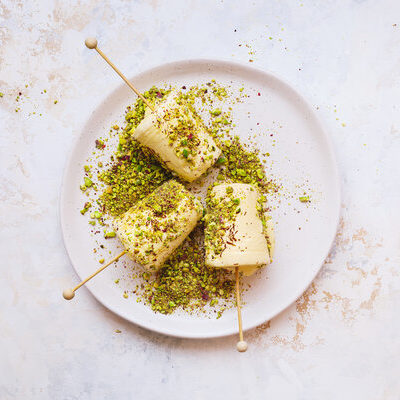 Kulfi
also known as Indian Ice Crem
---
What is Kulfi?
Kulfi is a frozen dessert of Indian origin made by freezing concentrated milk. Also known as 'Indian ice cream', this treat can be served on a stick, leaf, or cup. This dense and creamy food is mainly flavored with:
cardamom and

pistachio

saffron

mango

rose
This traditional Indian treat is similar to the North American frozen custard. In 2019, the worldwide ice cream and frozen market value reached $94.6 billion and is expected to grow by 8% from 2021 to 2023, eventually reaching $120.7 billion.
Some popular flavors of Indian ice cream include:
Kesar Badam

Roasted Almond

Malai Kulfi

Strawberry

Kesar Pista

Spcl Rabri

Gulab Badam

Butterscotch

Mango

Kaju Kishmish

Rabri

Chocolate

Kasaatta 

Pista

Rabri Falooda

Litchi

Black Currant

Walnut 

Rabri dry fruit

Kesar
Origin of kulfi
The origin of this treat can be traced to the 16th century in North India. This traditional frozen dessert existed during the Mughal Empire Era, governed by the Akbar administration. The word 'kulfi' or 'qulfi' is derived from the Persian language, meaning, 'covered cup.'  In time, this ice cream slowly gained acceptance in the Indian subcontinent. During the Mughal era, this treat was mostly flavored with pistachios and saffron, then packed into metal cones and dipped in slurry ice. 
This combination of flavors and techniques most likely led to the invention of the tasty ice cream we know today.  Ain-i-Akbari, a report from the Akbar administration, revealed that this mixture was refrigerated using Saltpeter. This report also stated that Himalayan ice was used to transport it to warmer regions. Over the years, this treat has become widely popular in India and around the world.
Nutrition
A 101g serving of Malai Kulfi offers: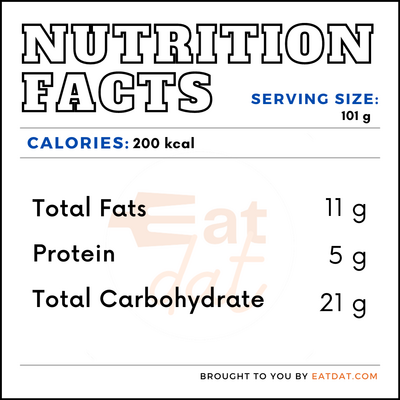 The nutritional value of this creamy food depends on the flavor and type. Nonetheless, this Indian treat is richer in nutrients when compared to conventional ice cream. Here are some health benefits it offers:
It helps in strengthening the bones.

It can improve sleep.

It aids digestion.

It supplies energy to the body.

It may smooth the skin.

It boosts the immune system.
However, this tasty ice cream is not free of allergens. Those with dairy or nut allergies may experience loss of appetite, swelling in the mouth or tongue, or a drop in blood pressure. Anyone who is lactose intolerant should also avoid this cool treat.
Commercial production
This frozen dessert is produced commercially using a kulfi making machine. Depending on the size of the production and budget, these machines have varying prices, capacity, and output power. 
The steps for the commercial production of this treat are:
Composition of the mixture

Pasteurization

Homogenization

Cooling

Aging

Flavoring

Freezing

Packaging

Hardening

Storage

Loading out the product
Application
Indian ice cream can be easily made at home. The three ingredients needed for this frozen dessert are evaporated milk, granulated sugar, and flavoring (pistachio, almond, or mango). Don't be afraid to try out other flavors when making this ice cream. This treat is best served frozen and should be stored in the freezer if you want to enjoy it later.  
Kulfi recipes
This Indian treat has many variations. Here are some popular recipes to try:
FDA Regulation
The Food & Drug Administration has no regulations for kulfi; however, it does have regulations for ice cream. The FDA specifically regulates the labeling and nutritional information for ice cream. They also monitor the labeling and reference amounts for ice cream cones, ice cream bars, and desserts. Furthermore, they outline the protocol for frozen desserts, requiring that every particle of the mix be heated to (and above) a specific temperature for food safety reasons. They also offer requirements for specific standardization of frozen desserts like ice cream.
References
Satpathy-Singh, Soni. "The History of the Coolest, Most Delicious South Asian Dessert: Kulfi." India.com, India Breaking News, 18 Aug. 2016,  http://www.india.com/food/the-history-of-the-coolest-most-delicious-south-asian-dessert-kulfi-1412784/
"Global Ice Cream And Frozen Dessert Market Growth Analysis." The Business Research Company, The Business Research Company, Apr. 2020, www.thebusinessresearchcompany.com/report/ice-cream-and-frozen-dessert-global-market-report-2020-30-covid-19-impact-and-recovery. 
"Kulfi Benefits." dairyproducts.nutriarena.com, All Dairy Products | Milk Products, dairyproducts.nutriarena.com/en/kulfi-benefits/model-48-16. 
"CFR – Code of Federal Regulations, Title 21." Accessdata.fda.gov, U.S Food & Drug Administration, 1 Apr. 2019 https://www.accessdata.fda.gov/scripts/cdrh/cfdocs/cfcfr/CFRSearch.cfm?CFRPart=135&showFR=1&subpartNode=21:2.0.1.1.26.1