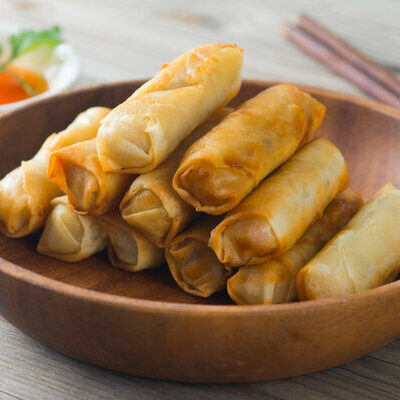 Lumpiang Shanghai
---
What is Lumpiang Shanghai?
Lumpiang Shanghai is a Filipino dish made of ground pork wrapped in an outer shell. It is a type of lumpia, also known as a spring roll. The outer shell is known as the popiah or lumpia wrapper, which is made of rice or wheat flour, water, salt, and cornstarch.
The name of the dish has no connection to China or Shanghai, but simply refers to its similarity in appearance to spring rolls, from which it was developed.

The dish is deep fried, giving it a crispy texture, and has a strong flavor of pork.
The most common types of lumpia are:
Lumpiang Shanghai

Lumpiang Togue

Lumpiang Gulay

Turon

Lumpiang Sariwa

Chinese Lumpia

Lumpiang Hubad
Origin of lumpiang shanghai
This dish developed from Chinese spring rolls, a delicacy in Fujian. They were brought to the Philippines by traders from China. Filipinos adjusted the dish to suit local tastes, and various types of lumpia, including Lumpiang Shanghai, were born. Today, it is an important dish in many celebrations and festivals.
Nutrition
Nutritional profile for Lumpiang Shanghai (1 piece):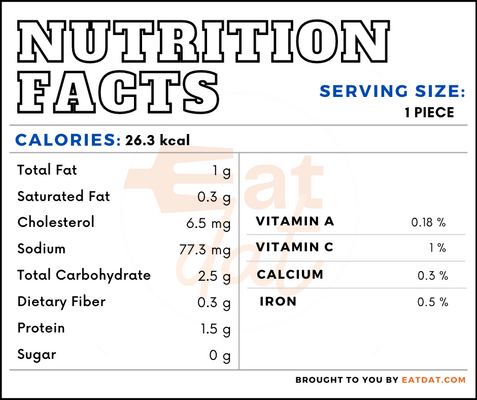 * Percent Daily Values are based on a 2000 calorie diet.
Consuming fresh lean pork may help in reducing the risk of diabetes and cardiovascular diseases. It helps in managing obesity by increasing satiety and reducing blood pressure. However, high pork consumption can lead to diseases such as colon cancer, inflammatory diseases such as atherosclerosis, diabetes, rheumatoid arthritis, macular degeneration, as well as infertility. Therefore, it is best to consume this dish in moderation alongside a balanced and varied diet.
Commercial production
To prepare Lumpiang Shanghai, the main ingredient required is ground pork. Seasonings such as onions, carrots, garlic, black pepper, parsley, salt, and sesame oil may be used. Eggs are used to bind the mixture together. First, all these ingredients are mixed well and filled into a lumpia wrapper and rolled tightly. Then, this is deep fried and served with a sweet and sour sauce. Ketchup may be used as a substitute. 
Lumpiang wrappers are available everywhere in the Philippines. In countries with a substantial Filipino population, Asian stores sell this product. If lumpia wrappers are not available, they may be substituted with spring roll wrappers, egg roll wrappers, or even wonton wrappers. These wrappers are prepared from just flour, cornstarch, water, and salt, which is slammed into a viscous dough. Then, it is refrigerated and made into thin sheets.
Ground pork must also always be cooked at a high temperature in order to prevent trichinosis or bacterial infections from Escherichia coli, Salmonella, Staphylococcus aureus, Yersinia enterocolitica and Listeria monocytogenes. If kept in the freezer, the prepared wrappers may be stored for up to three months.
Lumpiang shanghai recipes
Lumpia is any dish that is similar to spring rolls, and has an important place in Filipino cuisine. Here are a few recipes:
FDA regulations
The USDA classifies pork as livestock and red meat. It is defined as meat from hogs or domestic swine. Lumpia wrappers are classified as bakery products by the FDA.
References
Fresh Pork from Farm to Table, Food Safety and Inspection Service (FSIS), U.S. Department of Agriculture (USDA), https://www.fsis.usda.gov/food-safety/safe-food-handling-and-preparation/meat/fresh-pork-farm-table 
Murphy, Karen J et al. "Effects of eating fresh lean pork on cardiometabolic health parameters." Nutrients vol. 4,7 (2012): 711-23. doi:10.3390/nu4070711, https://www.ncbi.nlm.nih.gov/pmc/articles/PMC3407990/ 
Alisson-Silva, Frederico et al. "Human risk of diseases associated with red meat intake: Analysis of current theories and proposed role for metabolic incorporation of a non-human sialic acid." Molecular aspects of medicine vol. 51 (2016): 16-30. doi:10.1016/j.mam.2016.07.002, https://www.ncbi.nlm.nih.gov/pmc/articles/PMC5035214/