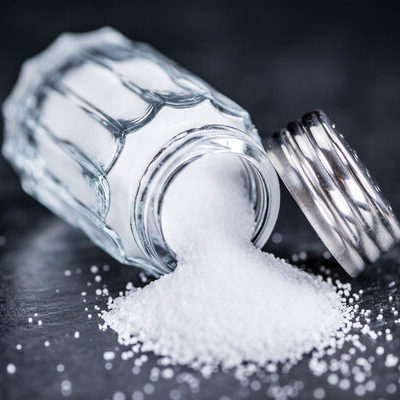 Salt
---
What is Salt?
Salt is an essential mineral and provides one of the basic human tastes. It is one of the oldest and most commonly used food seasonings around the world. Also, it was traditionally used as a method of preserving foods, such as meat. Most salt has iodine added to it to combat goiter, caused by iodine deficiency.
Table salt, chemically known as sodium chloride (NaCl), splits into sodium and chloride when cooked and the sodium ions provide the mineral's signature taste.

This mineral is obtained from seawater through evaporation, with other types extracted through other methods.
Some of the most common types include:
Table 

Kosher 

Sea

Fleur de Sel

Grey 

Pink 

Himalayan Black 

Hawaiian Alaea Red

Hawaiian Black Lava

Cyprus Black Lava 

Truffle 
Origin of salt
This seasoning is at the very core of life on earth. Originally, animals created paths that led to salt licks, where they would lick the nutrients to fulfill their mineral requirements. Consequently, human beings followed these trails to the animals. With the invention of agriculture, humans shifted from salt-rich game meats to cereals, which required supplements to the diet. This is when this mineral became a precious trading commodity. It was also used extensively in religious practices in ancient civilizations. 
Its production was restricted and the demand was high, which kept the product expensive and not easily obtainable for much of human history. In fact, the word 'salary' is derived from this mineral, denoting how Roman soldiers were paid with this instead of money. It was also referred to as white gold. This seasoning was even used as a means to increase taxation. The Chinese and the Egyptians taxed the production of this good. The British colonial administration banned Indians from collecting it in the country, forcing them to buy it at a higher cost from the British. This led to the Dandi Salt March, a civil disobedience movement.
The first-ever mention is found in a pharmacology treatise from China dating back to 2700 BC. The trading routes for this mineral around the world were very popular and lucrative, one of the most popular one being from Morocco across the Sahara to Timbuktu. The Mediterranean trade also dealt extensively in this mineral. Today, it remains a mainstay in most cuisines and one would be hard-pressed to find a dish that does not use it in one form or the other.
Nutrition
One tablespoon (18g) of salt contains: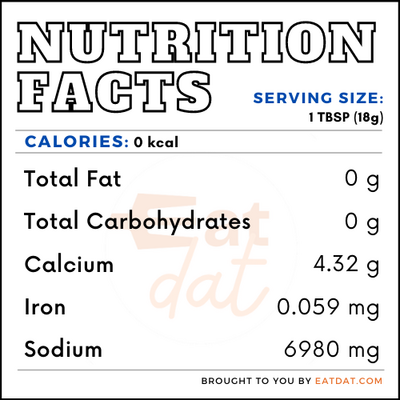 This mineral is an essential nutrient, important for cellular homeostasis and physiological function. It helps in regulating plasma volume, cellular transport of nutrients, nutrient absorption, and maintaining fluid balance. The WHO recommends that the daily requirement among humans must not exceed 2000 mg. Overconsumption of it is very easy in modern diets, and may lead to health problems such as high blood pressure and cardiovascular diseases. Excessive consumption may also lead to kidney and liver problems. 
Commercial production
There are three main methods of producing this seasoning: evaporation from seawater, mining from the earth, and creating brines. Table salt is usually produced through these brines, while specialty gourmet varieties are the result of mining. Evaporation produces this mineral to be used industrially. First, the salt beds are pumped with water beneath the earth's surface. This ensures that the deposits dissolve into a brine, which is then pumped back to the surface to be evaporated. Before the drying, the brine is purified to ensure edible table salt. 
China is the largest producer of this mineral in the world, followed by the USA, India, Germany, Australia, Canada, Chile, Mexico, Brazil, and Turkey. The highest consumption of this good per person (in grams) is in China, followed by Montenegro, Portugal, Benin, Italy, India, the USA, Australia, New Zealand, Canada, and England.
Salt recipes
This seasoning is essential for seasoning food. Most cultures and civilizations around the world use this mineral. It is popular in salads, cooked food, baked goods, soups, stews, and almost all other food items for its flavor. Here are a few recipes to try:
FDA regulations
The FDA defines this seasoning, or iodized salt, as salt for human food use to which iodide has been added in the form of cuprous iodide or potassium iodide. The label must clearly mention whether it has iodine added to it or not.
References
"Weird Science: Salt Is Essential to Life." Exploring Our Fluid Earth, Manoa.hawaii.edu, manoa.hawaii.edu/exploringourfluidearth/chemical/chemistry-and-seawater/salty-sea/weird-science-salt-essential-life. 
A Brief History of Salt, TIME Magazine, https://time.com/3957460/a-brief-history-of-salt/ 
Flad, Rowan et al. "Archaeological and chemical evidence for early salt production in China." Proceedings of the National Academy of Sciences of the United States of America vol. 102,35 (2005): 12618-22. doi:10.1073/pnas.0502985102, https://www.ncbi.nlm.nih.gov/pmc/articles/PMC1194912/ 
Farquhar, William B et al. "Dietary sodium and health: more than just blood pressure." Journal of the American College of Cardiology vol. 65,10 (2015): 1042-50. doi:10.1016/j.jacc.2014.12.039, https://www.ncbi.nlm.nih.gov/pmc/articles/PMC5098396/ 
Cook, Nancy R et al. "Sodium and health-concordance and controversy." BMJ (Clinical research ed.) vol. 369 m2440. 26 Jun. 2020, doi:10.1136/bmj.m2440
https://www.ncbi.nlm.nih.gov/pmc/articles/PMC7318881/