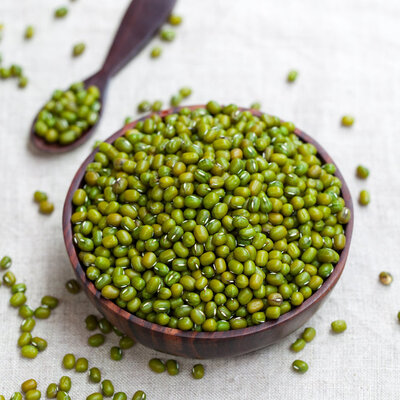 Mung Bean
---
What are Mung Beans?
Mung bean is a legume that is native to East, Southeast, and South Asian countries, where it is an integral part of the cuisine. Although the beans are very small in size, they are a rich source of proteins. They have a mild and earthy taste, similar to certain vegetables, and have an olive green husk and yellow kernel inside. Both whole and de-husked mung beans are used in cooking.
Sprouted beans are also consumed.

Additionally, these beans may be used for preparing desserts.
The top 10 most popular legumes are:
Red Bean Paste

Edamame

Douche

Mung Bean

Fasolia Gigantes Elefantes Prespon Florinas

Pacay

Tarwi

Lentille Verte du Puy

Black Soybeans

Judías de El Barco de Ávila
Origin of mung beans
These beans originated in India around 1500 BC. They spread pretty quickly to China and Southeast Asia, and became an integral part of the cuisine throughout Asia. Due to colonization, Europeans discovered this bean and began cultivating it in all the tropical countries they colonized. Today, the mung bean remains a popular food in many Asian countries.
Nutrition
Nutritional profile for mung beans (100 grams, cooked):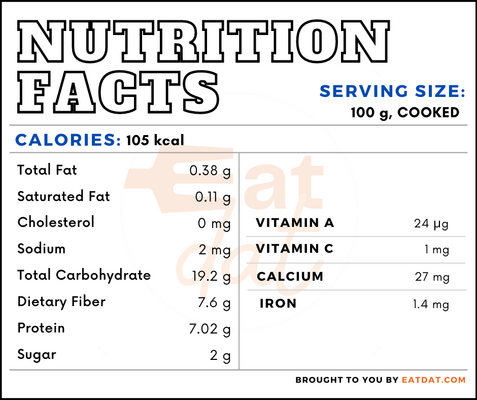 Mung bean is rich in phosphorus, potassium and folate. Also, it contains calcium, magnesium, choline, carotene, and vitamin A in decent quantities. 
Regular consumption of mung beans may help in combating diseases such as diabetes, atherosclerosis, cardiovascular diseases, hypertension, liver diseases, and certain types of cancer. In addition, it helps in improving immune response and works as a detoxifying food. Also, they are a good source of antioxidants, amino acids, phenolic acids, and arginine. These help in reducing inflammation and increasing blood flow to the brain.
Commercial production
India is the largest producer of mung beans, accounting for 60 percent of the world's production. Additionally, China, Myanmar, Indonesia, Pakistan, Thailand, and Bangladesh are large producers of this legume, as well.  
Mung beans require a warm and dry climate with moderate rainfall to thrive. They do well in loamy soil with good drainage, but alkaline, saline, or waterlogged soils must be avoided. These beans are harvested in a couple of rounds when about 80 percent of the pods mature. Then, they are threshed and sun-dried to bring down their moisture to around 10 percent. Finally, they can be stored and packaged for distribution.
Cooked mung may be stored for up to five days in the refrigerator, if kept in an airtight container. Also, they can be kept for up to three months in the freezer. 
Mung bean recipes
These beans may be cooked directly or after soaking. Soaking them in water and then changing the water may help in preventing flatulence. This dish is often cooked into simple dishes such as soups, dahl, stews, and salads. Sprouted mung is extensively used in stir-fries and salads. Also, it is a component of sweets in some cultures. Here are a few recipes to try:
FDA regulations
Mung beans are classified under raw agricultural commodity (RAC). Canned bean sprouts fall under the canned vegetables category and must follow the rules and regulations.  
References
Mungbean, Directorate of Pulses Development, Government of India, Ministry of Agriculture & Farmers Welfare, http://dpd.gov.in/Mungbean.pdf
Hou, Dianzhi et al. "Mung Bean (Vigna radiata L.): Bioactive Polyphenols, Polysaccharides, Peptides, and Health Benefits." Nutrients vol. 11,6 1238. 31 May. 2019, doi:10.3390/nu11061238, http://ncbi.nlm.nih.gov/pmc/articles/PMC6627095/
Yi-Shen, Zhu et al. "Mung bean proteins and peptides: nutritional, functional and bioactive properties." Food & nutrition research vol. 62 10.29219/fnr.v62.1290. 15 Feb. 2018, doi:10.29219/fnr.v62.1290, https://www.ncbi.nlm.nih.gov/pmc/articles/PMC5846210/