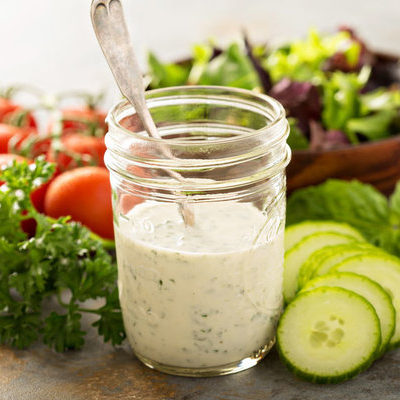 Ranch Dressing
---
What is Ranch Dressing?
Ranch dressing is a salad dressing that is popular in the US and is ubiquitous in homes, restaurants, and salad bars. Ranch dressing has a creamy texture and a tangy flavor.
Its main ingredients are mayonnaise, buttermilk, and sour cream, although garlic, herbs such as dill, parsley, and chives are also added for flavor.

Ranch dressing comes in more than 70 different flavors, of which the most popular remains Original Ranch, followed by Avocado Ranch, Cucumber Ranch, and Bacon Ranch.
Around 70 percent of American households consume one bottle of ranch over a month. 
The  top 6 best ranch brands, according to Delish are: 
Kraft Classic Ranch

Trader Joe's Organic Ranch

Whole Foods Organic Ranch

Briannas Classic Buttermilk Ranch

Newman's Own Ranch

Hidden Valley Ranch
Origin of ranch dressing
Ranch dressing was invented by Steve and Gayle Henson. A plumbing contractor by profession, Henson and his wife decided to buy a ranch near Santa Barbara in California in 1954. It was there that Mr. Henson invented the dressing and served it to his guests, who loved it. They began selling the product to the guests, and later founded Hidden Valley Ranch, which still retains its top position in the market. Buttermilk based dressings had been in vogue in Texas since the 1930s, although this new addition was welcomed into the market with open arms.
The Hidden Valley Ranch company was bought out by Clorex in 1972, which removed the buttermilk and added buttermilk flavoring to make it last longer. The bottled version of ranch later came out in 1983. This dressing is so beloved in the US that it is often eaten as a side with a number of other dishes, as well as with salad. Today, ranch is the most popular salad dressing in the United States.
Nutrition
Two tablespoons (30mL) of this dressing has: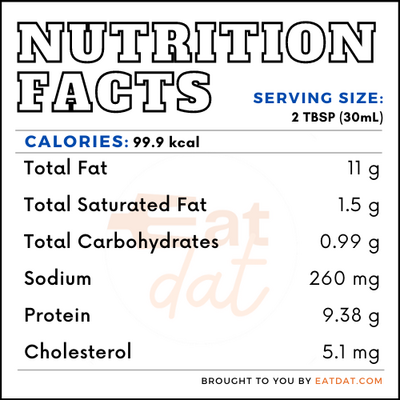 A high intake of sodium can lead to a host of health issues, including high blood pressure and heart problems. When consumed moderately, ranch dressing may be incorporated into an affordable diet for fat intake. If consumed every day in large quantities, it may result in obesity, heart problems, and other health issues.
Commercial production
In addition to its basic ingredients, the commercial ranch also includes flavorings, MSG, disodium inosinate, disodium guanylate, calcium disodium EDTA, and other food additives. It might also contain salt, sugar, and high fructose corn syrup. The ingredients are blended together in a continuous motion to achieve the correct degree of emulsification. Other ingredients are added during the process and thoroughly mixed together before the dressing goes in for bottling. Ranch dressing must be stored in the refrigerator, where it can remain fresh for about 6 to 9 months.  
Ranch dressing recipes
This can be used as a side or in preparing food. Here are a few recipes:
FDA regulations
According to the USDA, ranch dressing must contain modified starch, dehydrated vegetables, and the appropriate spices. It might also contain calcium stearate, buttermilk solids, whey solids, lactic acid, or casein as optional ingredients. The FDA classifies ranch dressings under food dressings and flavorings, and strictly regulates its production and packaging. 
References
The Origins of Ranch on Everything, Hungry Howie's, https://www.hungryhowies.com/blog/origins-ranch-everything
Jetter, Karen M et al. "Yes We Can: Eating Healthy on a Limited Budget." Journal of nutrition education and behavior vol. 51,3 (2019): 268-276. doi:10.1016/j.jneb.2018.12.002 , https://www.ncbi.nlm.nih.gov/pmc/articles/PMC6601616/