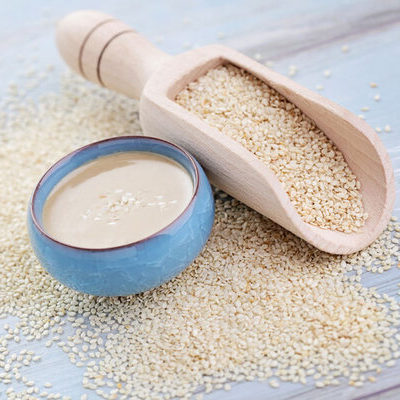 Tahini
---
What is Tahini?
Tahini is made from toasting ground sesame seeds. This food is commonly used in many Mediterranean and Middle Eastern dishes. It's known for its versatility and usage as a dip, spread, or condiment.
It is a significant ingredient in popular foods like baba ganoush, hummus, halva, and falafel pitas.

The two major types of this paste are: hulled and unhulled.
According to New York Magazine, the top tahini brands are:
Soom Foods Pure Ground Sesame Tahini

Har Bracha Tahini Paste

Seed+Mill Organic Tahini

Beirut Tahini Sesame Paste

Alwadi Sesame Tahina

Al Arz Tahini

Tarazi Organic Tahini
Origin of tahini
The origin of this paste can be linked to ancient Persia. The ancient Persians were responsible for this food's expansion, as they traveled to Israel with it. They referred to it as 'holy food' or 'Ardeh'. Over time, its popularity spread to India, Asia, Africa, and later throughout the globe.
The ancient Greeks also valued this nutty paste for its medicinal properties and utilized it in the production of medicines, as well as consumed it as food. Hippocrates, one of the most influential philosophers, highly praised the nutritional wonders of this food. A relatively unknown 13th-century Arabic cookbook, called KitabWasf al-Atima al-Mutada, would also mention this food as a condiment in making its Hummus Kasa recipe. 
Function
This food can serve various functions, such as a topping on salads, meats, or burgers. It can also be used to prepare sauces or added into soups. Additionally, it can be spread on toasted bread or used for dipping raw vegetables.
Nutrition
It is relatively low in calories but still offers some nutritional value. One tablespoon (15g) of this cream offers the following nutrients: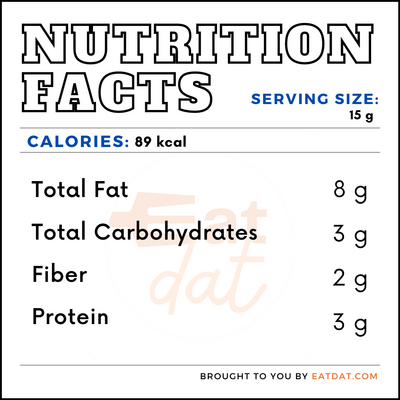 This food also provides various vitamins and minerals, including:
Copper

Selenium

Phosphorus

Iron

Zinc

Calcium
This nutty paste even provides some health benefits, such as:
Improving heart health

Lowering inflammation 

Fighting against cancer
However, there are a few side effects to keep in mind. This food may cause allergic reactions to those with nut allergies. It may also cause chronic inflammation if consumed in excess.
Commercial production
In 2018, the worldwide market value of this food was $1.4 billion, and was estimated to grow at a rate of 5.2% in the following five years. Tanzania is the most significant commercial producer of sesame seeds in the world. The commercial production of this food is divided into eight stages:
Washing and drying of sesame seeds
The sesame seed machine uses low specific gravity to wash off sand particles. The seeds are then dried by dehydration.
Roasting of sesame seeds
The recommended temperature to roast sesame seeds is between 212°F and 302°F. This process takes 1.5 to 2 hours. Electric or gas heating may be employed. 
Sorting
Any impurities or spoiled sesame seeds are destroyed in this stage.
Grinding
The remaining sesame seeds are ground using a colloid mill.
Mixing
The butter left after grinding is made more uniform. 
Removal of gas
The gas produced during the grinding and mixing is removed from the sesame butter. 
Cooling
The sesame butter is cooled immediately but does not fall below 113°F.
Filling
The filling machine squeezes the butter into a bottle, which is then labeled and stored.
Application
An unopened jar should be stored in a cool, dry place away from high temperatures and humidity. If stored like this, it can last up to two months. However, unopened jars can last up to a year when kept in the refrigerator. Once opened, it is best to store this food in the fridge for no more than seven months.  
Tahini recipes
This food can bring a world of flavor to dishes. Here are some popular recipes:
FDA Regulation
The Food & Drug Administration oversees the import of this food. Furthermore, they recognize sesame as a safe spice, flavoring, and natural seasoning for its intended use. The FDA also regulates the labeling of sesame oil and gives a recommended reference amount consumed per eating occasion. They even classify sesame seed as a drug product containing an active ingredient offered over the counter for specific uses.
References
"Tahini: Everything You Need to Know." Ultimate Paleo Guide, Elite Cafemedia Food, 27 May 2020, ultimatepaleoguide.com/tahini/. 
Link, Rachael. "What Is Tahini? Ingredients, Nutrition, Benefits, and Downsides." Healthline.com, Healthline Media,  27 June 2019, www.healthline.com/nutrition/what-is-tahini.
Zalben, Lee. "8 Ways to Use Tahini." SeriousEats.com, Serious Eats blog, 30 Oct. 2019, www.seriouseats.com/2012/06/8-ways-to-use-tahini.html
"CFR – Code of Federal Regulations, Title 21." Accessdata.fda.gov, U.S Food & Drug Administration, 1 Apr. 2019, https://www.accessdata.fda.gov/scripts/cdrh/cfdocs/cfcfr/CFRSearch.cfm?fr=101.12&SearchTerm=sesame%20seeds.