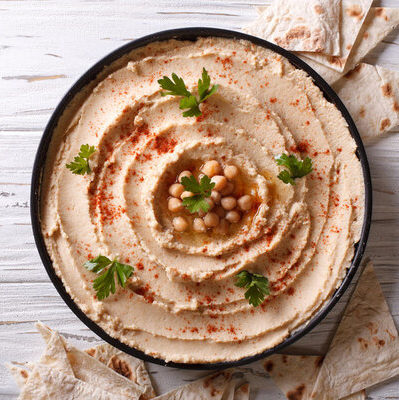 Hummus
---
What is Hummus?
Hummus is a spread made from chickpeas, olive oil, lemon juice, garlic, sesame seed paste (tahini), and other ingredients. This food has a creamy texture and tangy taste. Hummus is popular in Middle Eastern countries and cuisine.
This dish is commonly eaten with pita bread and other foods such as baba ghanoush or tabbouleh.

Hummus is so popular that it is celebrated every year on May 13th.
The top 10 most popular store-bought brands are:
Roots 

Cedar Organic 

Yorgo's Organic

Abraham's 

Tribe 

Pita Pal

Hope's 

Ithaca 

Cedar's

Kirkland's
Origin of hummus
This food has its origin in Egypt; however, many cultures try to claim this dish as theirs. Historical sources state that it has been in existence since the 13th century. The word "hummus" means chickpea in Arabic and is also written in various forms including humus, hommos, or hommus. Chickpeas are plentiful in the Middle East and have been in Turkey and the surrounding regions for over 10,000 years. Nowadays, this food has become popular in the Western world. 
Function
People use this for various purposes in the kitchen. One of the most common is as a dip for pita bread or raw veggies like carrots, cucumber or celery. It can also be used as a salad dressing or in sandwiches. Hummus can even serve as a good marinade for meat. Not to mention, hummus can substitute a cream sauce.
Nutrition
In one tablespoon (15g) of this food, there are: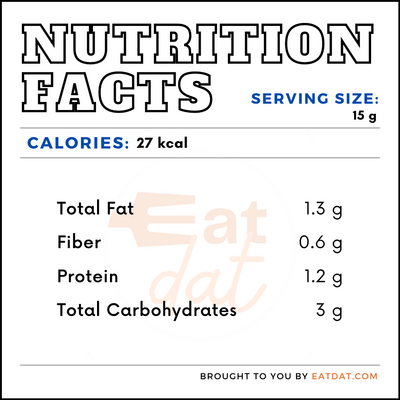 Hummus is a food with several valuable health benefits, which include:
It contains olive oil, which has antioxidants that can help fight inflammation.

This food contains several vitamins and minerals and serves as a good source of plant-based protein.

Its low glycemic index means it might be able to stabilize your blood sugar levels.

It contains a fair amount of dietary fiber that helps bowel movement and your overall digestive health.

Chickpeas can be useful in proper weight management.
Hummus does not have any significant side effects. However, chickpeas may contain some allergens. Therefore, they might cause allergic reactions in sensitive individuals.
Commercial production
The steps in the commercial production of hummus are: 
Chickpea washing and soaking

Cooking, draining, and cooling of the chickpea

Grinding of the chickpea

Tahini processing

Ingredient mixing

Pasteurization and packaging
India is the world's largest producer of chickpeas. The global chickpea protein ingredients market is expected to hit $737.8 million by 2025, with a growth rate of 11.2%. 
Application
Commercially manufactured hummus will stay good for about 7-10 days in the refrigerator. If you make this food yourself at home, it can last for about 3-5 days, depending on the ingredients you use. Garlic and more acidic lemon juice can make your homemade recipe last longer.
This food can last in the freezer for about four months. Make sure that you place it in an airtight container. However, the flavor, texture, and overall quality of this food decrease over time in the freezer. Drizzle a little olive oil over the hummus before freezing. The oil will prevent moisture loss during the freezing period.
Hummus recipes
This food lends itself to an array of dishes. Some of high-rated recipes to try include:
FDA regulation
The Food and Drug Administration classifies chickpeas as a rarely consumed raw product and, therefore, do not control the growing, processing, harvesting, and holding of chickpeas. The organization has a standard of identity for lemon juice. Lemon juice is the mechanical process's unfermented liquid from sound and mature lemons that have no seeds or excess pulp. The FDA also controls the production, processing, and labeling of this juice. Furthermore, the organization classifies garlic as a raw agricultural commodity and oversees its growing, holding, and harvesting.
References
"Chickpea Protein Ingredients Market Size, Share, Global Analysis, 2025: MRFR." www.marketresearchfuture.com, Market Research Future blog, Sept. 2019, www.marketresearchfuture.com/reports/chickpea-protein-ingredients-market-6484. 
"CFR – Code of Federal Regulations, Title 21." accessdata.fda.gov, US Food & Drug Administration, 1 Apr. 2019, www.accessdata.fda.gov/scripts/cdrh/cfdocs/cfcfr/CFRSearch.cfm?fr=112.2.