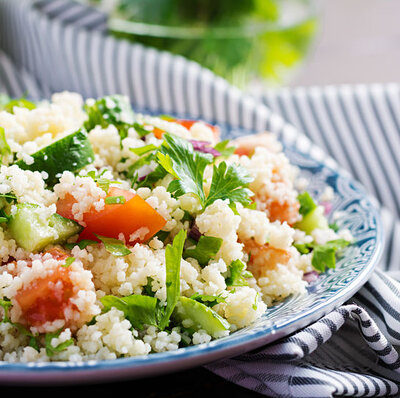 Tabbouleh
---
What is Tabbouleh?
Tabbouleh is a salad of Arabic or Middle Eastern origin that is made with bulgur, garlic, parsley, mint, tomatoes, scallions, and onions. It is seasoned with olive oil, lemon juice, salt, and pepper. Tabbouleh is traditionally served as an appetizer. Some recipes call for more parsley than bulgur, especially the Syrian, Lebanese, Turkish, and Armenian variations.
This dish is served throughout the year in the Middle East and is an integral part of every feast.
It can sometimes be served with pita bread, baba ghanoush, or hummus.
According to CNN, the top 10 most popular Arabic dishes are:
Hummus
Manakeesh
Grilled halloumi
Foul meddamas
Falafel
Tabouleh
Baba ghanoush
Fattoush
Umm Ali
Shanklish
Origin of tabbouleh
Tabbouleh originated in the mountainous regions of Syria and Lebanon. It was not very popular at first due to its lack of meat, although it became a key dish in the local cuisine by the Middle Ages. Along with the Lebanese diaspora, the salad has also traveled throughout the world. In 2009, the dish made it to the Guinness Book of World Records for the largest bowl of tabbouleh ever made. 
Nutrition
A 100g serving of tabbouleh contains: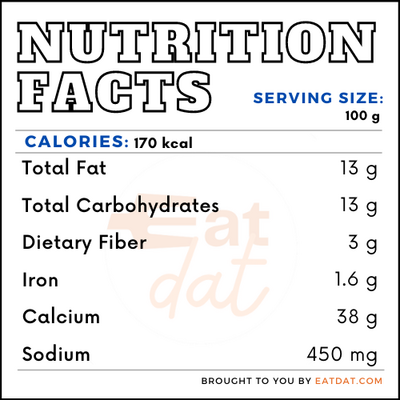 This salad contains ingredients that make up a healthy meal. Bulgur contains B vitamins, fiber, unsaturated fatty acids, and folate, as well as phosphorus, zinc, magnesium, and selenium in large quantities. Regular bulgur consumption can protect against constipation and colon cancer. Parsley, the focus of the salad, is a powerful antioxidant and has a number of flavonoids. It also has anti-inflammatory, anti-secretory, anti-proliferative, and anti-ulcer effects in the gastrointestinal tract. 
Tomatoes contain lycopene, which helps in reducing cardiovascular diseases, osteoporosis, and mental disorders through its anti-oxidative effects. It is also rich in vitamins A, C, E, and K, as well as several B vitamins, magnesium, potassium, copper, and manganese. Onions provide vitamins, iron, folate, and potassium. Also, onions have anticarcinogenic properties, antiplatelet activity, antithrombotic activity, antiasthmatic, and antibiotic effects. 
Olive oil contains powerful antioxidants in the form of polyphenolic compounds, which have anti-cancer, anti-angiogenic, and anti-inflammatory properties. Furthermore, olive oil contains healthy fats and good amounts of vitamins E & K, as well as calcium and potassium. Oleic acid makes up 55–80% of olive oil and keeps cholesterol and blood pressure in check. Traditionally, lemon juice has been used as a treatment for high blood pressure, common cold, sore throat, and irregular menstruation. Regular consumption of lemon juice can also help in lowering the risk of stroke, cancer, and asthma, while increasing iron absorption, immune system functioning, and weight loss.
Commercial production
Tabbouleh is served as a salad or an appetizer in many restaurants. The main ingredient is parsley, which is the focus of the salad. All the ingredients, including mint, tomatoes, onions, and parsley must be finely chopped by hand. Then, the bulgur has to be cooked and cooled before being added to the rest of the ingredients. Finally, the salad is dressed in a mixture of olive oil and lemon juice.
Tabbouleh recipes
While tabbouleh has specific ingredients, it can be modified to suit different tastes or to use up ingredients you may already have. Here are a few popular variations:
FDA regulations
Tomatoes and onions fall under the most frequently consumed raw vegetables category of the FDA. Parsley and mint are classified as spices and are strictly regulated. The FDA defines lemon juice as the unfermented juice obtained from ripe lemons from which seeds and excess pulp are removed. The acidity of concentrated lemon juice must not exceed 15 percent of the acidity of the finished food. Olive oil standards are set by the USDA, which defines the properties of extra virgin, virgin, pomace, and refined olive oils. 
References
Linda Lum, A Brief History of Tabbouleh, Delishably
https://delishably.com/vegetable-dishes/Exploring-Tabbouleh-The-Lebanese-Salad-of-XXX
Tabbouleh, Taste Atlas
https://www.tasteatlas.com/tabbouleh
Caba, Zeynep & Boyacioglu, M. Hikmet & Boyacioglu, Dilek. (2011). Bioactive healthy components of bulgur. International journal of food sciences and nutrition. 63. 250-6. 10.3109/09637486.2011.639748.
https://www.researchgate.net/publication/51848344_Bioactive_healthy_components_of_bulgur 
Akıncı, Ayşin et al. "Petroselinum Crispum is Effective in Reducing Stress-Induced Gastric Oxidative Damage." Balkan medical journal vol. 34,1 (2017): 53-59. doi:10.4274/balkanmedj.2015.1411
http://ncbi.nlm.nih.gov/pmc/articles/PMC5322505/