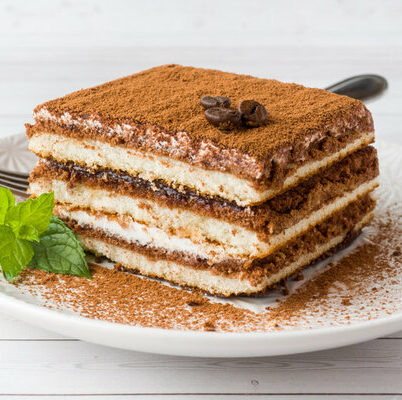 Tiramisu
---
What is Tiramisu?
Tiramisù is a dessert of Italian origin and its name translates to "lift me up". It is a rich confection made with ladyfingers, mascarpone, eggs, sugar, coffee, and cocoa. Liqueurs such as kahlua or marsala may also be added to give it a boozy kick. The richness of the dessert comes from good quality mascarpone cheese.
It has a layered appearance, a creamy texture, and a sweet taste with a strong coffee flavor.

Also, tiramisù has a firm consistency and must never be mushy.
The top 12 most famous Italian desserts include:
Tiramisù

Bonet 

Sbrisolona

Torta Barozzi

Budino di Riso

Zuppa Inglese

Crostata Ricotta e Visciole 

Babà

Sfogliatelle

Pasticciotto Leccese

Seadas 

Cannoli
Origin of tiramisu
This is a dessert of Italian origin. It was officially created in 1970 in Treviso at the Beccherie Restaurant. It was inspired by a tonic given to pregnant women. Citizens from this part of Italy moved to neighboring countries or immigrated abroad and popularized this dessert throughout the world. There is some evidence that this dessert comes from Friuli due to a handwritten recipe dating back to 1959. This story credits Norma Pielli, the owner and chef of the Albergo Roma Hotel, who called it a 'mascarpone slice'.
Nutrition
Nutritional profile for Tiramisù (1 serving/119g):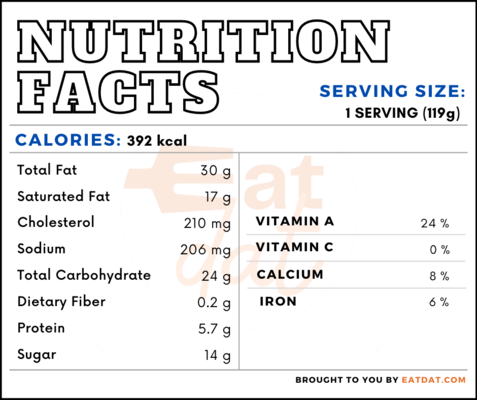 Coffee contains high levels of antioxidants, which may help prevent certain types of cancer and regulate insulin levels. In addition, caffeine is believed to protect from dementia and Alzheimer's. However, high doses of caffeine can lead to heart problems, as well as palpitations, high blood pressure, irregular heart rate, and heart attacks. 
Additionally, cheese is a good source of fats and lipids, proteins and peptides, carbohydrates and prebiotics, probiotic bacteria, vitamins, and mineral salts. Regular consumption of cheese may reduce the risk of osteoporosis, diabetes, cardiovascular diseases, strokes, hypertension, and certain types of cancers. 
Due to the presence of raw eggs in tiramisù, there is the potential danger of salmonella poisoning. Use of pasteurized, frozen, or dried eggs may help in combating this problem. Also, the dessert is high in simple carbohydrates. It is best to consume this dessert in moderation and in combination with diet and exercise.
Commercial production
To prepare tiramisù, the main ingredients required are savoiardi (ladyfingers), mascarpone cheese, eggs, sugar, coffee, cocoa powder, and optionally, coffee liqueur, rum, or marsala. First, the coffee is made, to which the alcohol may be added. Then, the egg whites are whisked well, and the egg yolk is whisked separately with sugar. After that, the mascarpone cheese is added to the yolk and sugar mix and beaten well, and then the egg white is added. 
Then, the ladyfingers are dipped in the coffee and laid tightly in a pan. Next, the mascarpone and egg mixture is spread over the layer after which another layer of ladyfingers are laid. This is again covered with the cream. Finally, the dish is sprinkled with cocoa powder and put in the fridge for at least 2 hours to set.
Tiramisu recipes
This iconic layered dessert can be found in many restaurants around the world. It has a signature taste profile, which can be used to prepare different types of desserts. Here are some popular recipes:
FDA regulations
Tiramisù has been recognized as a traditional regional specialty of Friuli since 2017. However, this is under legal contention because Venetians lay claim to this dessert. Mascarpone cheese is defined as cheese made from pasteurized cream (made from cow's milk) and citric acid, containing 35.5% fat and 57% moisture. It is a type of cream cheese, defined by the FDA as a soft, uncured cheese. Also, eggs and egg whites are regulated by the FDA but have no standard of identity. The USDA deals with the safety and standard of eggs. 
Moreover, sugar or sucrose is defined as the product obtained by crystallization from sugar cane or sugar beet juice that has been extracted by pressing or diffusion, then clarified and evaporated. The FDA uses the term 'breakfast cocoa' to define cocoa powder, which is defined as the food prepared by pulverizing the material remaining after part of the cacao fat has been removed from ground cacao nibs, and containing at least 22 percent cacao fats.
The USDA regulates the production of coffee beans and is also involved in the import of coffee from other coffee-producing countries. Some aspects of the processing of coffee beans come under the purview of FDA regulations. Additionally, the processing of green coffee beans is strictly regulated to ensure that they do not contain allergens or pose a health hazard. 
References
Felicity Cloake, Deconstructing tiramisu: the coffee-infused Italian classic, National Geographic, https://www.nationalgeographic.co.uk/travel/2020/01/history-tiramisu-coffee-infused-italian-classic
Salmonella and Eggs, Food Safety, CDC (Centers for Disease Control and Prevention), U.S. Department of Health & Human Services, https://www.cdc.gov/foodsafety/communication/salmonella-and-eggs.html