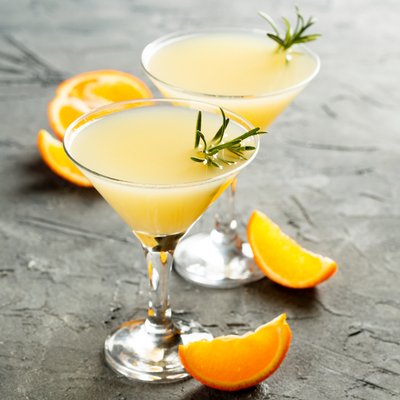 Abbey Cocktail
---
What is the Abbey Cocktail?
Abbey is a cocktail that is made by blending gin with Lillet Blanc (an aromatized wine), freshly squeezed orange juice, and orange bitters. This cocktail offers some versatility and the Lillet Blanc can be substituted by other aromatized wines, and the orange bitters by other types of bitters such as angostura or Peychaud's.
It is vibrant orange in color and has a refreshing and mildly sweet flavor.

The Abbey cocktail is often considered to be a more in-depth version of

mimosa

.
Some popular cocktails with orange juice are:
Bocce Ball

Harvey Wallbanger

Sour Sunrise

Buck's Fizz

Belmont Breeze

Cantarito

Orange Creamsicle

Madras

Bliss on the Beach

Abbey Cocktail 
Origin
The origin of the Abbey cocktail goes back to Prohibition era in the US. It is generally credited to be the invention of Harry Craddock, a famous English bartender who worked at The Savoy Hotel in London. The recipe for the drink was first published in The Savoy Cocktail Book in the 1930s. Originally, the cocktail was made with gin, orange juice, orange bitters, and Kina Lillet, a quinine flavored wine (quinquina). The company producing it removed the quinine and converted the wine to Lillet Blanc, which is currently what is used.  
Nutrition
Nutritional profile for Abbey cocktail (1 serving):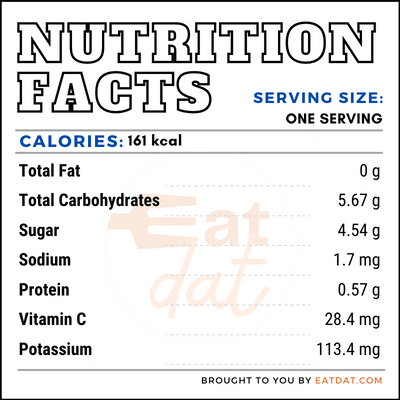 Orange juice is high in vitamin C, potassium, folate, magnesium, and iron. Regular intake can help with strengthening the immune system, keeping blood pressure in check, and keeping the bones strong. Additionally, it is a wonderful drink for pregnant women because it promotes fetal growth. However, overconsumption of orange juice has its downside because of its high sugar content. 
Gin has no nutritional value and without any vitamins and minerals, has empty calories. There are seven calories in every gram of alcohol. Overconsumption of cocktails can also result in major health complications. These include obesity, change in the brain's functioning patterns, liver cirrhosis, pancreatitis, heart problems, strokes, different types of cancers, as well as impact on general overall immunity.
Commercial production
To prepare the Abbey cocktail, the ingredients required are gin, Lillet Blanc, orange juice, and bitters. A mild-flavored gin works best for this cocktail. If Lillet Blanc is unavailable, then a simple dry vermouth or Cocchi Americano can be substituted. Orange bitters are preferred but can be substituted by other types of bitters such as angostura or Peychaud's. The cocktail is more vibrant and flavorful if freshly squeezed orange juice is used.
All the ingredients are poured into a cocktail shaker and vigorously shaken until they blend well. It is usually served in a martini glass. A twist of orange works well as a garnish for the Abbey cocktail.
Abbey cocktail recipes
There are few substitutes for Abbey cocktail and it remains a unique take on cocktails. Here is the recipe:
FDA regulations
The TTB classifies gin as a spirit with a main characteristic flavor derived from juniper berries produced by the distillation or mixing of spirits with juniper berries and other aromatics or extracts derived from these materials and bottled at not less than 40% alcohol. Bitters are defined as distilled spirits product distinguished by its bitterness produced by blending extracts of plants, seeds, herbs, barks and roots with any type of distilled spirits.
The FDA defines orange juice as the unfermented juice obtained from mature oranges. The juice must not contain seeds, peel, or excessive pulp. Orange juice must have at least 11.8 percent concentration. 
References
O'Neil, Carol E et al. "100% orange juice consumption is associated with better diet quality, improved nutrient adequacy, decreased risk for obesity, and improved biomarkers of health in adults: National Health and Nutrition Examination Survey, 2003-2006." Nutrition journal vol. 11 107. 12 Dec. 2012, doi:10.1186/1475-2891-11-107
https://www.ncbi.nlm.nih.gov/pmc/articles/PMC3545988/ 
Jackson, Ronald S.. "Wine, food, and health." Wine Science (2020): 947–978. doi:10.1016/B978-0-12-816118-0.00012-X
https://www.ncbi.nlm.nih.gov/pmc/articles/PMC7173466/ 
Is it time to rethink how much you drink?, Harvard Health Publishing, Harvard Medical School
https://www.health.harvard.edu/heart-health/is-it-time-to-rethink-how-much-you-drink