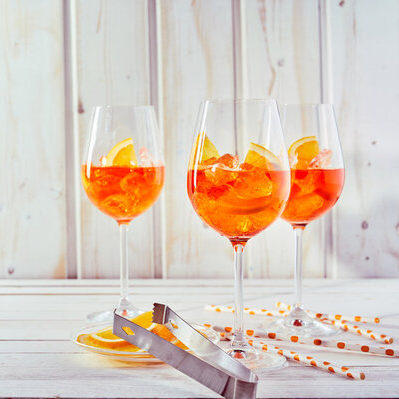 Aperol Spritz
also known as Spritz Veneziano
---
What is Aperol Spritz?
Aperol spritz is a cocktail made with Aperol, prosecco (a type of Italian sparkling white wine), soda water, and orange slices. Aperol is an Italian bitter in which oranges, rhubarb, gentian, herbs, and roots are infused. This amaro has a deep orange color.
Aperol spritz has a bitter taste with hints of sweetness and tanginess, and is a popular summer drink in many parts of Europe.

It is considered an aperitif and is usually enjoyed before dinner.
Some worthy substitutions for Aperol include:
Contratto Aperitivo

Select Aperitivo

Luxardo Aperitivo

Cappelletti

Galliano l'Aperitivo

Lillet 
Origin of aperol spritz
This cocktail is of Italian origin. Brothers Luigi and Silvio Barbieri inherited their father's liquor company and began experimenting with different drinks. The aperitif cocktail was first launched in 1919. However, the actual recipe remains a secret, even 100 years later. Today, this cocktail is commonly associated with the Italian aperitivo, during which many Italian bars and restaurants serve pre-dinner snacks with the purchase of a cocktail. Traditionally, this culinary event was a way for bars and restaurants to avoid food waste after the lunch crowd, but now many prepare delicious Italian dishes just for the occasion.
Nutrition
The nutritional profile for this cocktial (1 serving) is: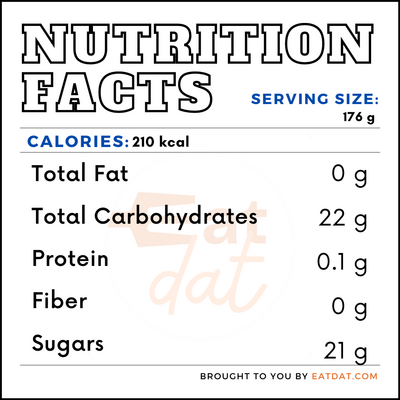 Also, the cocktail contains decent amounts of potassium. Furthermore, the polyphenols in prosecco provide added health benefits to this cocktail. However, overconsumption of large amounts of alcohol can lead to several health problems, including affecting the brain's functioning patterns and general lowering of immunity. Additionally, liver cirrhosis, pancreatitis, high blood pressure, stroke, and different types of cancer can result from drinking too much alcohol. However, consumed in moderation, the liqueur is a nice addition to the palate.
Commercial production
The Aperol spritz is made of 3 parts prosecco, 2 parts Aperol, and 1 part soda. The Campari Group currently owns the Aperol brand. While the recipe for this amaro is secret, what is known is that it includes many herbs and plants. Aperol infuses bitter and sweet oranges, rhubarb, quina, and gentian.
Aperol spritz recipes
This cocktail is usually served in a large wine glass. It is best consumed as a single serve drink. Some popular recipe include:
FDA regulations
Bitters are not considered an alcoholic beverage in the US. They have no specific standard of identity but are classified as non-beverage by the TTB. There is no standard of identity for sodas or soft drinks in general either. Nonetheless, sparkling wine is defined as grape wine made effervescent with carbon dioxide resulting solely from the fermentation of the wine within a closed container, tank, or bottle. The FDA classifies oranges as raw agricultural commodities and strictly regulates all aspects of its growing, harvesting, packing, and storage. Also, it falls under the frequently consumed fruits. 
References
Katie Parla, How the Aperol Spritz Became Italy's Favorite Cocktail, Eater, https://www.eater.com/2014/10/21/7020183/the-story-of-the-aperol-spritz-a-classic-italian-cocktail 
Is it time to rethink how much you drink?, Harvard Health Publishing, Harvard Medical School, https://www.health.harvard.edu/heart-health/is-it-time-to-rethink-how-much-you-drink