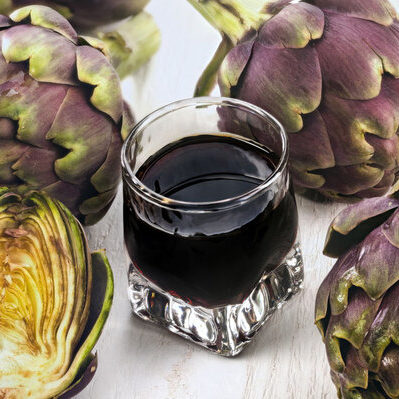 Artichoke Liqueur
also known as Cynar
---
What is Artichoke Liqueur?
Artichoke liqueur is a liqueur or bitter of Italian origin. It is considered to be a type of amaro. Though it contains 13 different types of herbs and plants, artichokes are the main ingredient in artichoke liqueur. The name of the liqueur itself comes from the Latin name of artichokes, Cynara.
Some popular Cynar-based cocktails are:
English in What

The Search & Rescue

Poison Dart

Lucky Dragon

Moal Spritz

Cabernet Manhattan

Cynar & Lemon Soda
Origin of artichoke liqueur
This liqueur was first produced in Venice, Italy in 1952 by Angelo Dalle Molle. The Cynar brand quickly became popular by the 1960s due to a number of ad campaigns starring Ernesto Calindri, an Italian movie star. The Campari Group acquired the brand in 1995 and has been producing it ever since. In the United States, an American brand called Don Ciccio & Figli has recently started producing artichoke liqueur. With their herbal liqueurs and cocktails, they are working to make this Italian beverage more well-known to American consumers.
Nutrition
A serving contains around 193 calories per serving of 100 ml. Additionally, it has an ABV of about 16.5 percent. The nutritional values for this liqueur are:
Protein: 0 g

Fats: 0 g

Carbohydrates: 16.17 g

Fiber: 0 g
According to a study, the herbs purported to be in Cynar were extracted and analyzed. They found a total of 876 unique gene products and no proteins at all, debunking the commercial procedure that the manufacturer states using, that is, thirteen herbs and artichoke leaves. 
Overconsumption of alcohol can lead to several health problems, including affecting the brain's functioning patterns and general lowering of immunity. Moreover, excess consumption of alcohol can increase the risk of heart disease, liver cirrhosis, pancreatitis, high blood pressure, stroke, diabetes, cancer, as well as obesity, depression, and aging.
Commercial production
The original recipe for Cynar is a secret. Nonetheless, it is known that the liqueur is made with 13 herbs and artichoke leaves. However, the artichoke liqueur made by the American brand Don Ciccio & Figli uses a recipe that produces a similar taste. It involves infusing a base liquor with 3 types of artichokes, grapefruit, and 18 botanicals. Then, the infusion is left to age in a barrel for a full year before being filtered and bottled.
Artichoke liqueur recipes
Cynar is frequently enjoyed as a stand alone drink, but may also be used in a wide variety of cocktails. Artichoke liqueur can help enhance the flavors of baked goods and desserts, as well. Here are some recipes to try:
FDA regulations
All alcohol related products are regulated by the Alcohol and Tobacco Tax and Trade Bureau (TTB) in the US. Cynar is defined as a liqueur that is made by a mixture of artichoke leaves and other infused herbs following a unique recipe.
References
Meredith Heil, All 'Choked Up, Tasting Table, https://www.tastingtable.com/drinks/national/what-is-cynar-artichoke-italian-bitters-explainer 
Righetti, Pier Giorgio et al. "The "Dark Side" of Food Stuff Proteomics: The CPLL-Marshals Investigate." Foods (Basel, Switzerland) vol. 3,2 217-237. 17 Apr. 2014, doi:10.3390/foods3020217, https://www.ncbi.nlm.nih.gov/pmc/articles/PMC5302364/